Goodbye 2016. You Weren't ALL Bad
January 4, 2017 / General
All over the news and social media, 2016 has gotten a pretty bum rap.
With everything from shootings, terrorist attacks and the weirdest presidential election in history, to exploding cell phones, scary clown threats and numerous celebrity deaths, 2016 has been denoted as the worst year ever.
But for technology, 2016 wasn't ALL bad. In a single 2016 Internet minute, 150 million emails were sent, 2.78 million videos were watched on YouTube and Google saw an average of 2.4 million search queries. In fact, compared to 2015, this past year saw a 100% increase for Uber rides, 70% increase in Amazon sales and 186% increase in hours of music on Spotify. That is what we call Big Data, and for our industry, that spells opportunity in 2017 and beyond.
And 2016 wasn't all bad for Fluke Networks either. From new features and capabilities, to industry accolades and even the success of this blog, there are plenty of 2016 events that we are thankful for. Let's take a look.
Faster Testing, Fewer Delays
This year saw new asset tracking and management capabilities added to Fluke Networks' LinkWare™ Live that allows users to track the last location of all testers on a Google Maps interface and see if the testers are calibrated and running the latest firmware—avoiding project delays and expensive retesting.
We even teamed up with Brother to introduce LabelLink™, a mobile app that allows Brother's handheld PT-E550W labeler to wirelessly download identifiers from LinkWare Live so the information you need to label is right at your fingertips.
In 2016, the OptiFiber® Pro OTDR became the first to come standard with SmartLoop™ technology for the ability to test a duplex fiber link from one end in one shot—with instant bi-directional averaged results to boot.
We even added an integrated PortBright™ flashlight to our FI-500 fiber video inspection probe to make it easier and faster to locate ports in dense, low-light environments, and the latest releases of Versiv improved patch cord certification time by 33% and ensures the ability to test to all the latest industry standards.
Versiv Kit Configurator
How will you be using your Versiv?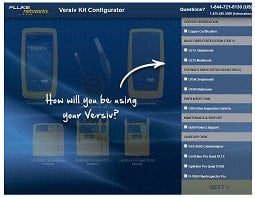 Award Winning Recognition
While the features and capabilities introduced in 2016 are intended to help our customers win, we can't help but be proud of our own. This past September, three of our developments received Gold Awards in the 2016 Innovators Awards program from Cabling Installation & Maintenance—LinkWare Live with Asset Tracking, OptiFiber® Pro with SmartLoop™ and LabelLink™.
It was a huge honor to be recognized for our contribution to the industry, and we followed it up just couple weeks later when OptiFiber Pro with SmartLoop garnered a perfect 5.0 Diamond rating from Broadband Technology Review's 2016 Diamond Technology Review program.
Valuable Expertise
Last but not least, 2016 saw more readers than ever of this blog as we aspired to bring you a wide range of news and expertise on everything from standards and industry trends, to best practices and tips for leveraging our tester capabilities.
Our most read blog of 2016 (and one that has been around for a while) explained the importance of encircled flux testing, while Category 8 came in at #2 followed closely by one of our Cabling 101 series blogs on crosstalk, a look at certification vs. qualification and a wide range of our Dumb Thing series blogs that took a look at the common mistakes made by all the smart people who install, test and certify network cabling plants.
This just goes to show that our readers value the expertise we deliver each week in this blog, and as we enter into 2017, you can expect to see plenty more.
Happy New Year from all of us at Fluke Networks!