Certified Cabling Test Technician Training Program
With over 10,000 graduates, the Fluke Networks Certified Cabling Test Technician™ (CCTT) program is a leading provider of training for technicians certifying and troubleshooting installed twisted pair and fiber cabling systems.
Get certified, do more
Technicians who complete the program and pass the examinations: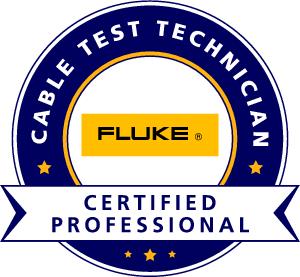 Get jobs done faster by making the most efficient use of the Versiv™ Cabling Certification System and LinkWare™ Cable Test Management Software solutions
Avoid mistakes that lead to costly retesting
Deliver test results that are accepted by manufacturers and customers
Qualify to work on jobs that require CCTT certification
Fully understand the standards and technologies that drive high-performance structured cabling systems
Can earn up to 27% more (based on our 2022 US Salary Survey)
Earn up to 14 BICSI Continuing Education Credits (CECs)
"The Fluke Networks Certified Cabling Test Technician course gives you essential hands-on experience and all the skills you need to effectively test and troubleshoot. Since taking the course, our team's confidence is up considerably, and my need to help with troubleshooting in the field has dropped to nearly zero, saving 6-10 trips per month. I strongly recommend this course for all technicians."
Todd Brennfoerder, Communications Project Manager

Total Electronics Contracting, Inc.
What the course includes
The Fluke Networks Certified Cabling Test Technician course consists of a copper and a fiber course, each including classroom training, hands-on labs, and exam/certification exercises. Products covered include:
DSX CableAnalyzer™ Series (5000 and 8000)
CertiFiber™ Pro Optical Loss Test Set
OptiFiber™ Pro Optical Time Domain Reflectometer
FI-7000 and 7300 FiberInspector™ Pro/Ultra Cameras
Fiber Optic Cleaning Kits
LinkWare™ Live / LinkWare™ PC
Copper (Twisted Pair) Certification
DSX configuration and setup
Standards review
Adapter types
Setting up a project and tests
Interpreting measurements
Troubleshooting
Advanced topics
Documenting with LinkWare
Fiber Certification
Fiber theory and safety
Inspection and cleaning
Loss testing: setup and measurements
OTDR basics and technology
OTDR testing: setup and measurements
Troubleshooting
Documenting with LinkWare
Online courses (United States only)
Technicians based in the U.S. can take advantage of an all-online instructor-led experience, minimizing time out of the field and eliminating travel and lodging expenses. This virtual hands-on experience gives each student remote control of one of 30 dedicated Versiv units, through their computer or phone. Except for handling the physical cabling, content and exercises are identical to the classroom course.
Recertification online (United States only)
CCTT certification is valid for two years. Customers in the U.S. can renew their certification through a one-day online course, featuring four hours of copper and four hours of fiber training with a subsequent examination. Covering advanced and new topics, as well as some refreshers on the original, this course features the same virtual hands-on experience as the original course. Users who haven't completed the full two-day CCTT are welcome to take this course, but they won't receive certification.
Course providers
Contact the CCTT providers listed below to learn more about offerings in your country.
Fluke Networks CCTT Training Program

Country
Country Contact

United States

United States


Contact: Mike Pennacchi
Ph: (425) 433.0777

Network Protocol Specialists, LLC
P.O. Box 938
Maple Valley, WA 98038
Register Here

Canada



Canada

Contact: John Bakowski RCDD/NTS/OSP
ITS Design and Audit Inc.
Tel.: 416 254 1100
Email: john.bakowski@sympatico.ca

Contact: Chuck Dykstra CET, CCTT
JC LEMP Technologies
Tel.: 905-208-2227
Email: chuck.dykstra@bell.net

South America

Brazil

Tellnet
Endereço: Alameda Rio Negro, 1030/3º andar
Edifício Stadium – Torre Corporate – Alphaville
Barueri - SP
Contato: Sara Casquel
Tel.: 11 2133-3333
Email: scasquel@tellnet.com.br
site: www.tellnet.com.br

Clarity Treinamentos
Contato: Marcelo
Tel : 11-98186-9826
Email: marcelo@claritytreinamentos.com.br
site: www.claritytreinamentos.com.br

Endereço: Avenida Maria Coelho Aguiar
215 – Bloco F Piso Panamby
Tel.: +55 11 35308938
Email: marketing@flukenetworks.com.br
Uruguay

Contato: Pablo Rynkowski
Tel.: +59822005412
Email: pablo.rynko@gmail.com

Peru
Ecuador

ALCARED
Site: www.networks.pe
Tel: +51 1 3450332
Contacto: Alvaro Cayo Urrutia
Email: alvaro.cayo@alcared.pe
Tel: +51 989156743

Contacto: Albert Alvarez Elias
Email: albert.alvarez@alcared.pe
Tel: +51 975190722

Colombia

Contact: info@flukenetworks.com

North America

Mexico

Contato: Jaime Reyes
Endereço: Dominion México
Diagonal 27, Col del Valle | 03100 D.F.| México
Tel.: +52 55 5340 1478
M.: +52 1 55 5401 1847
Email: jaime.reyes@dominion.mx

Contato: Aldo Montealegre
Endereço: Dominion México
Diagonal 27, Col del Valle | 03100 D.F.| México
Tel.: +52 55 5340 1400 Ext. 2904
M.: +52 1 55 2128 6820
Email: aldo.montealegre@dominion.mx

Europe

France

Switzerland

Contact: frederic.baroni@austral-net.com

Tel :+33 (0)623501461​

Austral Net
CREATIVA pépinière d'entreprise
81, rue du traité de Rome
84911 Avignon
France
website : www.austral-net.com

Germany

Austria

Contact: Dipl.-Ing. Frank Streibert
Ph: +49 (6373) 891941​

Genius Akademie
Waldstr. 19a
66916 DUNZWEILER
Germany
Switzerland
Stefan Klotzbücher
In den Hagenäckern 38
73529 Schwäbisch Gmünd
Germany

Tel: +49 7171 929390
Fax:+49 7171 929398
Mob: +49 173 3226877
Email: stefan.klotzbuecher@network-sk.com
Site: www.network-sk.com

Belgium

Luxembourg

Netherlands

Contact: Mr. Bert Aerts
Ph: +32 (0)2 673 05 02​​
Fax: +32 (0)2 673 37 97​​

COM'CERT BVBA
The Network Management Service Provider
59, Edmond Vandervaerenstraat
B-1560 Hoeilaart (Belgium)

Denmark

Sweden

Norway

Finland

Contact: Ian Gordon Fudge
Ph: +45 3026 4951
Fiberdk Aps
Odinsvej 10
Kauslunde
5500 Middelfart Denmark

Hungary

Contact: Zoltan Cziraky
Ph: +36-1-272-1234​

Equicom
Bardos A. u. 4.
H-1041 Budapest
Hungary
Italy

Switzerland

Contact: Mr. Giacomo Scalzo
Ph: +39 02 8965 1560
Fax:+39 02 8965 1563

Spring S.r.l.

Operations / Ship-to:
Via Magenta, 77 - Edificio 4/D
20017 Rho (MI) – Italia

Registered Office / Bill-to:
Via Paolo Goglio, 1
20017 Rho (MI) – Italia

P.IVA (VAT reg.): 09677240963

Poland

Contact: Bartłomiej Stogiera
Ph: +48 71 326.71.71
Fax: +48 71 326.71.41

Assmann Distribution Sp. z o.o.
Ul. Szczecińska 17-21
54-517 Wrocław

Spain

Portugal

Contact: Lydia García Carretero
Ph: +34 (91) 3524131

L&M Data Communications
Ctra. Pozuelo a Húmera 63 - ch. 39
28224 Pozuelo de Alarcón (Madrid)
Spain

Romania

Contact: Alexandru Hatagan
Ph: +40757 55 1144
Fax:+4021 423 8877

Best Invest Tech SRL
Strada Oasului, nr. 27B, corp C7
075100, Otopeni
Judetul Ilfov
Romania
Website: www.bestinvest.ro

Serbia
Contact: Vladimir Laketa
Ph: +381-11-369-1251

Micom TM International d.o.o.
Bulevar Vojvode Misica 39a
1100 Belgrade
Slovenia
Contact: Tomaz Ocepek
Ph: +386-31-379-736
Fax: +386-1-589-62-60

Micom Electronics d.o.o.
Dobrave, 10
SI-1236 Trzin
Slovenia
Turkey
Contact: Umur Berat Senturan, Network Sales Team Leader
Ph: +90 216 340 50 50
GSM: +90 530 891 78 07

NETES MUHENDISLIK
Kucuk Camlica Mah. Oymak Cikmazi No:3
Uskudar 34696 ISTANBUL
Turkey
United Kingdom

Contact: Ken Hillyer
Ph: +44 (0) 1284 767100​

CNet Training
Park Farm Business Centre
Fornham St Genevieve
Bury St Edmunds
Suffolk
IP28 6TS UK

Bulgaria
Contact: Mihail Zagorski
Ph: +359 2 970 1990
Fax: ++359 2 970 1999

Test Solutions
Fl. 4, Office 11
87, Alexander Malinov Blvd.
Sofia 1715, Bulgaria

Mascarene Islands

Indian Ocean

French Pacific Islands

Antilles and Guyane

Contact: Frederic Baroni
Ph: +262 (0)692706867

Austral Net
20, place du Général de Gaulle
97460 Saint Paul
Reunion Island
Website: www.austral-net.com

Middle East - North Africa

Saudi Arabia

Contact: Wesam Najjar
Ph: 00 966 112 176 265
Fax: 00 966 112 176 165

Bright Wires Company

United Arab Emirates

Contact: Edwin Rajkumar
Ph: +971-4-3206053
Fax: +971-4-3206785

Synergix International LLC
2305, Palace Towers,
Dubai Silicon Oasis, Dubai, UAE
Tel: +9714 320 6053
Fax: +971 4 320 6785
Email: academy@synergix-int.com
Website: www.synergix-int.com

Egypt


Contact: Mohamed Abdel Rahman
Ph:+202 2473 1810
Email: mohrahman2020h@gmail.com
Universe Egypt
20 Ahmed Fouad St,
Tenth Zone
Nasr City, Cairo Egypt
www.universe-eg.com

Qatar

Contact: Nickil Babu
Ph:+974 4443 6951 Mobile:+974 7059 3425
Email: nickil@stratissqatar.com

Stratiss Qatar W.L.L
Al Rehab Complex
Gate-4, Office-14
Doha-Qatar
www.stratissqatar.com

Bahrain

Kuwait

United Arab Emirates
Contact: Deepti Manoj
Ph: +971-4-2991162
Fax: +971-4-2991163
Email: deepti@topnet.ae

Topnet Distribution FZCO
K-11, Dubai Airport Free Zone
PO Box 54791, Dubai
United Arab Emirates
www.topnet.ae

South Africa (Sub Sahara)

South Africa
Contact: Johann du Toit
Ph: +27 (0) 11 452 1684
Mobile: +27 (0) 82 652 6624
Website: www.cfsafrica.com

CFS Cable Feeder Systems
9 First Avenue
Longlake Extension 1, Linbro Park
Sandton 2090, South Africa.

West, East and Central Africa (WECA)

Kenya
Ethiopia
Tanzania
Uganda
Rwanda
Nigeria
Ghana
Contact: Aunally Maloo
Ph: +254 020 5135250
Computer Learning Centre (CLC Africa)
87 Muthithi Road 2nd Floor , Museum Hill Centre
Nairobi, Kenya
Website: www.clclearningafrica.com

Russia and CIS

Russia

"ArtSpec" Training Center
107076, Moscow,
Korolenko str., 5A
e-mail: andrew@artspec.ru
Phone: 8(495)142-8286, +7(926)215-8286
Russia
Belarus

Contact: Henadzi Konturau
Ph: +375 17 500-94-00

Professional Network Systems JSC
Tsnyanka, Dzerzhinskogo str, 75-302,
Minsk District, 223043, Republic of Belarus

Ukraine

Contact: Alexandr Shevchenko
Ph: +38(044)496-00-96

Bankomsvyazok
Frunze str., 69
Kiev
Ukraine

Kazakhstan

Uzbekistan

Tajikistan

Turkmenistan

Kyrgyzstan

Contact: Andrey Potseluev
Ph: +7(727)390-18-70
info@linkmsater.kz
www.linkmaster.kz

LinkMaster Kazakhstan LLP
117/6, microdisrtict Mamyr 4,
Almaty, 050035, Kazakhstan

Asia

Australia

Ajay Dass
ajay.dass@flukenetworks.com
Fluke Networks, NSW

China
China Marketing
china-marketing@flukenetworks.com
Fluke Networks
Shanghai
Hong Kong

Denis Lai
Info.hk@flukenetworks.com
Fluke Networks

India

India Sales
indiasales@flukenetworks.com
Fluke Networks
Bangalore

Indonesia

APAC Marketing
apacmarketing@flukenetworks.com
Fluke Networks

Japan
Hiroshi Hoshino
hoshino.hiroshi@suntel.co.jp
SUNTELEPHONE CO., LTD
Tokyo
Korea
Jayden Moon
jayden.moon@flukenetworks.com
Fluke Networks
Seoul
Malaysia
Ken Chin
ken.chin@cetm.com.my
CETM Electrotest Sdn Bhd
Kuala Lumpur

Azlan Omar
azlan@darultek.com.my
Darultek Instrument Sdn Bhd
Kuala Lumpar
Philippines

APAC Marketing
apacmarketing@flukenetworks.com
Fluke Networks

Singapore

Jimmy Tan
jimmytan@geic.com.sg
General Electronics & Instrumentation Corp

Taiwan

Eddie Tsai
eddie.tsai@hantac.com.tw
HANTAC
Taipei

Ben Lin
benlin@aimtek.com.tw
AIMTEK
Taipei

Jack Cheng
jack.cheng@eagletek.com.tw
Eagletek
Kaohsiung

Thailand

Somkiat Niyomwan
somkiat@measuretronix.com
Measuretronix Ltd.
Bangkok

Vietnam

Nguyen Van Dong Minh
minhnguyen@nsp.com.vn
NHAN SINH PHUC CO., Ltd.
Ho Chi Min City