FAQ:
What are Brother LabelLink and iLink&Label?
Both are a productivity and quality improvement mobile app solution for cable installers using Versiv testers and Brother PT-E550W label printers. The same mobile app goes by either name depending on the country. This mobile app is an integrated cloud-based solution for managing the test and labeling processes, results and assets. Use of this Brother mobile app with LinkWare™ Live bridges the gap between the office where the project originates, and the jobsite where the project data are needed in the testers and labeling tools.
How does it work?
A project manager creates a project in LinkWare Live while in the office. Technicians can access LinkWare Live while on the jobsite and download project data directly into Fluke Networks Versiv testers. Test results are then uploaded into LinkWare Live and recorded into the project database. The Brother mobile app can access LinkWare Live, including project data uploaded from the tester, and download wirelessly through a tablet or smartphone to the Brother labeling tool model PT-E550W, which acts as a database. From the PT-E550W, project data are searched and inserted individually or in groups into labels designed for cables, patch panels and faceplates.
Where do I get the app needed to make this work?
Look for the Access LinkWare Live at
linkwarelive.com
.
When will the Brother app be available?
The Brother mobile app is available in the Apple store now.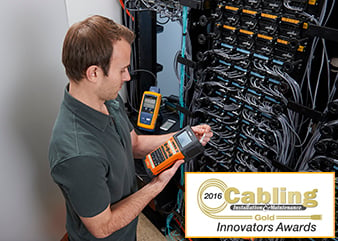 What's the cost?
Both the app and LinkWare Live are free.
What platforms are supported by the Brother app?
LabelLink is available in both
Apple iOS
and
Android
versions in the US only. Outside the US, LabelLink and iLink&Label are only available in iOS versions – visit your country's Apple App Store to download either mobile app.
What Fluke Networks products are supported by the Brother app?
LinkWare™ Live and all Versiv™ Models
What Brother products does the Brother mobile app work with?
The Brother industrial handheld labeling tool model PT-E550W.
What kinds of labels can I print?
Polyester laminated labels for cables, patch panels and faceplates.
Can LinkWare Live help me automate creating the list of identifiers?
Yes, both Versiv and LinkWare Live allow you to automate the creation of groups of identifiers by entering the first and last ID of the group. LinkWare Live will then fill in the intervening values.
Related Products