Industrial Automation Controls Engineers, Technicians and Electricians
Industrial Automation Specialists are responsible for designing, improving, and supporting systems in manufacturing and process plants. They work with Industrial Automation devices like Programmable Logic Controllers (PLC), Distributed Control Systems (DCS), Supervisory Controls (SCADA), Industrial Ethernet Switches (IES), Human-Machine Interfaces (HMI), variable frequency motor drives (VFD), and a wide variety of networked actuators, sensors, and other IIOT. Most of these devices can be connected with Industrial Ethernet copper and fiber cables running a variety of industrial protocols like ProfiNET, EtherNet/IP, Modbus-TCP, EtherCAT, and CC-Link.
When something goes wrong in a process, the Controls Engineer or Industrial Electrician is often called in to determine if the problem is related to control logic, devices, or the Industrial Ethernet cable between devices. Controls Engineers support a wide variety of equipment and processes and need tools to determine if problems are in the network cable, the devices, or device configurations. Click here to learn more about our Industrial Ethernet Cabling resources.
Industrial Automation Controls Engineers, Technicians and Electricians
Key Issues
Isolating Industrial Ethernet Problems
Customers tell us that over 50% of Industrial Ethernet network problems are related to the cable (copper or fiber). Cables are sometimes made wrong, are too long, poorly terminated, susceptible to corrosion, vibration, and electrical noise.
Machines stop working or on lights indicate a problem. Network diagnostics and link LEDs usually indicate roughly where the problem is, but do not isolate the issue to a specific device, device configuration or cable.
The most common method to isolate a problem is trial and error. Basically, replace items until the problem clears. This method is time-consuming, especially when the machine stops intermittently.
Intermittent Problems - EMI
Electromagnetic Interference (EMI) generated by Variable Frequency Drives (VFD), motors, contactors, and solenoids are not supposed to disrupt Industrial Ethernet data frames (also called packets). Industrial Ethernet cables are supposed to be immune to this noise and not let EMI damage data frames. However, not all cables are made for this environment, are damaged, or maybe installed wrong. Moisture, vibration, and temperature changes can also cause weak cables to fail intermittently.
In one recent example, a material handling line with 20 VDFs stop when one particular VFD was turned on. After three days of analysis, it was determined that the VFD was operating correctly, but a short cable routed near the VFD output cable had a defect that caused ~10% of the ethernet frames to have errors when the motor was running.
Commissioning a New Machine
The Industrial Automation network is one of many elements that can delay the installation of a new machine or cause downtime during the acceptance period. Often copper and fiber optic cables are installed and not tested at all. When the machine does not work or stops working after a while (especially in an EMI environment), the engineers and installers have to troubleshoot for every possible problem. If they tested the cables and eliminated any cable problems, they would significantly reduce the about of troubleshooting and commission their system faster.
Ask Our Experts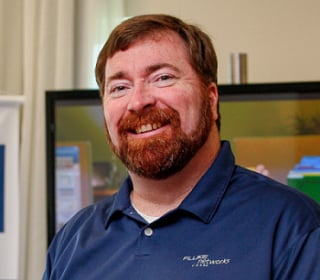 Jim Davis
Regional Marketing Engineer, North America & Latin America
Jim Davis has been working in the cabling industry for over 25 years. For the last 18 years, he has worked at Fluke Networks, first as the Sales Director for Latin America, and more recently as a Regional Marketing Engineer.
Jim has worked on International Cabling Standards Committees, is a frequent speaker at industry trade shows and has participated in dozens of manufacturer's conferences.
Jim's objective is to bring the experience of the Industry, the Market and the Lab to you and present it in way that the common user can understand.
Wayne Allen
Regional Marketing Engineer, Asia Pacific
Wayne is an experienced member of the Fluke Networks team and has been associated with Fluke and Fluke Networks products for the past 26 years in many diverse roles. Currently Fluke Networks' Product Marketing Engineer for the Asia Pacific Region, Wayne is responsible for pre-sales technical support for Fluke Networks products within the region.
Wayne initially joined Philips Scientific and Industrial Electronics in 1989 (the then agents for Fluke in Australia and New Zealand – Wayne went on to became part of the Fluke team in 1990). Prior to joining Philips, he spent 12 years with the Department of Defence in various technical roles as a specialist in military communications.
Christian Schillab
Regional Marketing Engineer, Europe & Middle East
Christian Schillab has been working for Fluke Networks Europe since 1997 as a Marketing Engineer for Media Test Products. As a member of German Standards DKE/GAK 715.3.2 and AK 651.2.1 he actively participates as expert on the topics of field and component testing and prior to that in the FrameRelay and ATM forum. Previously, he has worked for various North American manufacturers of Telecom Test & Measurement products, namely Spectron, NAVTEL and Nextest - in various sales, marketing and market development positions for Europe, Middle East and Africa.
Related Resources & Downloads
Industrial Ethernet networks are the backbone of many of today's connected factories and Industrial Automation systems. Cabling, copper or fiber optic, is a major cause of downtime in these time-sensitive industrial control networks.
We understand that as plant electricians, instrument technicians, and control engineers one of your top priorities has to be avoiding downtime. When something goes wrong in a process, it's not always easy to determine if the problem is related to control logic, devices, or the Industrial Ethernet cable between devices. Here we have put together a range of resources that will help you better understand how to validate, troubleshoot, and maintain your cabling to quickly determine if problems are in the network cable, the connectors, or the devices. Make sure you're doing everything you can to prevent line downtime and to get back up and running quickly if problems do arise.
Videos
Documents
Are you interested in learning more about Industrial Ethernet Cable validation, troubleshooting or maintenance? These resources will help you get started with the quick tips and standards you should know.
Support
Fluke Networks has an extensive group of experts ready to help you with your pre and post-purchase needs.