New Versiv Software Release Now Available
June 7, 2017 / General
We've just posted Version 5.1 Build 4 of the Versiv software for the following products:
DSX Series CableAnalyzersTM
CertiFiberTM Pro Optical Loss Test Set
OptiFiber® Pro OTDR
FiberInspectorTM Pro Fiber Inspection Scope
Versiv Kit Configurator
How will you be using your Versiv?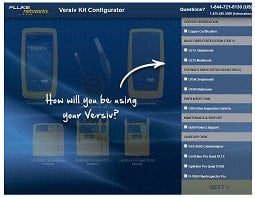 This new software offers:
Easier updates from LinkWare Live (no need to use a PC!)
Ten new cable database entries and updates
Faster uploads to LinkWare Live
Enhanced patch cord testing
There are also a number of bug fixes, all catalogued in the release notes. With all the changes that keep coming, it's essential to keep your tester up to date, so that you don't run the risk of test results being rejected. And the new Wi-Fi enabled software update procedure makes it easier than ever, so there's no excuse!
We've even added a Knowledge Base article that shows how to do it. We still have an article on the old-fashioned, tedious method, as well.