Beware the Polar Vortex!
February 20, 2019 / General, Installation and testing, Upgrading and troubleshooting, Industrial Networks, Best Practices
This winter's phenomenon popularly known as a "polar vortex" has kept many of us around the world under a blanket of snow and ice and well below freezing temps.
While it isn't exactly pleasant to deal with -23°F below zero in Chicago, the coldest temperature recorded in 34 years, or the nearly three meters of snow that fell across parts of Germany and Austria, that doesn't mean we all get to stay home, curled up by the fire and dreaming of springtime. Despite the freezing temps, there's still work to be done – cable plants to install and permanent links to test.
But installing and testing cable plants isn't always easy when it's so bitter cold!
Unwelcome Sub-Freezing Perils
When it comes to copper and fiber cable plant deployments, temperature and weather can have more of an impact than one might think. First, cold temperatures can make for stiff, inflexible cable that is more difficult to install. And if the cables aren't pulled at or above recommended temperatures, PVC jackets can potentially crack during the rigors of installation. This can impact the expected lifespan of the cable. It's important to make sure you're aware of the recommended installation temperatures, which is typically above freezing unless you're installing specialty cable designed for cold weather deployments. Storing cable at cold temperatures is also not recommended -- storing it indoors is your best bet. If that's not possible, make sure to move the cable to a warm area for at least 24 hours before installation.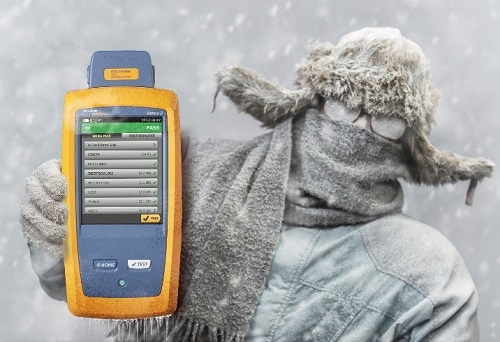 And then there's the fact that things don't always go as planned in the winter. First of all, snow and ice can cause plenty of delays in getting to the project site or accessing specific areas where cables needs to be installed and tested. To help avoid delays and unnecessary travel when testing, Fluke Networks has your back with its Versiv family of cable certification testers and LinkWare™ Live cloud-based service. Not only do Versiv testers test in record test times – almost three times as fast for Cat 6A and four times as fast for fiber loss testing (compared to older tools)– but the ability to upload results to the cloud via LinkWare Live means you don't have to risk your life driving results back to the office on icy roads.
If you're the project manager, LinkWare Live can also make your life easier. With LinkWare Live, you can create test setups and cable IDs remotely with browser-based ease – all from the comfort of your office or even from your home office. All you need is an internet connection. When the job's done, you can review the uploaded results, generate the reports and send them to customers – again from anywhere you've got an internet connection. It's a great way to eliminate unnecessary time spent in the cold, especially at greenfield sites where heat sources can be limited. And rather than wasting time driving around in the snow to search for testers, LinkWare Live let you track where your tester was last synced and who used it.
Testing Equipment Gets Cold Too!
When it comes to cable deployment, it's not just the cable and the technician that have to fight the cold. Cable testing equipment can also be impacted by freezing temps, which is why each tester has a set of specs that include operating temperature. In fact we want to remind you that the operating temperature for a Fluke Network's DTX CableAnalyzer™ series tester is 32°F to 113°F (0°C to 45°C), and its storage Temperature is -14°F to +140°F (-25°C to +60°C). While the same goes for storage on the CertiFiber® Pro optical loss test set, your OptiFiber® Pro OTDR and FiberInspector™ Pro give you a little less wiggle room – they shouldn't be stored at temperatures less than -4°F (-20°C).
While you probably won't experience permanent damage from storing your tester a bit out of range, it's not recommended. First, when temperature cycles between very cold and very warm in conjunction with humidity, some materials such as those used in circuit boards can become brittle and crack from expansion and contractions. And condensation caused by going from extreme cold to warmth can wreak havoc on solder joints. Batteries can also lose capacity in the cold, so you might find yourself not having the battery time you thought you had. And even LCD displays can respond slowly and be difficult to read when they're too cold.
If you do happen to leave your tester out in the cold, make sure to let it warm up to room temperature before turning them on to give the tester ample time to reach its operating temperature and give any condensation plenty of time to evaporate. To avoid dealing with additional delays for a warm up, we recommend you always take your tester inside with you rather than leaving it in the trunk of your car.
Stay Warm and Test On!
While protecting your test equipment from the cold can help avoid delays, we also worry about our technicians – please stay hydrated and wear plenty of insulated layers when you're out and about during extremely cold weather. Even a trip between campus buildings during the polar vortex can cause frost bite in just minutes.
Keep in mind that carrying less equipment and making one trip can reduce your time outside in the elements. With Versiv testers' modular design that supports copper certification, fiber optic loss, OTDR testing and fiber end-face inspection, there's no need to make an extra trip back through the cold.  
Click here to read a story about using OptiFiber Pro in a really cold place.