You're Just a Few Clicks Away from Finding Your Right Tool
September 24, 2013 / General
In our ongoing efforts to enhance your credentials as a network management superstar, we have a new selection gizmo that will make picking the right tool as easy as, well, everything else we help you do.
Our Portable Network Tool Selection Guide lets you choose from a group of categories based on your specific needs: Wi-Fi troubleshooting, wired connectivity, cable mapping and TDR, network analysis and application troubleshooting. More detailed dropdowns let you refine your search even further. And if you're on a budget (and who isn't?), you can even choose by price.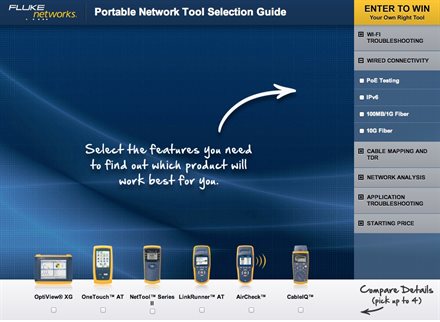 Wondering how, say, the OneTouch AT and LinkRunner AT stack up? No problem. You can compare the features and capabilities of up to four tools side-by-side.