Document Cabling Certification with LinkWare PC and LinkWareLive
February 16, 2016 / General, Standard and Certification, Industrial Networks, Best Practices
Certifying a cabling installation doesn't mean anything without the burden of proof. Documenting the results is the only real way to ensure installation accountability and integrity, resolve disputes and facilitate more efficient troubleshooting.
Even if the customer or a manufacturer's warranty doesn't require documented test results, documentation is still a best practice and your best protection. If you certify a cabling installation that later fails and you don't have the documentation to prove it, how else do you provide evidence that the cable was functioning properly and that it met the specification when you were done with the job?
With today's documentation software, there is no excuse for ever skipping this critical last step.
Save it All
Results need to be saved after each measurement. Thankfully the DSX-5000 CableAnalyzer™ features and Auto Save function that automatically saves results with the next available ID when a test is completed. If you don't have Auto Save enabled, the tester will even alert you that a result has not been saved. Once you're done testing, or at any desired moment during the process, it's important to upload the results from your tester to a computer or via a service like LinkWare Live that saves and manages test results from multiple certification jobs.
Report on It
While just having saved results on your computer is better than nothing, a key part of the documentation procedure is the reporting.
Cable test management software like LinkWare PC doesn't only help you organize and archive your test results, it also allows you to create professional, graphical PDF reports depicting all of the measured test parameters. You choose which parameters to include in the report, and you can even add your company logo. When you're done, you can print or email the report.
And it's a good idea to include plot data in your reports. Graphical depiction of measured test parameters is required for true certification testing and typically mandatory for a manufacturer's warranty. These graphs show valuable information about the cabling performance and can be a valuable tool for troubleshooting.
Versiv Kit Configurator
How will you be using your Versiv?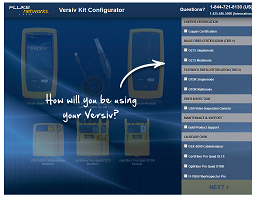 Give it a Label
Without labeling, your documentation will be of little use later on. The ANSI-TIA/EIA 606A labeling standard exists for a reason, and it goes hand in hand with documentation. That is why every work area outlet must be labeled with the floor, telecommunications room, patch panel and port from where it originates.
If you need to troubleshoot a specific link at a later date and check against its original test results, you will need the link's label at the customer location to correspond to the documentation. In fact the 606A standard says that documentation without labeling and labeling without documentation does not equal administration.
Bringing it Together
Labeling makes documentation more than just your burden of proof. Together they help you earn extra revenue by giving you the complete picture you need for later troubleshooting, identifying areas of the network that may need to be upgraded to support new applications, or performing moves, adds and changes.
Fluke Networks' LinkWare PC and LinkWare Live together with the DSX-5000 CableAnalyzer achieve compatibility with labeling software programs to make it easier to maintain a comprehensive cable management system and merge test results to match labeling schemes for fully compliant 606A documentation.
Stay tuned for even more labeling support in the near future.