TIA Recognizes MPTL Connections and You Should Too
July 11, 2018 / General, Installation and testing, Industrial Networks, Best Practices
If you are familiar with deployments where a horizontal cable run terminated on one end to an RJ-45 plug connects directly into a device, then you are familiar with what is now referred to as a Modular Plug Terminated Link, or MPTL (even if it wasn't always referred to in this way).
While previously recognized in building automation and electronic safety and security standards (and formerly referred to as a "direct attach connection"), the MPTL is now recognized in the recently approved ANSI-TIA568.2-D as an option for connecting devices where it is deemed impractical or unsafe to deploy an outlet and equipment cord.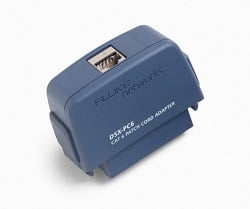 When working with your customers, it's important to recognize just where MPTLs are better suited for connecting devices than using traditional outlets, faceplates and equipment cords. And if you're going to deploy this topology, Fluke Networks has you covered when it comes to testing.
From the Shoe Department to the Craps Table (and Everything In Between)
If you deal with customers in the retail, education and hospitality markets (to name a few), then you know that your cabling system deployments are going to include a multitude of connections to support surveillance cameras. Whether it's to catch a shoplifter, deter vandalism, spot a potential casino cheater or prevent terrorism in public places, cameras are everywhere.
When a surveillance camera connects to an exposed outlet with an accessible equipment cord, it's pretty easy to disconnect it from the network by simply pulling that cord right out of the camera—like this camera shown here. So if security is a top concern for your customer, you might want to consider using MPTLs for these devices. By eliminating the outlet, faceplate and equipment cord, you also eliminate the ease at which a camera can be unplugged—the MPTL can enter directly into the device from behind the wall or ceiling to which it's attached.
For Cost Savings and Aesthetics Too
While security is one of the top reasons to connect devices using MPTLs, there are several other scenarios where this topology might make sense for your customers. In the era of the Internet of Things (IoT) and intelligent buildings, many more devices now reside on the network, and there's a good chance that many of these devices require connections in the plenum space – from LED lights and Wi-Fi access points, to building automation controls. Not all outlets and patch cords are plenum rated as required by code, and the use of MPTLs with plenum-rated cable eliminates these concerns.
For devices that don't need to be easily moved to a different location (like a desktop computer, VoIP phone, printer or other peripheral), MPTLs can also help cut costs by reducing an overall bill of materials and allowing for faster deployments since there is no need for terminating cable to outlets, installing the outlets into faceplates and making connections with equipment cords. And let's face it, eliminating outlets and equipment cords can provide a neater, cleaner appearance for environments where looks matter—no one likes to see an equipment cord hanging down a wall from a video display to an outlet.
Just One Patch Cord Adapter Please
With the proliferation of MPTLs, you could end up with several horizontal runs that are no longer a typical four-connector channel. To certify these links, you will need to follow the new standards-based test procedure that verifies the performance of the final plug connection at the device end.
Included in the new ANSI-TIA568.2-D standard is the proper MPTL test procedure which uses a Permanent Link Adapter, such as Fluke Networks' DSX-PLA004 or DSX-PLA804, on the main unit and a single Patch Cord adapter, such as Fluke Networks' DSX-PC6A, DSX-PC6 or DSX-PC5e, on the remote unit at the far end.
The good news is that rather than having to purchase a pair of patch cord adapters like you would need for patch cord testing, Fluke Networks now pairs a single Category 5, 6, or 6A patch cord adapter with the DSX Permanent Link adapter (included with all DSX CableAnalyzer models) to perform MPTL certification. The adapters are compatible with all DSX models and are available today from authorized Fluke Networks resellers.
And the other good news is that that the new MPTL test limits are included in the latest version of the Fluke Networks' Versiv-DSX firmware (downloadable for free) for use with DSX CableAnalyzer™ Series Testers. From the Test Setup screen, simply select the "Test Limit" and then "More." Then choose TIA under the Limit Groups and select either TIA Cat 6A MTPL, TIA Cat 6 MPTL or TIA Cat 5e MPTL. It's that easy!