LinkIQ: Your Essential Network+Cable Tester
June 9, 2022 / General, Standard and Certification, Installation and testing, Upgrading and troubleshooting
In a 2021 Network Field Report that surveyed more than 350 IT professionals, more than 70% said that network configurations happen daily, several times a week, or weekly. Nearly 50% of respondents also said they spend at least half of their time on reactive network tasks like troubleshooting, mapping, and configuration—leaving little time for strategic technology planning and digital transformation.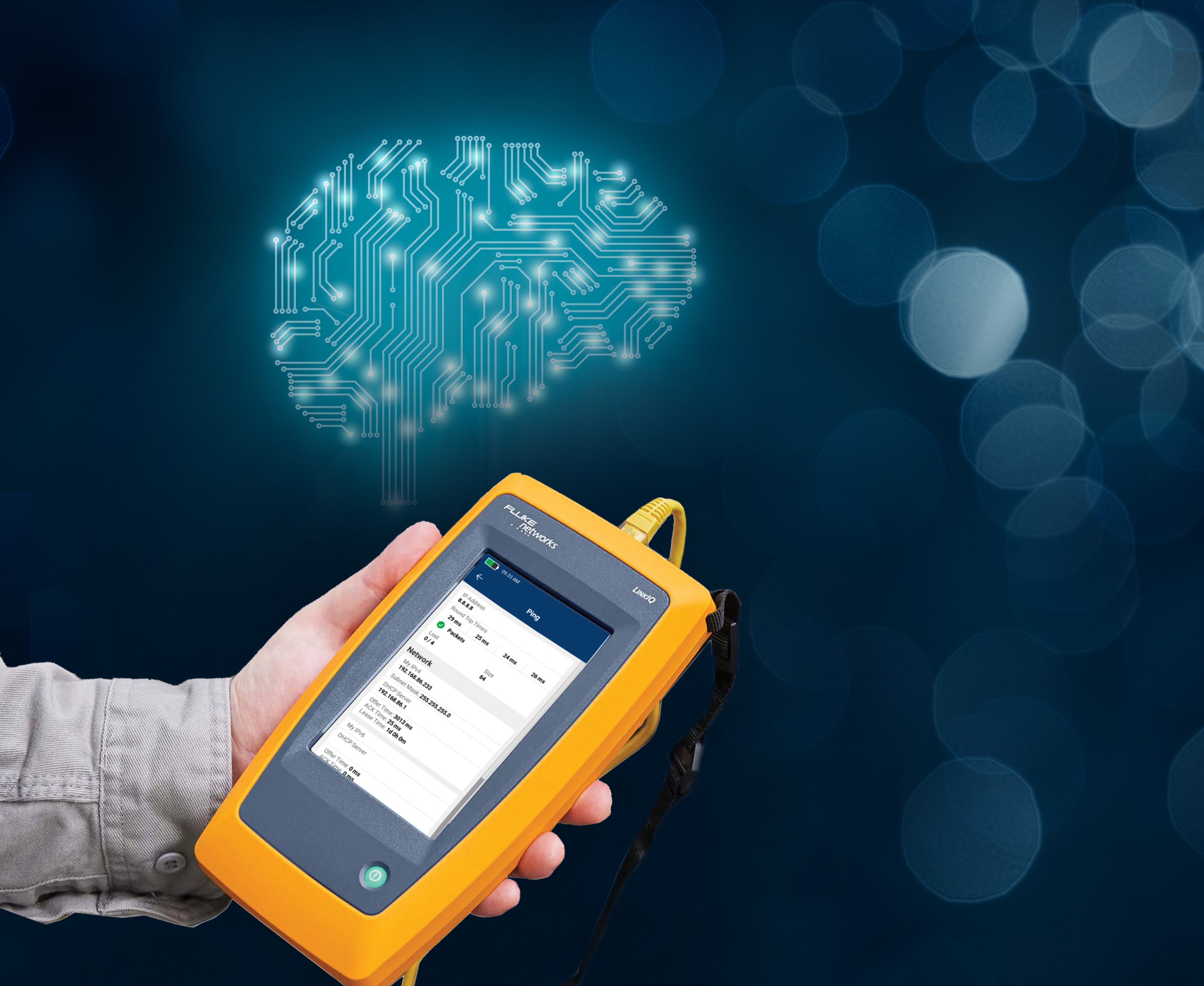 With its new version 1.1 software capabilities, LinkIQ is smarter than ever.
Imagine if your IT team could speed up the time it takes to verify changes to the cable plant, ensure that new devices will perform as expected, and troubleshoot common network issues quickly—all without needing to be experts. When it hit the market last year, Fluke Networks' LinkIQ™ made that a reality in one easy-to-use cable + network tester. And now we've made LinkIQ even smarter with the latest version 1.1 software release.
IP Ping Means Even Less Time Troubleshooting
One of the best features of LinkIQ is its ability to receive link layer discovery protocol (LLDP) or Cisco discovery protocol (CDP) from a switch, which allows a switch to discover connected devices and advertise its capabilities. This is ideal for identifying problems at the active equipment from the other end of the link, including which switch the link connects to, the switch's supported speed and duplex settings, the switch port number, and virtual LAN (VLAN) assigned to the link. You can quickly and easily determine if a network issue is caused by a switch misconfiguration, or if a link was connected to the wrong switch port or assigned to the wrong VLAN—all without having to go back to the closet to check the switch information. If you need to definitively identify the connected switch port, LinkIQ even offers a Blink Port Light feature.
IP Ping expands the LinkIQ's troubleshooting and connectivity testing capabilities
In version 1.1, we've expanded LinkIQ's troubleshooting capabilities and connectivity testing with IP ping (ICMP echo/reply). When you configure a ping test, LinkIQ can determine if a specific gateway or domain name server (DNS)—on the network or internet—is operating and accessible, which is useful if a device is having trouble reaching a specific address. To check latency, ping also determines the maximum round trip time through the network. To conduct a ping test, you can set up the LinkIQ's IP address (IPv4 or v6) manually or through Dynamic Host Configuration Protocol (DHCP), a network protocol that enables a server to automatically assign an IP address.
Multiple Language Support
LinkIQ's user interface now supports 12 languages—English, German, French, Japanese, Spanish, Thai, Simplified and Traditional Chinese, Korean, Russian, Italian, Portuguese—to make it even easier for anyone to test, anywhere. The keyboard also supports extended alpha characters and symbols.
Expanded Network Testing
Gesture-based touchscreen interface and clear controls make LinkIQ the easiest tester for qualifying cable performance and verifying connectivity. With version 1.1, you can verify connectivity and response time to key network devices with just a touch: tap the Autotest button, and if LinkIQ recognizes the Remote ID at the other end, it knows you're testing the cable. No need to understand complicated industry standards and performance parameters or decipher graphs. The cable test shows you what you need to know to make sure your cable passes wire map testing and can support the data rate throughput you need, up to 10 Gb/s—all displayed in an easy-to-read "speedometer" graphic.
If the cable doesn't pass the wire map test, the graphical display of color-coded conductors makes it very easy to see exactly what went wrong—a short, an open, or a miswiring such as reversed, crossed, or split pairs. If the cabling is shielded, it will also show whether you've got continuity of the shield. The clear speed-dial graphic below the wire map makes it easy to see if the cable supports the data rate you chose, from 10 Mb/s to 10 Gb/s. And while you might not know (or need to know) all the ins and outs of testing performance parameters, LinkIQ will tell you what caused the failure—length, wire map, insertion loss, return loss, near-end cross talk, or delay skew—in case you need to delve further.
More Confidence in PoE Testing
LinkIQ 1.1 gives you even greater peace of mind in PoE testing by showing you the actual negotiated PoE class (0-8) and wattage available for a powered device (PD) that occurs at both the hardware and software levels, ensuring a device can both connect to the network and allow for dynamic allocation of power from the power sourcing equipment, such a PoE switch. LinkIQ goes further by simulating the load that the PD will place on the circuit, confirming that the power and voltage are there.
And LinkIQ is now certified by the Ethernet Alliance. This means that LinkIQ has been put through a series of rigorous lab tests to ensure it is fully compliant with every requirement of IEEE 802.3 PoE standards and will work properly with all IEEE-compliant devices. It joins Fluke Networks' MicroScanner™ PoE as the only EA-certified PoE field testers.
And More
LinkIQ can generate analog or digital tones for use with Fluke Networks' IntelliTone™ Probe or Pro3000™ Tone and Probe, allowing you to trace cables or detect cable faults (opens, shorts, and reversed pairs) in a wall or telecommunications room.
And with today's increasingly complex networks where documentation is vital, LinkIQ can store up to 1,000 test results with descriptive names that can be numerically incremented automatically to save time when testing in sequence. Then LinkIQ can export the data to Fluke Networks' LinkWare™ PC cable test management software, which ensures that everything works together, from storing and managing results to generating PDF reports.
Just when you thought we couldn't make cable and network testing easier, we've boosted our LinkIQ with the Version 1.1. software release. Current owners can download the update here. The LinkIQ Cable+Network Tester with the new 1.1 software is available online or from Fluke Networks resellers worldwide. Questions? Contact us!