Standards Update: The Four A's of Harmonization
May 5, 2015 / General, Standard and Certification
With ANSI/TIA being a North American standards body and ISO/IEC considered international, some often question why we need both, especially considering the similarities between the two.
But there are also plenty of differences—from terminology and spelling, to policy and codes. The good news is that with technology having made our world a much smaller place, TIA and IEC are fast at work harmonizing standards.
Along with harmonization comes the fact that sometimes one standards organization develops a standard first and the other can choose to either adopt or adapt the standards. Standards are also harmonized through approvals and amendments.
Let's take a closer look at some of the recent four A's taking place in fiber standards harmonization—adoption, adaption, approval and amendment.
Adoption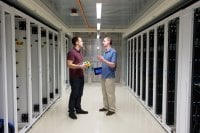 When TIA adopts an IEC standard, or vice versa, it quite literally means that they take on and follow the standard. For example, TIA adopted the IEC 61280-4-1 multimode fiber optic testing standards as TIA-526-14-C. Because TIA has an outdated singlemode fiber optic testing standard, they are also considering the adoption of IEC 61280-4-2. If they do, it will be published as TIA-526-7.
Adaption
Sometimes in the harmonization of standards, adaption becomes necessary. In the case of TIA adopting the IEC 61280-4-1 multimode fiber optic testing standard, there was the need to account for regional differences and provide further clarification and guidance. As a result, TIA "adapted" a foreword that includes additional information to that found in the IEC standard.
Another key adaption change involves the encircled flux (EF) metric for the launch condition. In October 2013, TIA decided to require EF for only 850nm wavelengths on 50µm multimode and recommend it for any other multimode fiber types or for 1300nm wavelengths. In contrast, ISO/IEC standards require EF compliance for 850nm and 1300nm wavelengths on both 50 µm and 62.5µm multimode fiber. Luckily Fluke Networks offers EF-compliant test equipment for all four cases.
TIA also included a higher order mode loss (HOML) field test that measures power before and after a mandrel wrap. While not intended as a substitute for EF, HOML can be used to disqualify a testing light source that is too under-filled.
While it's a little confusing, we can now say that the "adoption" of IEC 61280-4-1 by TIA will soon be published as TIA-526-14-C with these "adaptions."
Approval
When it comes to harmonizing standards, there is another all-important "A" word—Approval. During the development of the ANSI/TIA 568.3-D optical fiber cabling component standard, which has been extensively improved and is close to being issued as the first industry ballot, there was a proposal to make Tier 2 testing (OTDR) equivalent to Tier 1 testing (OLTS). This was NOT approved, which is in accordance with existing ISO/IEC standards that specify Basic Test Regime (light source and power meter) and Extended Test Regime (OTDR).
Another proposal of interest is the addition of connector grades. The U.S. National Committee of the IEC supported connector attenuation grades produced by IEC for 50µm fiber. In the effort to harmonize, the incorporation of these grades into TIA 568.3-D was indeed approved.
Amendments
To truly harmonize standards, they need to be amended when necessary. For instance, while the IEC/ISO 14763-3:2014 optical fiber testing standard has been published, a corrigendum (errata) is available to make corrections to test limits. An amendment is also in the works to include more permanent corrections and restructure the fiber optic cleaning and inspection information. We may also see clarification of channel testing requirements and definitions included in the amendment.
With both TIA and IEC busy developing new and updating existing standards, there's no doubt that harmonization isn't easy. But both organizations continue to make significant headway—fueled by the fact that many serve as committee members within both organizations and an overwhelming commitment to promote interoperability within the global communications industry.