With New High-Density Fiber Connectors Comes Tier 1 Testing Challenges
May 15, 2019 / General, 101 learning, Installation and testing, Industrial Networks
In response to the need for higher density in data centers, a couple of new fiber connectors have recently been introduced to the market. Because these connectors are new, test equipment with these interfaces has not yet been introduced, which presents some Tier 1 testing challenges and a shift from the traditional recommended 1-jumper reference method. Let's take a closer look at these connector types and how to test them.
CS and SN Connectors
Designed for next generation 200 and 400 Gigabit applications, the CS duplex fiber connector introduced earlier this year delivers better insertion loss and return loss performance compared to traditional LC connectors, and it does so in a reduced footprint. Featuring a 1.25mm ferule, the CS connector is 40% smaller than the LC – the two fiber are spaced at just 3.8mm in a 7.85mm housing compared to the LC that spaces the two fibers at 6.25mm in a 13mm housing. It features a push-pull tab available in various lengths for easy access in ultra high-density patching environments, and unlike LC connectors whose latch requires space in vertical stacking, the CS connector can be closely vertically stacked to further improve density.
These new high speed applications look to use a top of rack or middle of row location of switches in a data center. From this location, a single port on the switch can connect to multiple servers with the use of a breakout cable. The CS connector is typically used in these breakout configurations with an 8-fiber MPO fanned out to 4 CS connectors for 100 Gig applications (4 fibers transmitting and 4 fibers receiving at 25 Gb/s) or for 200 Gig applications (4 fibers transmitting and 4 fibers receiving at 50 Gb/s). It can also be used with a 16-fiber MPO fanned out to 8 CS connectors for 400 Gig applications (8 fibers transmitting and 8 receiving 50 Gb/s). A CS-to-CS duplex configuration supports 200 and 400 Gig using coarse wave division multiplexing (CWDM) where 25 or 50 Gb/s signals are transmitted over four different wavelengths.
And just in case the CS wasn't small enough, the recently introduced SN duplex fiber connector spaces the two fibers vertically at just 3.1mm apart in a 3.85mm housing. This allows for four connectors in one transceiver to support breakout applications without the need for fan-out cables or cassettes.
But My Tester Has an LC Interface
Because the connectors are so new, it is likely that your light source and power meter (LSPM) or optical loss test set (OLTS) do not have CS or SN interface ports, which presents a testing challenge.
If using an LSPM like Fluke Networks' SimpliFiber® Pro that tests individual fibers using a single port, a CS or SN to LC breakout cord is needed on either side of the permanent link under test. In this scenario, each fiber needs to be tested for attenuation, so the light source and power meter must be moved from one fiber to the next at both ends. It's important to note that since the launch cord must be disconnected from the LSPM, another reference measurement must be made before connecting to the second fiber.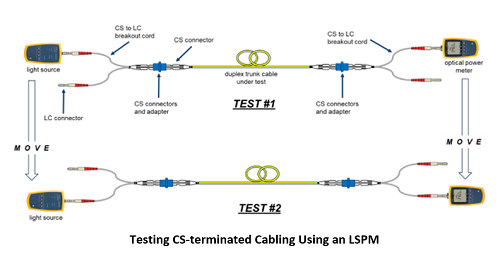 If using an OLTS like Fluke Networks' CertiFiberPro® designed for duplex testing (which greatly reduces test time and is the recommended tester for duplex systems), both LC connectors on the breakout cord connect to the OLTS so there is no need to move the tester. With an OLTS, it is only necessary to test in the direction of transmission, so in this scenario, only one test and one reference measurement is needed.
The Atypical 3-Jumper Method
Despite the fact that the 1-jumper method is typically recommended for setting the reference, testing cabling with CS or SN connectors using breakout cords and an LSPM or OLTS requires a 3-jumper reference method. This is done by first setting a reference with LC launch cords (TC1 and TC2) to verify the condition of the end face connections. The second step is to disconnect the cords from the power meters (not the source), add the receive cords (TC3 and TC4), couple the launch cords to the receive cords (TC1 to TC4 and TC2 to TC3) using an LC adapter and make a measurement to verify low loss, less than 0.25 dB, for each pair. Then, set the reference to 0 dB.
Once the reference has been set, the third step involves inserting a suitable duplex 2-meter substitution cord. This substitution cord should be inspected, cleaned and verified for low loss prior to connecting – a cord with high loss could result in the cabling under test to appears to have a negative loss (e.g., gainer). With the substitution cord connected, set the reference again. For the final step, replace the substitution cord with the CS or SN to LC breakout cord and attach the CS or SN connector to the cabling under test and measure. The measurement includes the loss of the fiber plus the loss of the two CS or SN connectors, minus the loss of the reference cords and LC connectors.