The Making of an Expert Fiber Tester and Network Troubleshooter Part 2 of 3
March 26, 2019 / General, Standard and Certification, Installation and testing, Upgrading and troubleshooting
Profile: Vangie Michenzi - (Read Part 1 of Vangie's story)
Senior Fiber Optic Project Manager
BICSI Credentialed ITS Technician
Certified Data Center Designer and Installer
Advanced Communications Technology Services
When we left Vangie Michenzi of Advanced Communication Technology Services in part 1, she was explaining how her formative years were spent learning the intricacies of building copper and fiber networks and training IBEW electricians how to run, connect and test fiber links.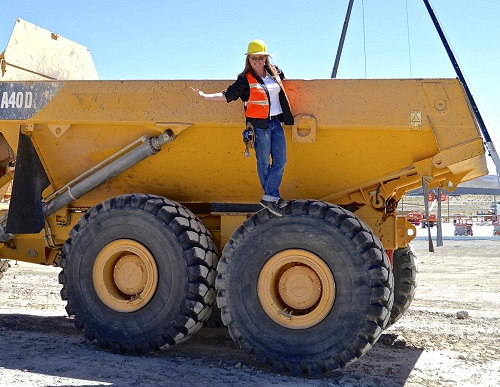 In Vangie's case she had her mother to thank for introducing her to the ICT industry, but Vangie had a bit of passion and the smarts to take advantage of the opportunities in front of her. Plus, and it's a big plus, Vangie was able to find a mentor willing to give a high school kid an opportunity and give a little bit of their time to help foster the passion into a potential career.
"During high school I worked in the lab at Aacrocomm Engineering making pre-terminated fiber optic cable assemblies and jumpers and things," Vangie says matter-of-factly. "By the time I graduated I was running the lab."
Along with running the lab, Vangie had a good mentor, David "Bo" Conrad, who asked her to help teach the Hands-On training courses for BICSI, which were taking place at the time around the Bay Area at the Crossbow Communications training centers. There was also a specifically crafted course for contractors that would take place at a contractor's office.
"We would train their guys on the specific materials for the installation they were working on at the time. It was meant to fill in the gaps and got down into the nitty gritty from installation to certification since manufacturers' training courses were product focused and not project focused," said Vangie.
This episode shows how valuable the right job or internship can be to high school students and young people pursuing a career. When young people are aware that careers like this even exist, they can make an informed decision on how to move forward in a career or where to begin training. Being able to observe and analyze how technicians worked on actual projects provide insights that no amount of classroom time could convey. And it's not just a charitable effort – there's no better way to develop and test a prospective employee. The entire industry could benefit from expansion of such efforts.
These early influences helped put Vangie into an ideal position career-wise as she was graduating from high school and helped prepare her for the next transition in her career. Looking back on the early part of her career what tips does Vangie have for people starting an ICT career?:
Leave your ego at the door. You don't know everything and it's okay to say you "don't know".
Be open to other people's ideas and perspectives you're likely to learn something new.
And vice versa! As Vangie shared, "If people hadn't been willing to listen to me I wouldn't have gotten to where I am today."
Lastly, be willing to work hard, physically and mentally because you can't coast through this kind of career.
That's advice you can't afford to ignore. It's paid dividends for Vangie over the course of nearly 20 years working on the construction side of the industry, which included a couple of years working at Apple as its first fiber tech building out its data center strategy.
Vangie did share one more piece of advice that is worth its weight in gold to anyone who wants to have a successful and financially rewarding career in the ICT industry ‑ know and understand loss budgets! More on that in the next installment, but if you'd like to do a little prework, check out our blog; What's My Loss Budget?
It's the secret to Vangie's success and has led to her becoming one of the most in-demand fiber troubleshooters in the West. Stay tuned for the rest of Vangie's story.
Got a great story you'd like to share? Contact us at FlukeNetworks@onpr.com.