#ICYMI: Highlights from 2017 BICSI Winter
February 8, 2017 / General
The 2017 BICSI Winter Conference wrapped up last week in Tampa where thousands of ICT professional from around the world had a chance to gain valuable industry knowledge and check out the latest products from nearly 180 vendors in the exhibit hall – including our new DSX-8000 CableAnalyzer.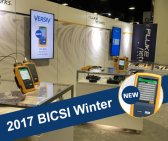 Yup, that's right. Amidst high winds and tornado warnings, engaging seminars and presentations, BICSI swearing in its new board members, and 18 installers and technicians competing in the annual Cabling Skills Challenge, Fluke Networks displayed the first field tester independently certified and endorsed to meet all the requirements of the Category 8 field testing standard – ANSI/TIA-1152-A Level 2G.
Ready for Tomorrow, Superior for Today
With a full 2 GHz range, the new DSX-8000 allows for field certification of copper cabling from TIA Category 5 through the latest Category 8 and ISO/IEC Class C through FA and future Class I/II (Class II adapters available Summer 2017).
While 25GBASE-T and 40GBASE-T active equipment are yet to hit the market, the DSX-8000 will allow the first customers deploying Category 8 cabling systems to ensure support for these new high-speed applications in switch-to-server connections at the data center edge.
And if you're thinking "I won't need Category 8 testing for years," consider the fact that when you buy a tester, it's supposed to last for years. Besides, not only does this new tester allow you to be ready for tomorrow, it's the best return on investment for today.
Versiv Kit Configurator
How will you be using your Versiv?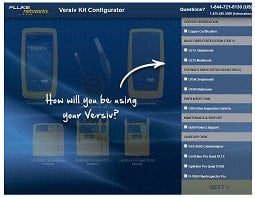 The new DSX-8000 offers the fastest test time of 8 seconds for Category 6A certification and enables DC resistance unbalance testing for guaranteeing operation of advanced PoE systems. Together, these two features alone improve testing of several emerging high-speed, higher power PoE applications that were also all the buzz at the 2017 BICSI Winter Conferences—applications like 802.11ac Wi-Fi, digital signage, IPTV and more. That makes the new DSX-8000 a smart buy.
Already Photographed, Endorsed and Awarded
Another thing you might have missed at BICSI was your chance to connect with our experts, touch and feel our testers, and even take a selfie with the new DSX-8000 at our booth – not to mention the exhibiting cabling vendors who have already endorsed this latest addition to our Versiv family of testers.
In fact, attendees at the event got a sneak peak of the new Berk-Tek/Leviton Category 8 system on display with none other than the DSX-8000 verifying its performance. And as one of the products on display in BICSI's New Product Pavilion, the DSX-8000 was awarded the best new product in the "Installation Tools, Methods and Testing" category.
So while high winds on the first day of the event may have taken one or our banners out into Tampa Bay, the 2017 BICSI Winter Conference put plenty of wind in our sails and reasons to celebrate. If you missed it, we hope you get a chance a check out the DSX-8000 at the 2017 BICSI Fall Conference in Las Vegas.
In the meantime, read more information on Category 8 testing and stay tuned for more blogs on the topic.