The End of Era: Saying Goodbye to DTX
June 24, 2015 / General
The year was 2004. The hottest mobile device was the Motorola Razr flip phone, Pierce Brosnan was still able to pull off a James Bond role, Facebook was a website nobody's parents knew about, and The Red Sox won the World Series. It was also the same year that Fluke Networks introduced the DTX CableAnalyzer.
Touted as the ultimate time saver, the DTX CableAnalyzer brought testing to a whole new level with its 12-second autotest, powerful on-board diagnostics and Level IV accuracy. I even remember interviewing Fluke Networks back in 2006 about its exceptional ability to test Category 6A. But alas, it is now the end of an era.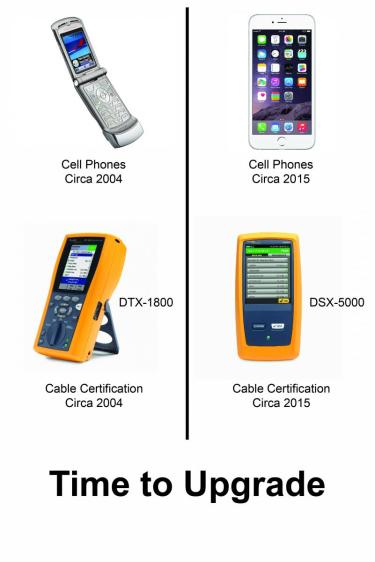 Estimated to have tested more than a billion links in the past decade, the DTX CableAnalyzer is saying goodbye.
In With the New
With yet another Red Sox World Series win in 2013 (my apologies to those of you who are not Red Sox fans), came the introduction of the DSX-5000 CableAnalyzer featuring the Versiv platform.
Over the past two years, customer response to productivity enhancements like ProjX management, Class FA and coax certification, Tier 1 and Tier 2 optical loss testing modules, and the new LinkWare™ Live cloud service have been extremely positive. In fact, more than 85% of our certification tester sales are now the DSX-5000.
With the popularity of the DSX-5000 has come the subsequent reduced demand for the DTX CableAnalyzer, and as with all things new, something must go. As of June 30, 2015, all DTX models will cease production. The exception is the DTX-1500, which will remain available in select countries for those contractors in need of an economical option for small-to-mid sized projects.
Support for the Old
While the odds of the Red Sox winning the 2015 World Series has been pegged at 22 to 1, don't worry.
DTX CableAnalyzer owners can rest assured that Fluke Networks will continue to calibrate and repair each of the retired models for at least another three years. LinkWare® PC will also continue to support all DTX modes and test formats.
For more information about the DTX retirement, including the list of discontinued DTX models, modules and accessories, click here to access the FAQs.
A Time to Change
Change isn't always easy, and with the legendary ruggedness and reliability of the DTX CableAnalyzer, you might just be thinking that you want to use it forever. But with a closer look at the advantages of the Versiv cabling certification system that comes with the DSX-5000, you will likely change your mind.
Not only does Versiv offer faster setup, reduced mistakes, faster reporting and support for future measurements that you won't get with the DTX, it also offers faster testing—twice as fast for Category 6A and four times as fast for fiber loss testing.
The DSX is designed to save you time and money in every phase of testing. To top it off, new software and firmware for the Versiv family was recently released with plenty of new enhancements to help you get systems acceptance even faster.
Still not convinced? Fluke Network makes it easy to change with multiple trade-in promotions in select countries. Contact your distributor for details.
Let's face it. Just like the flip phone and Pierce Bronson's not-exactly Bond-esque singing debut in Mamma Mia!, sometimes we just need to say goodbye.