Cabling Mistakes #6 - #7: Using Non-EF Compliant Cable Tester and Two-Cord
May 5, 2016 / General, 101 learning, Installation and testing, Best Practices
While the smart people who install, test and certify network cabling plants know the importance of meeting standards performance parameters and ensuring application support, even the best of us can make mistakes that adversely impact the bottom line and customer satisfaction.
Let's take a look at the #6 and #7 Dumb Things that smart people do when testing network cabling systems— Using a non-EF compliant tester for testing multimode fiber and choosing the two-cord reference for Tier 1 optical loss testing.
If It's in the Spec
Approved in October 2010 with the publication of ANSI/TIA-526-14-B, Optical Power Loss Measurements of Installed Multimode Fiber Cable Plant, encircled flux (EF) testing is now required by the ANSI/TIA-568 series of standards. So if your specification states ANSI/TIA-568-C.0, you must use EF compliant launches for multimode fiber testing.
If you think you can stick with the old method of using a mandrel to stabilize a launch, think again. Decades ago when loss budgets were relatively high, simple stability via a mandrel was all that was needed to strip out modes more susceptible to loss and ensure accurate results. But that's no longer the case with the tighter loss budgets of high-speed 10, 40 and 100 gigabit Ethernet over multimode fiber.
Versiv Kit Configurator
How will you be using your Versiv?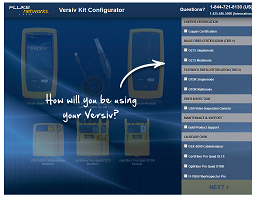 EF testing uses a more restricted template that more closely matches the tightly controlled launch conditions of today's high speed optical fiber transceivers. This significantly reduces measurement uncertainty that can save you from over-optimistic results and leaving your customers wondering why their application is not performing.
So if you're testing today's multimode fiber, going with an EF compliant tester like the CertiFiber® Pro is a smart move. Besides, some cabling vendors are now requiring EF testing for warranties, while others will not provide onsite support without first seeing EF compliant results.
Keep it at One
While a two-cord reference method while testing might appear to make sense, there is a reason why it is not recommended. When both cords are referenced, one of the end connections is improperly referenced out, providing overly optimistic or negative loss results.
In contrast, the one-cord reference method recommended by both TIA and IEC standards assesses the condition of the channel end faces against the high quality multimode connector of the test reference jumper and includes the loss of the connections at both ends of the channel.
Since most of the loss in a channel is caused by these connections, the one-cord reference method delivers the highest accuracy. Thankfully a negative loss caused by a two-cord reference will result in both a warning and a FAIL on the CertiFiber Pro. Besides, many cabling vendors will reject results carried out with a two-cord reference, and that could prevent you from acquiring a warranty.