Data Center Standards and Guidelines
November 1, 2017 / Standard Updates
Regardless of the size and type of the data center, the switching topology and the applications, the underlying cabling infrastructure that creates all the links needed to connect data center equipment follows the same basic design principles established by industry standards. These standards were developed on the basis that regardless of business activity or size, all data centers have similar needs that include providing secure, uninterrupted availability, performance and reliability.
Industry standards for data centers specify the minimum requirements for the cabling infrastructure in these spaces, as well as facility specifications that address space planning, security, safety, fire suppression, electrical and mechanical. Applicable to any size data center, these standards help create a space that is manageable and reliable, and where additional equipment and applications can be added with minimal downtime and disruption. Supplementing data center standards are several guidelines that further help to ensure data center availability and efficiency. Following are some of the primary industry standards and guidelines:
Versiv Kit Configurator
How will you be using your Versiv?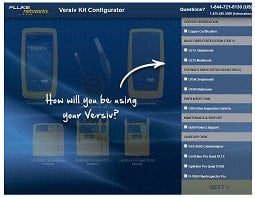 ANSI/TIA-942-A Infrastructure Standard for Data Centers - This North American standard references the TIA-568 series of the standards but contains additional information appropriate for data centers. It outlines the specific functional areas of the data center, providing minimum recommendations for pathways and spaces, backbone and horizontal cable media distances, redundancy, cable management and environmental considerations.


CENELEC EN 50173-5 Information Technology - Generic Cabling Systems Part 5: Data Centres - Harmonized with TIA-942, this European Union (EU) Standard also specifies requirements for cabling within data centers to support existing and emerging applications.


ISO/IEC 24764 Information technology - Generic Cabling Systems for Data Centres - Based on both TIA-942 and EN 50173-5, this is the international standard that specifies cabling for use within the data center. It references the cabling requirements of ISO/IEC 11801 with additional information pertinent to data centers.


ANSI/BICSI 002-2014 Data Center Design and Implementation Best Practices - This standard is a data center design and operation guide that covers planning, construction, commissioning, protection, management and maintenance of data center, as well as cabling infrastructure, pathways and spaces. It addresses modular and container data centers, as well as energy efficiency, and includes its own availability class structure for determining reliability.


Uptime institute - This advisory organization provides guidelines for improving the performance, efficiency and reliability of critical data center infrastructure. The Uptime Institute established the Tier Classification System to define data center availability with Tier 1 providing basic capacity, Tier II providing redundant capacity, Tier III considered concurrently maintainable with no shutdowns for maintenance and Tier IV being fault tolerant with a 99.99% availability level. Each Tier level includes the average annual allowable hours of downtime.


ASHRAE 90.4-2016 - This standard contains recommendations for the design, construction, operation, and maintenance of data centers. Additionally, this standard focuses on the use of both on-site and off-site renewable energy and provides thermal guidelines that recommend cooling best practices and temperature ranges that help ensure reliability and efficiency.


The Green Grid - This non-profit, open industry consortium of end-users, policymakers, technology providers, facility architects and utility companies works to improve IT and data center resource efficiency around the world. This consortium is also credited with the developed of PUE (Power Usage Effectiveness), a method of measuring energy efficiency in data centers that compares all the energy consumed by the data center to that consumed by the active equipment.