Testing New Cable Tester in 2017
December 14, 2016 / General
It's that time of year again when we take a look at what we predict to be next year's biggest trends in testing.
Obviously the Internet of Things (IoT) will continue to be a major driver in all things network cabling--from the LAN where we will see more devices than ever residing on copper twisted-pair network cabling, to the data center where demand for high speed fiber links continues to expand as companies are faced with the need to access, transmit and store more data than ever before.
But what do these changes mean from a network cabling and testing standpoint? Let's take a closer look.
More Power, New Apps in the LAN
A key aspect of the growing number of devices connected to the LAN is the ability to power those devices with evolving PoE technology. With IEEE 802.3bt PoE standards expected to be ratified next year, we will soon be looking at Type 3 PoW at 60W and Type 4 PoE at 90W delivered over all four pairs.
While Cisco's UPOE already delivers 60W, next year's ratified PoE standards will open up the door for more PoE-enabled devices than ever before. That combined with power over HDBASE-T (covered in this earlier blog) that delivers up to 100W of DC power in conjunction with video signals paves the way for PoE LED lighting, LED TVs, digital signage and more.
At the same time, many enterprise businesses will strive to make the most of their installed base to support newer technologies. Approved in September of this year, the new IEEE 802.3bz standard for 2.5/5GBASE-T is targeted for operation over Category 5e and 6 cable, which still accounts for more than 80% of the installed base. Primarily targeted to support the latest 802.11ac Wi-Fi applications, these new standards will pave the way next year for more 2.5g/5GBASE-T products and adoption.
From a testing standpoint, these trends drive the need for both DC loop resistance and DC resistance unbalance testing to ensure proper Ethernet transmission amidst four-pair Type 3 and Type 4 PoE--especially for gigabit Ethernet and beyond. And for those wanting to deploy the latest 802.11ac Wi-Fi over their installed base of Category 5 and 6, there will be the need for testing to the new 2.5/5GBASE-T standard in existing facilities since not all Category 5e and 6 cables will necessarily support these speeds.
Thankfully the DSX-5000 CableAnalyzer (with the latest firmware) is ready make all these tests.
Versiv Kit Configurator
How will you be using your Versiv?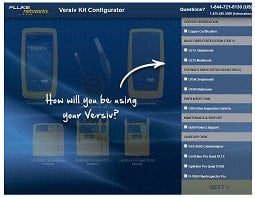 Some New Names in the Data Center
To support the need to access, transmit and store more information than ever before, many enterprise data centers are turning to cloud and colocation facilities with the capacity and services to help them expand with reduced capital expenditure, while others are upgrading their own fiber links. Regardless of the data center type, both copper and fiber technology are advancing to support the need.
With TIA approving the ANSI/TIA-568-C.2-1 standard for Category 8 cabling systems, you can be guaranteed that 2017 will bring the availability of Category 8 solutions for use in shorter switch-to-server data center connections of 30 meters or less. When those product hit the market, look for Fluke Network to announce support for these new standards – and a way to upgrade your existing DSX-5000 to support them.
And fiber too will see some changes. Wide band multimode fiber (WBMMF), now referred to as OM5, will feature bandwidth characteristics at the 953 nm wavelength to support wavelength division multiplexing, which open the door for running 100 Gig over a duplex fiber connection and future 400 Gig applications over the current 8-fiber MPO interface.
The good news is that testing of new OM5 fiber (when available) won't be complicated. It has all the same specifications as previous multimode fiber with the exception of attenuation parameters specified for the 953 nm wavelength. And if you're testing at both the 850 nm and 1300 nm wavelength per the preferred method, you can continue to do so for OM5.
Testers Keeping Score
So while we are confident that we've got testing covered for what's coming in 2017, the testers themselves are geared up to offer all the benefits the world is starting to experience with IoT and cloud computing.
As more Fluke Network's Versiv cabling tester users become familiar and comfortable with LinkWare Live (nearly three million results uploaded so far), 2017 will see an upsurge of test results being uploaded from any location rather than driving results back to the office. This will mean overall improved team productivity and rapid troubleshooting as results can be shared amongst all the right people -- engineers, installers, project managers and consultants -- from any place at any time and on any device.
And with remote setup by those most familiar with the project and asset tracking to see the geographical location of the testers, accuracy is improved and time is saved--something that has always been, and will remain, a trend.