LinkWare Live lets you import Cable IDs from a spreadsheet. In the spreadsheet, all of the Cable IDs must be in the first column, with a blank row after the last ID.

Save the file as .csv.
IMPORTANT:
When adding new Cable ID lists, make sure that none of the new Cable IDs are duplicates to any others already configured within the the same Project or SubProject. Duplicate IDs in the list will cause the import to fail.
This link may be helpful for removing duplicate IDs in Excel.
Next, within the Project or SubProject RESULTS page, click the IMPORT CABLE IDS button.
Select a Test Setup
Select a SubProject (if using)
*This shows the screen if you are importing the Cable ID set from the Project Level.
Click Choose File and browse to the .csv file you saved.
Click the green IMPORT button.

*This shows the screen if you are importing the Cable IDS from within a SubProject.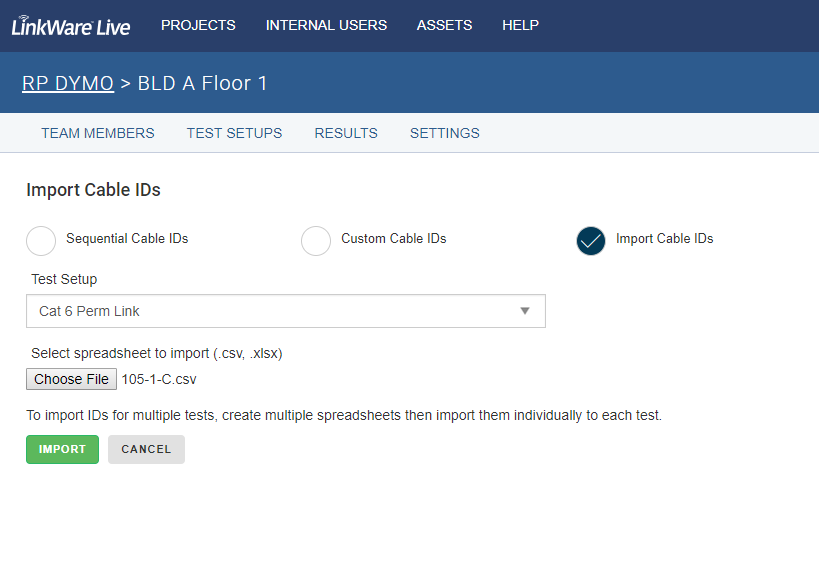 After the import, go to RESULTS and you will see the IDs displayed as Status UNTESTED.
Final Steps: Step 1 is critical to transfer the ID List to the Versiv tester.
SYNC Versiv to your LinkWare Live Organization to download the Project, SubProject(s) if any, and ID Sets to the tester.
Wireless SYNC
Wired SYNC
Test the links and save the results to Versiv
SYNC Versiv to your LinkWare Live Organization to upload the results to LinkWare Live and update your Project.
Note: You can make up to 50 cable ID sets with up to 5000 IDs for all sets. An ID can have a maximum of 60 characters (from Versiv Technical Reference Manual).
What if I have multiple ID Sets (spreadsheets) to import?
We recommend making a separate SubProject for each ID Set, and import the ID List in LinkWare Live from within each SubProject.
Using separate SubProjects for each ID Set makes finding the IDs easier when saving on Versiv and when navigating in the Project in LinkWare Live.