Why upgrade test reference cord LC connectors to the Metal LC?
November 5, 2021 / 101 learning, Installation and testing, Upgrading and troubleshooting
Fiber optic test cords connect your tester to the fiber link you're testing and therefore act as a "window" into it. If that "window" is of poor quality or dirty, then your measurements will be, too.
Of the about one hundred test cords we offer, there are two main types of test cords:
Launch cords are long fiber links that allow an OTDR to properly measure the performance of the first and last connector on a fiber optic link.
Test Reference Cords, which are used for accurate fiber loss measurements. Fluke Networks' TRC's are color-coded to make it easy to set reference correctly – one of the leading causes of measurement errors – and are designed to work with the CertiFiber Pro's Set Reference Wizard which virtually eliminates mistakes.
Both feature top quality fiber cable and reference grade connectors. In many fiber test environments, LC connectors on fiber test reference cords are used hundreds, if not thousands of times a day. And the plastic housing and latching mechanism are just not built to last through that kind of use, no matter how careful the technician is. Keep reading to see why we upgraded from plastic to metal.
Table of Contents
What is an LC Connector?
LC connectors (also known as Lucent connectors, little connectors, or local connectors) are smaller version of SC connectors (also known as subscriber connectors, square connectors, or standard connectors). These miniaturized versions have a lever latching mechanism that offers a fiber-optic connection with a 1.25 mm ferrule at the end.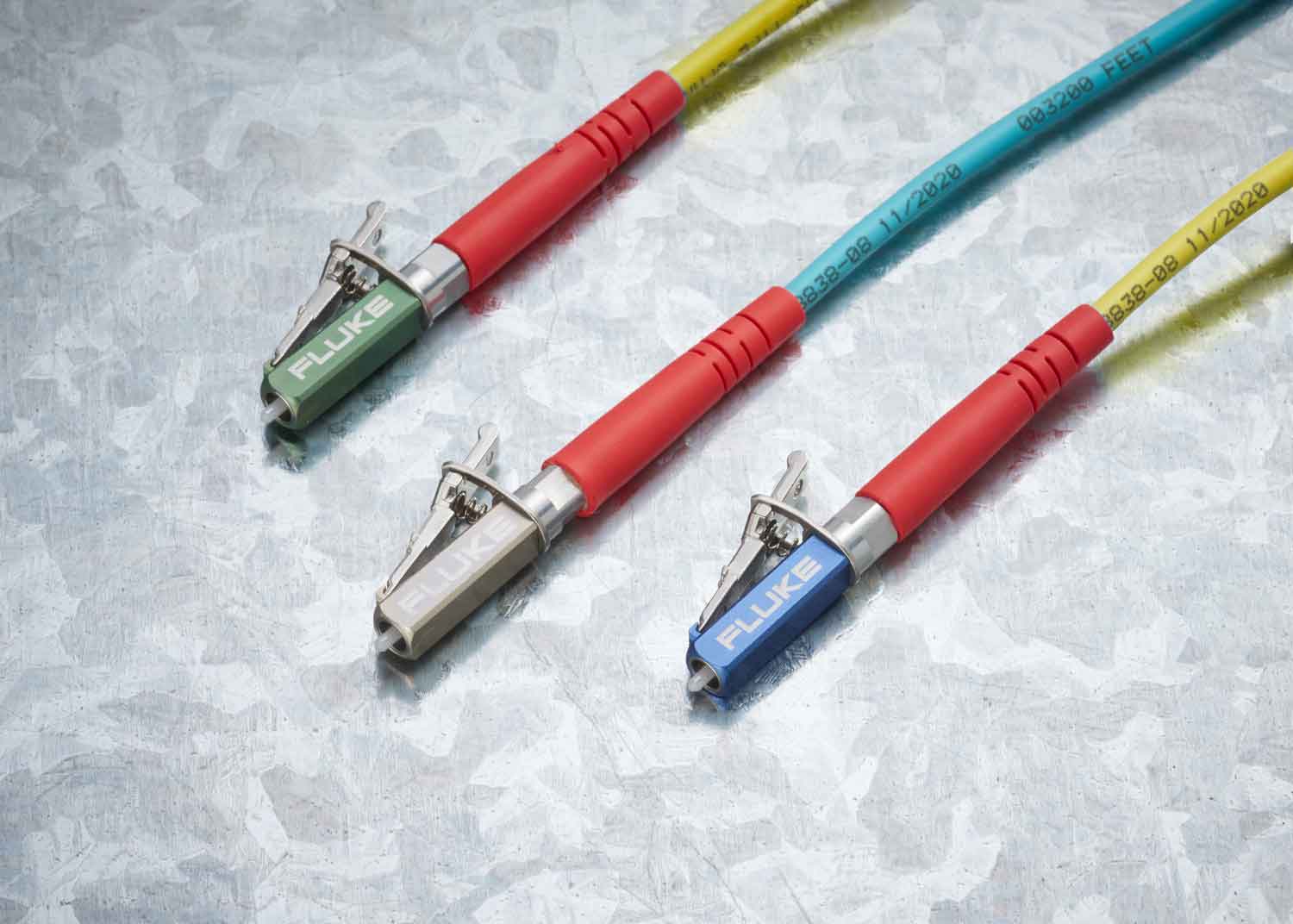 Replacing the plastic connector with a metal one allows the LC connector to last longer in test environments.
"With the plastic LC connectors, that action of opening and closing, connecting and disconnecting causes stress fractures where the latch meets the connector and eventually, it will break off. It's just a question of when," said Adrian Young, Fluke Networks Fiber Certification Project Manager.
While the plastic connectors can last for as many as 1,000 insertions if they are used carefully, our customers told us that it's typically less, and often a lot less. It's not exactly easy to know when those connectors will break, making it difficult for everyone involved in a fiber testing job. Not only does a broken connector mean a technician has to find an immediate replacement which can delay jobs if new test cords aren't on site but also adds unplanned expenses to the job.
Optimized Metal LC design
That's where Fluke Networks engineers set out to optimize the design of the entire LC connector for fiber test reference cords. The Metal LC connector doesn't just replace plastic with metal, the design process was focused on making the cords better all-around, leading to an all-new, patented design.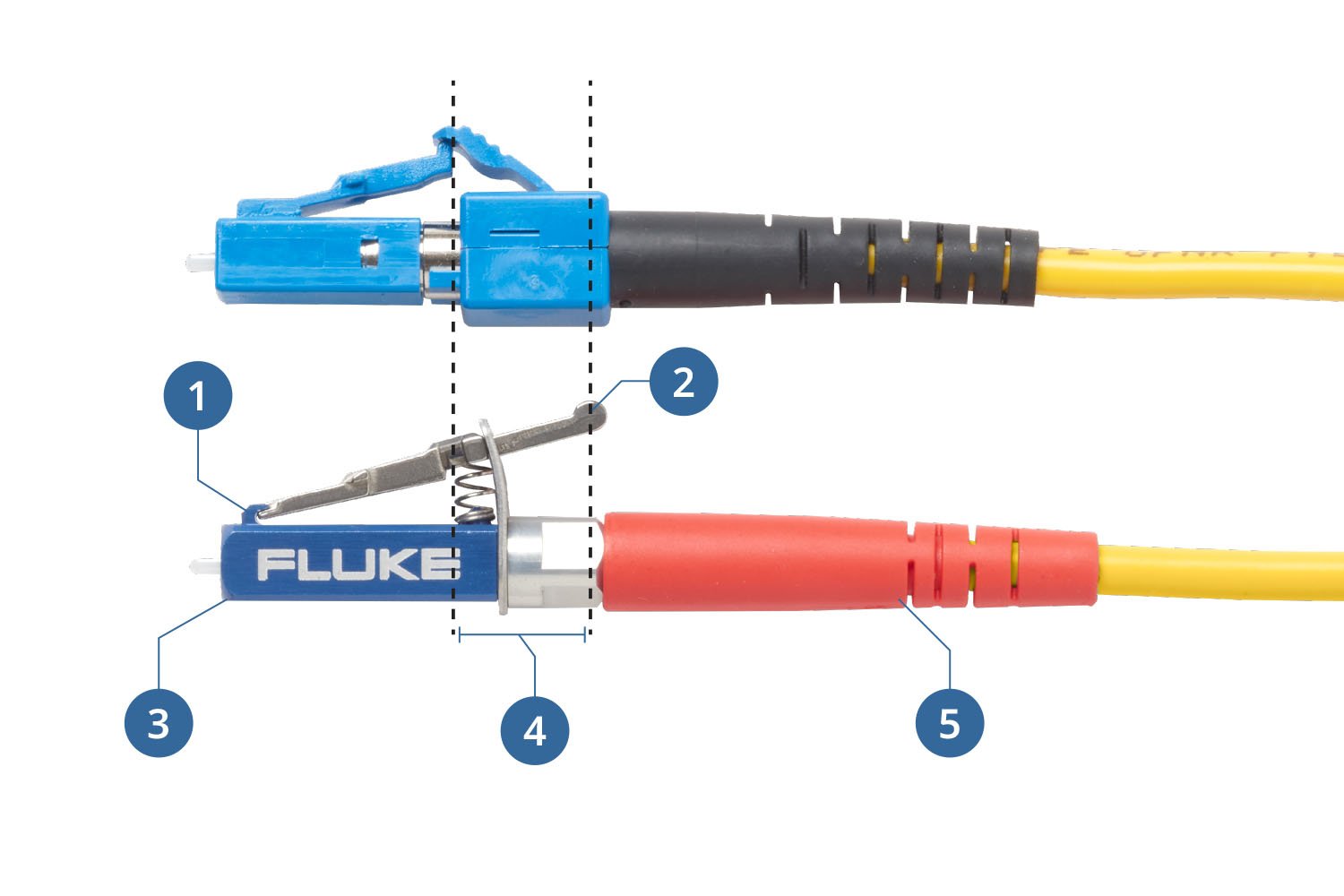 1. Durable Metal Construction with non-Flexing Latch
2. Rounded Latch Release: Easier on the Fingers
3. Rounded Corners for Easier Insertion
4. More Leverage: Less Force Required
5. Color Coded for Use with CertiFiber Pro: Reduces Setup Errors
Available for MM, SM, UPC and APC
Meets and ISO & TIA Intermateability Standards (LC)
Ergonomic latch
The latch on the Metal LC connectors is a bit longer which provides more leverage so less force is required to disengage it. Where the plastic latch tends to be sort of "pointy", the Metal latch is rounded for even more comfort. These small differences become noticeable when running hundreds of tests in a day. This design was tested for up to ten thousand cycles.
Radius corners
The connector barrel is designed with a radius on the corners where it inserts into the connector. If you look carefully, most plastic LC connectors are squared off with sharp corners. Fluke's metal version has rounded off corners making it easier for connections to slide in. The rounded radius helps guide the ferrule into its connection point.
Metal materials
Replacing the plastic housing with metal allows these connectors to live a longer life than their plastic counterparts. The connector survived a host of tests to ensure they will last through many tests. The Metal LC connector is compliant with IEC 61754-20 and TIA-604-10B intermateability standards and passes all Telecordia GR-326-CORE durability tests including thermal, humidity, vibration, flex, impact, and salt spray.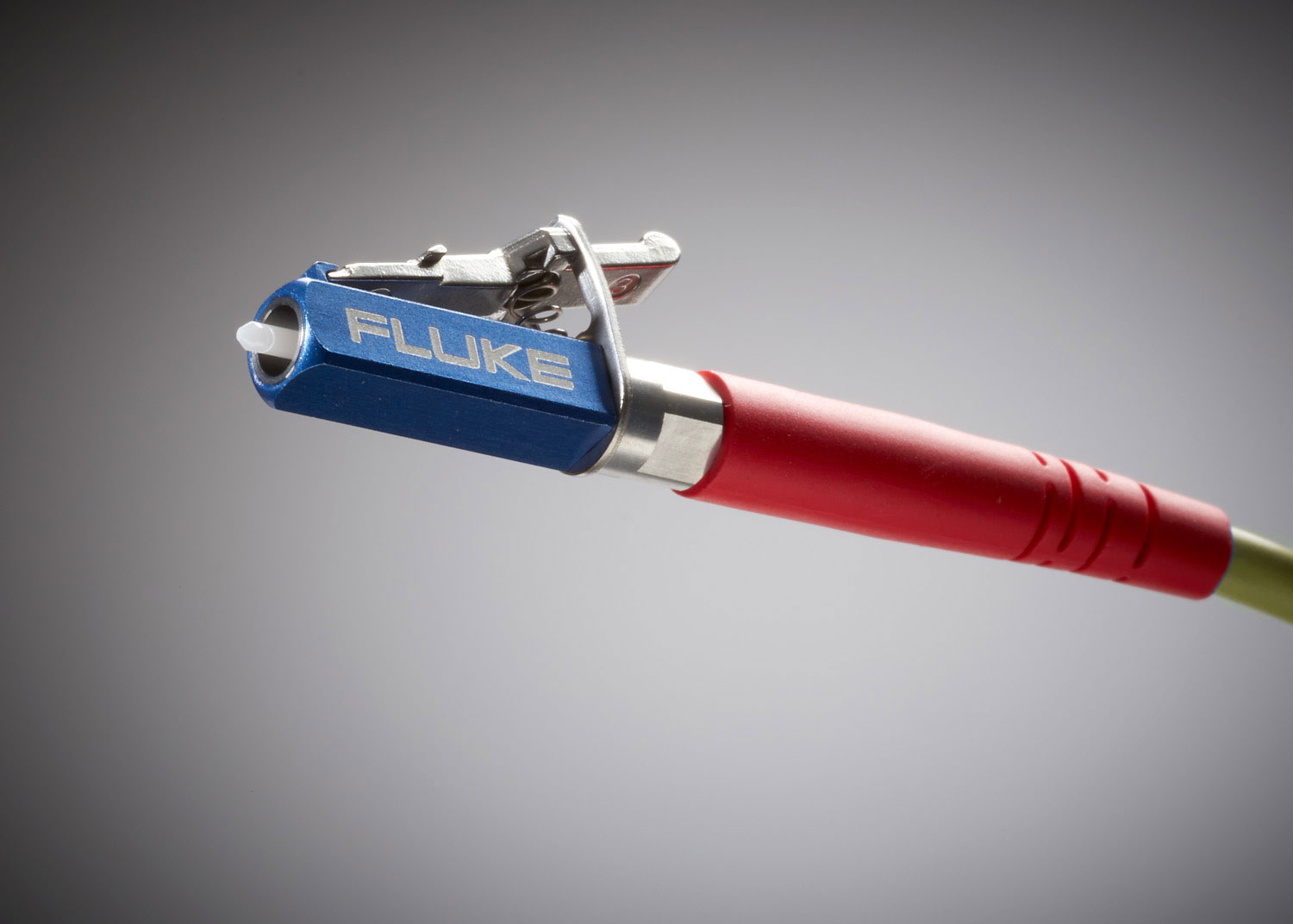 Metal LC connectors were redesigned to optimize the connector from top to bottom.
While redesigning the connector should allow for a longer life of the tool, the fiber optic ferrule is still made of glass. The length of the connector's life is still going to be dependent on that end face and how well it's taken care of. Ensure your end face is properly cleaned before and after each test for the best possible life of the connector.
Using Metal LC Connectors
The Fluke Networks Metal LC connectors will be included with any test leads that include an LC connector already. The goal is to remove all plastic LC connectors in our test cords.
These test cords will also work with other vendors' equipment, with the exception of our multimode Encircled Flux compliant Test Reference Cords designed specifically for the CertiFiber Pro. Always check your testers' documentation to ensure you're using acceptable test cords.
Keep reading