The Metal LC Connector: say goodbye to broken latches on fiber test reference cords
August 23, 2021 / General, 101 learning, Installation and testing, Best Practices
While there are many different types of optical connectors depending on what type of components you're using, LC connectors have become very common throughout the networking industry.
Plastic LC connectors
Using plastic for connections that are going to be plugged in and rarely touched again works perfectly. But, when those connections need to be repeatedly made and disconnected, for example with fiber test reference cords, the flexible latch on the housing often breaks because of the repeated flexing.
Example of a broken latch on a plastic LC connector
Ruggedizing the fiber test reference cord connector with Metal
Instead of keeping spare fiber test reference cords on-hand or ordering replacements with overnight delivery, Fluke Networks is introducing a more rugged connector: the Metal LC. All Fluke test cords for loss testing and OTDR's with LC connectors will sport this innovation – a first in the industry.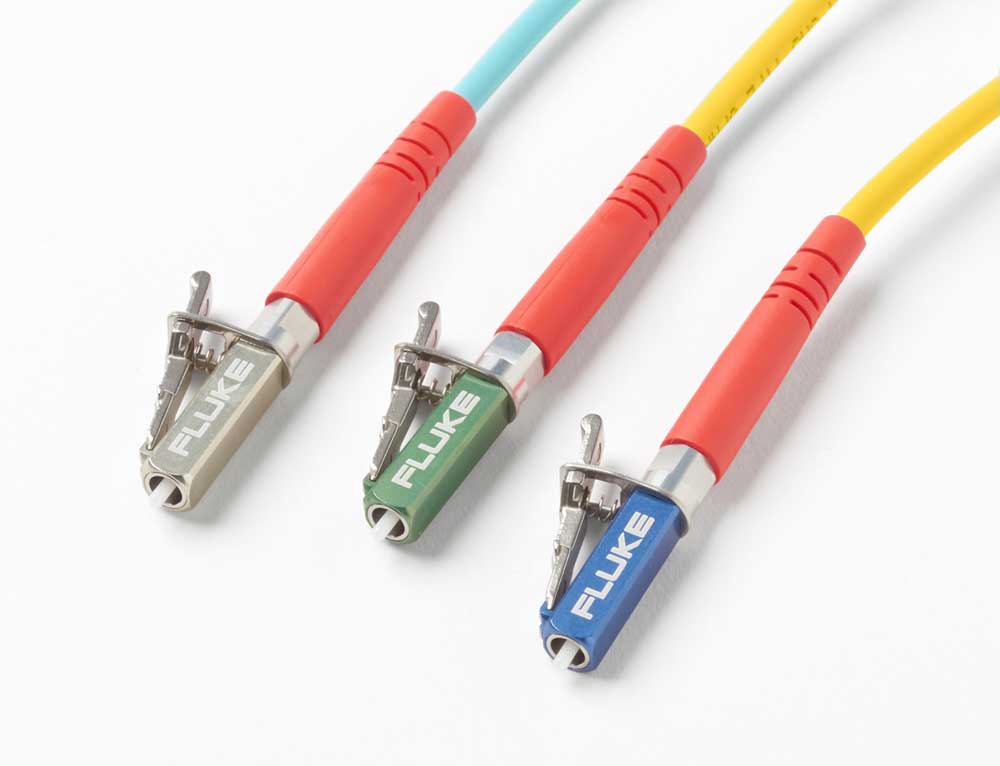 Fluke Networks Metal LC Fiber Test Reference Cord Connector cables
This optical connector includes a housing with a hollow body that receives the ferrule assembly. The outer surface of the housing includes a rigid, metal latching system that is configured to engage and disengage the optical connector. The end of the latch is also rotatably coupled to the housing, allowing for pivoting without adding mechanical stress.
Surviving rigorous Fluke Networks testing
GR-326-CORE test
In order to be sure these LC fiber connectors would last for long-term use, the metal LC was tested to GR-326-CORE, a performance specification for cable assemblies. This test is regarded as the most complete and rigorous standard for testing LC fiber optic connectors. It ensures the fiber cables have been tested for:
Geometry requirements
Performance of new product
Thermal age test
Thermal cycle test
Humidity age test
Humidity/condensation cycling test
Post-condensation thermal cycle test
Vibration test
Flex test
Twist test
Proof test
Transmission with applied tensile load
Impact test
Durability
End of test criteria (optical, ferrule end face geometry, damage)
Salt spray test
In order to be used in the field, all fiber optic connectors must satisfy this test.
Schematic illustration of the front isometric view
Durability test
As with all Fluke products, these fiber optic connectors were put through a series of durability tests to make sure the ferrule would stand up to our standards. The connectors are tested by running them through a series of mating and de-mating cycles to see how many they can withstand before attenuation and return loss values exceed the specifications. Usually, the cords are run through 500 to 1,000 cycles.
For the Metal LC ferrules we wanted to be sure they exceeded that standard. We tested ten units for 1,500 cycles with no observable change in attenuation or return loss. This led to the durability specified on the Metal LC connectors to be a minimum of 1,000 cycles with an attenuation of less than 0.1 dB for the multimode connector and 0.2 dB for the single-mode connector; this includes the PC and APC versions.
The LC latch was also tested to prove durability and ensure these cables could be used for the long-term in the field. They were tested with 10,000 insertions using a single connector and one adapter. After every 500 insertions all areas of the connector were inspected, including the body/housing, retaining clip, spring, and latch. After the end of the test, the latch was unaffected.
Pairing Metal LC with your tools
All Versiv kits with LC test reference cords are now shipping with Metal LC connectors and all "LC" accessory cord models will be replaced with new models featuring the Metal connector. The Metal LC models are designated with a "-M" or "M" as the last character. And while users should check their test equipment's requirements, most of these unique cords are compatible with other vendors' test equipment and can be used instead of their test cords with flimsy plastic LC connectors.
But remember, while this new metal LC connector exhibits a high degree of mechanical robustness, don't forget the end face is still made of glass. If the end face is not inspected and cleaned before plugging it in, the metal LC connector will not give you the service life you expect.
Keep reading