New App to Streamline Cable Labeling - iLink&Label
June 22, 2016 / General, Installation and testing
While probably one the least talked about standards, and one that is often considered voluntary, the TIA-606-B labeling standard exists for a reason.
An unlabeled infrastructure results in an unmanageable mess that ultimately makes every reconfiguration and troubleshooting task a time-consuming, frustrating and costly tracing game of hunt and peck.
Despite the fact that it is an industry best practice, labeling takes time--especially if you're manually creating identifiers for every outlet, every cable, and every patch panel port and managing them in a separate database. So however the essential task of labeling can be accomplished faster, more efficiently and with improved accuracy, the end result is savings.
Thankfully as the saying goes, "there's an app for that."
A Time Saving Partnership
If you're using a Fluke Networks' Versiv™ tester model such as the DSX-5000 CableAnalyzer™, OptiFiber® Pro OTDR or CertiFiber® Pro, you're hopefully already taking advantage of LinkWare™ Live, the cloud-based service that lets you manage certification jobs anytime and anywhere. And while it may seem like this time and money saving service that lets you send results electronically from the jobsite, configure and download test requirements to testers, and even track a tester's location and status right from your smartphone couldn't possibly get any better, it has.
Fluke Networks has teamed up with Brother to introduce iLink&Label™, a mobile app that allows Brother's industrial handheld PT-E550W labeling tool to wirelessly download identifiers from LinkWare Live for printing. And because LinkWare Live allows you to easily automate the creation of groups of identifiers prior to testing, the information you need to label is already right there at your fingertips. In other words, LinkWare Live and the new iLink&Label app work together to bridge the gap between the office where the project originates and the jobsite where the data is needed for testing with the Versiv tester and for printing laminated cable, patch panel and faceplate labels with the Brother PT-E55OW.
Versiv Kit Configurator
How will you be using your Versiv?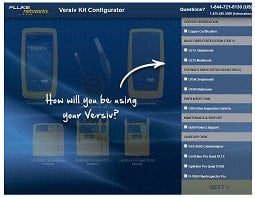 No More Excuses
Now available free from the US App Store for Apple iOS devices, with future Android support and other countries in the works, iLink&Label is easy to use. When it's time to label, simply enable the Brother PT-EFF0W tool's Wi-Fi, connect your smartphone, use the LabelLink app to log onto LinkWare Live and send the identifiers to the labeler. Then use the labeling tool to select the identifiers, choose the type of label you need and print!
The industry's first and only jobsite workflow solution for printing labels virtually from a tester, iLink&Labeldoesn't just make labeling faster and easier than ever before--by eliminating duplicate data entry into both a tester and a labeling tool, human input errors are reduced for better accuracy.
With iLink&Label and LinkWare Live, there's no more excuses for not doing this essential task. Remember, the time it takes to label is nothing compared to the amount of time it takes to make a change or troubleshoot a cable down the road without knowledge of where each end terminates.
Don't have LinkWare Live? Access at linkwarelive.com. And click here for more information on the new Brother iLink&Label app for connecting LinkWare Live to your Brother printer.