Lots to Learn Next Week at BICSI!
September 20, 2017 / General
Fluke Networks has long provided educational content on anything and everything to do with testing network cabling systems—from standards and best practices, to application assurance and tricks of the trade.
And we do it in many ways. There's this weekly blog of course, not to mention our Learn Abouts, our Knowledge Base, frequent online training videos, live training, webcasts, white papers, technical articles and more.
Another valuable resource is tradeshows. And when we participate in tradeshows, we really participate. The upcoming BICSI Fall Conference & Exhibition on September 24-28 at the Mandalay Bay in Las Vegas is a perfect example, and we hope to see you there!
Before the Show
If you're coming to the BICSI Fall Conference early to attend preconference seminars and pick up some CECs, our own Jim Davis will be joining a panel of experts on Testing High Speed Fiber Links on Sunday from 1:30 to 4:30 pm. Worth 3 CECs, this seminar focuses on Tier 1 and Tier 2 testing, power budgets, cleaning and inspecting MPO/MTP preterminated links deployed for the latest high speed fiber applications.
During the Show
On Wednesday from 10:30 to 11:30, Jim will also be presenting as part of a session on Save the Cables – Be a Hero! This not-to-be-missed session is designed to teach you how to help your customers utilize 2.5G/5GBASE-T Ethernet with their current Category 5e or Category 6 cables, while saving money, increasing network speed by 5x and making you the hero. You'll learn all about this standards-based technology and hear plenty of success stories.
Versiv Kit Configurator
How will you be using your Versiv?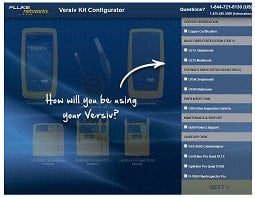 On the Show Floor
There are also plenty of opportunities to learn in the exhibit hall. Whether you're looking to find out more about testing Category 8, using LinkWare Live or just the latest and greatest features of our Versiv testers, Booth #245 (located right near the BICSI booth) is the place to be during exhibit hall hours – 4:30 to 7:30 p.m. on Monday, 2:00 to 7:30 p.m. on Tuesday and 7:30 a.m. to 1 p.m. on Wednesday.
Throughout exhibit hours, Fluke Networks will be holding mini presentations at our booth on LinkWare Live, Thermography and Trends in Copper and Fiber Testing. Stop by to check out the schedule. And don't miss out on BICSI's "What's New, What's it Do" on Monday and Tuesday evening at the BICSI Theatre where we will cover Category 8 testing and thermal imaging.
While we will keep providing you with educational content through our website, webcasts, industry publications and a variety of other online resources, there's nothing quite like one-on-one facetime and hands-on demonstrations with our experts at the BICSI Fall Conference & Exhibition. They've got you covered with answers to all your testing questions. And you can't miss them in their Versiv-yellow shirts!