Choosing the Best Fiber Optic Scope for Today's Fiber Inspection
January 4, 2022 / General, Installation and testing, Upgrading and troubleshooting
Contaminated connections remain the number one cause of fiber related problems and failures in data centers, campus, and other enterprise or telecom networking environments. But it's not enough to just clean every fiber end face—there is no way to know if the end face is clean unless you inspect it.
With a variety of video and handheld microscopes available in the marketplace, it can be daunting to choose the best fiber optic scope for today's fiber networks. To help you make the right choice for easier and efficient fiber inspections—whether you're inspecting a dozen fiber end faces or thousands—ask yourself the following four simple questions.
1. Can it inspect all your fiber connector types?
Today's fiber networks can be rather complex, often consisting of both multimode and single-mode fiber types and a variety of duplex and parallel optics applications to support everything from high-speed incoming service provider and switch-to-switch links, to switch-to-server links and even passive optical fiber links in the LAN. It's also become quite common for today's data centers to leverage high-speed 100, 200, and 400 Gigabit in breakout applications where 8- and even 16-fiber multi-fiber MPO connectors break out to four or eight duplex connectors, such as in 4X25, 4X100, or 8X50 Gigabit deployments that connect multiple lower-tier switches or servers from a single port to save space and reduce cost.
At the same time, with APC (angled physical contact) end faces used in singlemode MPO connectivity and gaining popularity in both singlemode duplex and next-generation 400 Gigabit multimode MPO connectivity due to better reflectance performance, many fiber network environments now consist of a combination of both APC and UPC (ultra physical contact) fiber end faces. With most networks now rarely consisting of just one type of fiber and one connector interface, you need a fiber optic scope like Fluke Networks' FI-3000 / FI2-7300 FiberInspector™ Ultra Camera with tips that let you inspect them all—single connectors and one or two rows of fibers in 8-, 12-, 24-, 16-, or 32-fiber MPOs, either UPC or APC.
2. Is the fiber optic inspection process automated?
Let's face it. Manually inspecting fiber end faces is largely a subjective and inconsistent process—what one person deems as clean can vary greatly from another's point of view. There are also additional variables to consider such as years of experience and eyesight that can lead to inconsistencies in determining end face cleanliness. When it comes to automating the process and eliminating human subjectivity and errors, there are two primary considerations when choosing a fiber optic scope—the ability to autofocus and the ability to automate pass/fail.
With the touch of the autofocus button, the FiberInspector™ Ultra delivers an immediate clear and live view of the fiber end face. And if you're inspecting an MPO, the dual cameras let you view a single fiber or the entire array—just zoom into the portion you want to view or tap the screen for a detailed close-up view of a specific fiber. But the best part is that the FiberInspector Ultra's autotest mode automatically examines and grades end faces based on the cleanliness criteria of the IEC 61300-3-35 standard that determines pass or fail based on the number, size, and location of scratches and defects.

Examples of automated pass/fail results using the FiberInspector Ultra
3. Can you share and report on the fiber inspection data?
Being able to automatically inspect any fiber end face is great, but if you can't share or report on the data, getting that information to someone else on your team for collaboration or into required Tier 1 or Tier 2 test results is extremely difficult (if not impossible)—especially when you're dealing with hundreds or even thousands of fiber links. That's not a problem with the FI-3000 / FI2-7300 FiberInspector™ Ultra Camera.
You can install Fluke Networks' FiberInspector app (FI-IN) on your iOS or Android device and connect to the FI-3000 camera over Wi-Fi for quick inspection and PASS/FAIL results, as well as control to zoom in or out of each end face and pan across the live view. Ideal for small jobs, FI-IN even supports naming and storing of results on your device or sending images or PDF reports to your team.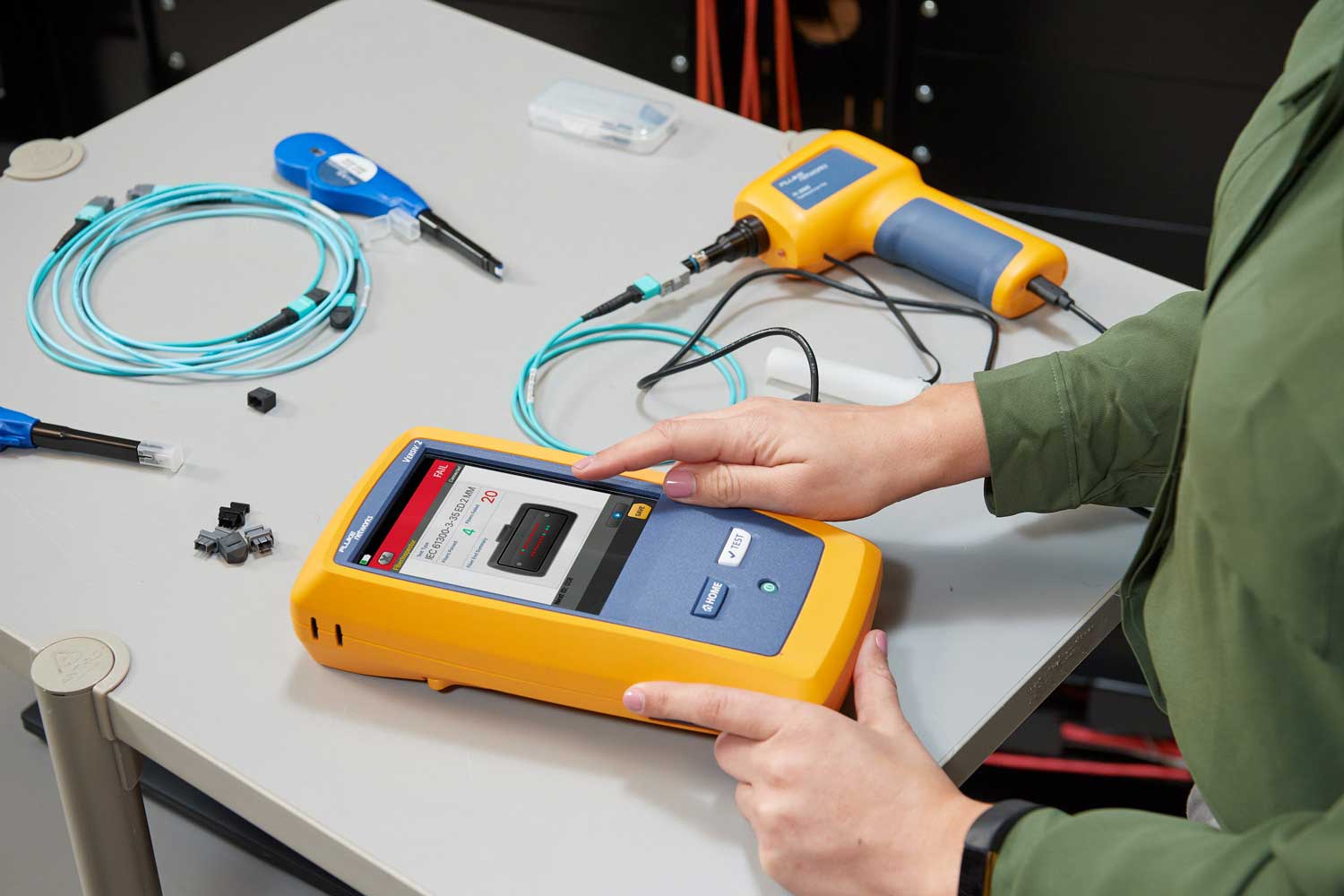 Fiber inspection reports on the FI-3000 / FI2-7300
Taking it one step further, the FI-3000 detailed PDF inspection reporting capability integrates with Versiv™ and LinkWare™ for the ultimate in project management and documentation. By connecting the FI-3000 to a Versiv tester via a simple USB cable, technicians can use Versiv's ProjX™ Management system that defines the job by cable type, identifier, required tests, and test limits for loss (Tier 1), OTDR (Tier 2), and inspection reports. It also works with LinkWare for full documentation of every link that lets you combine Tier 1, Tier2, and inspection reports into a single report, as well as the cloud-based LinkWare Live platform that lets you manage certification jobs anytime, anywhere, and with anyone on any device.
4. Is the Fiber Optic Scope Easy to Use and Handle?
While ease of use and handling during inspection might be the least of your requirements, if you're inspecting hundreds or thousands of links, imagine the frustration and hand fatigue that comes with an inspection scope that's heavy and cumbersome. The FI-3000 is uniquely designed with this in mind. It is compact, ergonomic, and lightweight at just 11.5 oz (326 g), making it easy to inspect both bulkheads and trunk cables all day long. It also includes a holster for quick and easy access and storage for inspection tips and a Quick Clean™ cleaner. But that's not all.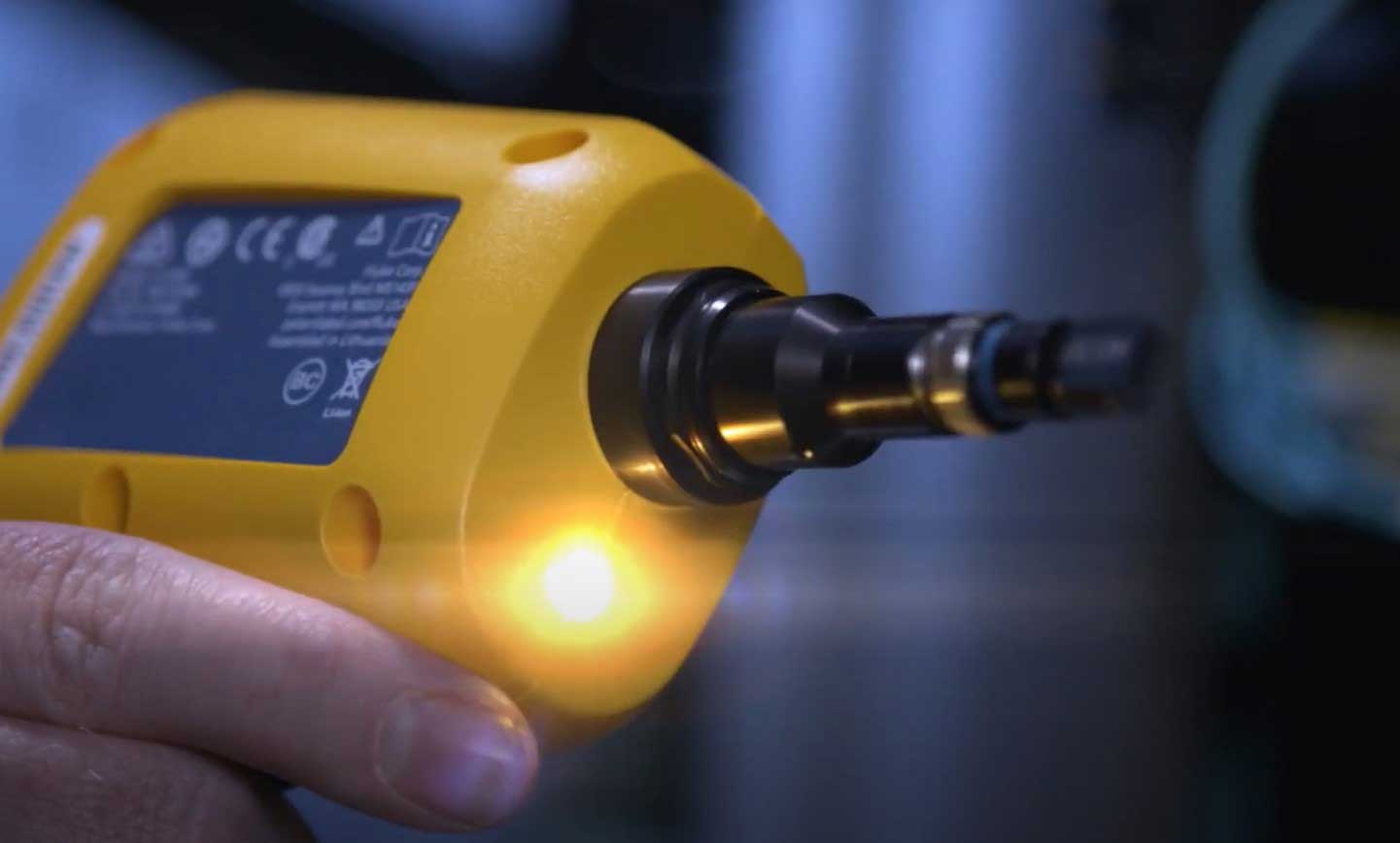 Fluke FI-3000 FiberInspector™ Ultra Camera
With more fiber connections packed into less space than ever before, finding the right fiber port in high-density environments can be a challenge, especially in the low light conditions commonly found in data centers or telecom rooms. How often do you see technicians holding a flashlight in their teeth to find the right connection and keep their hands free? Fluke Networks' FI-3000 / FI2-7300 FiberInspector™ Ultra Camera includes a built-in PortBright™ flashlight that makes it easy to find the right port, no matter how poorly lit your surroundings.
Keep learning