Cleaning and Inspecting MPO/MTP Connectors
MPO/MTP connectors are used to terminate multi-fiber trunk links of 12, 10, or 8 fibers. Specialized equipment is required for MPO endface cleaning and inspection.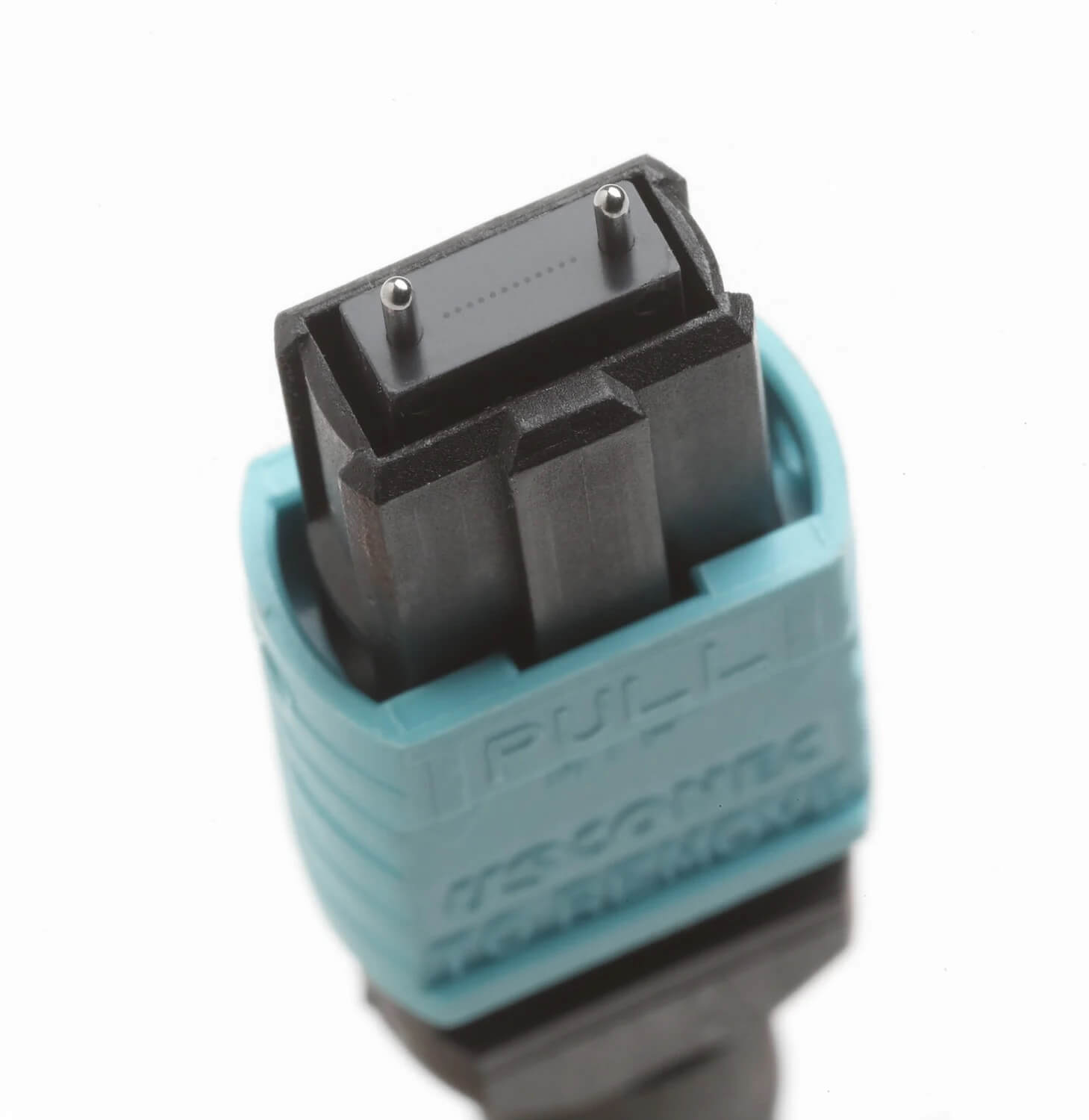 Close up of an MPO/MTP Connector
Cleaning Equipment and Steps:
Always clean endfaces of fiber connectors before you make connections. Fluke Networks recommends that you use a mechanical cleaner, such as the Fluke Networks QuickClean MPO Cleaner, to clean connectors.
QuickClean MPO connector cleaners are suitable for cleaning both UPC and APC MPO/MTP connectors and bulkhead connections.

QuickClean-MPO-1P QuickClean MPO Cleaner, Single
QuickClean-MPO-5P QuickClean MPO Cleaner, 5 Pack
Using a QuickClean MPO Cleaner to Clean MTP/MPO Connectors
Caution: To prevent damage to the device and to connectors and to keep contamination off of endfaces, read all instructions and obey all safety precautions given in the instructions for the device you use to clean connectors.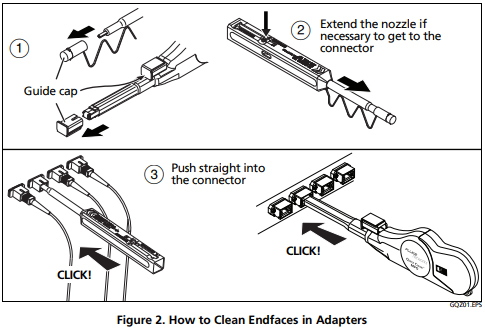 To clean a bulkhead connector, remove the guide cap from the cleaner. To clean the connector on a fiber cable, remove only the tip of the cap.

Push the cleaner into the connector until you hear a loud click. Then remove the cleaner.

Use a fiber microscope, such as the FI-1000 FiberInspector Microscope with an MPO probe tip to inspect the connector. If necessary, clean and inspect the connector again.

After Cleaning, Always Inspect.
Inspection is critical to verify the cleaning worked. FI-1000 Fiber Inspector connects to the Versiv mainframe via USB, and uses the Fiber Inspector application in the Tools menu. Use the appropriate probe tip to connect to the MPO/MTP connector or bulkhead port. To inspect an MPO/MTP connector, you will need to add an MPO to MPO adapter. The probe tips shown below are suited to be inserted into an MPO/MTP bulkhead port.
MPO Inspection probe tips:
We recommend using probe tips that have (X) horizontal and (Y) vertical adjustment if you are testing and inspecting a high number of MPO/MTP connections.
If your connectors are APC style, you must use an APC probe tip.


For other available probe tips, click here and look under Accessories.
Here is an example of what you are aiming for after cleaning an MPO connector. Only manual grading is possible on MPO endface images. Use the (X) horizontal knob on the probe tip to pan left or right to see the additional endfaces on the connector you are inspecting.
TAC PRO TIP: Use This Button!
Pushing the small black button on the bottom of the FI-1000 camera probe will launch FiberInspector on Versiv. Once in the FiberInspector application, successive presses on the button will toggle between Screen Capture (freeze) view and Live view on the Versiv display. It is best to Save from Screen Capture (freeze) view. Check to see if your software version is up to date if you find that the button on the camera probe button is not working as indicated.
Update March 2019: Fluke Networks now offers FI-3000 FiberInspector Pro MPO Inspection camera with probe tips for viewing MPO/MPT UPC and APC endfaces.