Inspect an Endface or Bulkhead Port – FI-7000 FiberInspector Pro
Here are the steps for using FI-1000 with DSX-5000/Versiv (Also known as FI-7000 Fiber Inspector) to run the FiberInspector test.

Turn on the DSX-5000/Versiv main unit.


Connect the FI-1000 Probe to the USB port on the DSX-5000/Versiv main unit.


Install the correct Probe tip for the link you are testing on the probe.
Note the notch on the probe. The notch on the probe is inserted into the slot on the probe tip, and then the threaded ring is tightened finger-tight.
There is no need for tools when attaching the probe tip to the probe.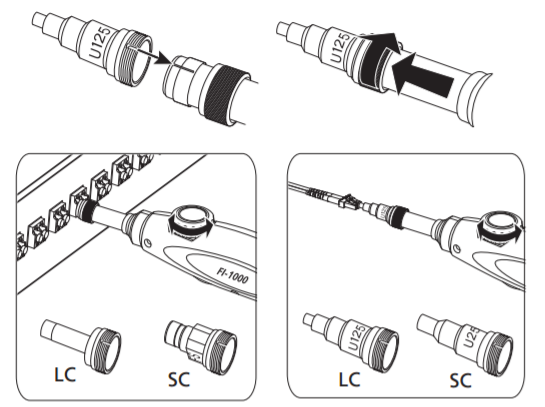 Clean the Connector
Use proper cleaning procedures to clean the connector you will inspect.

Do the FiberInspector Test
To start the test, press the button on the bottom of the probe, tap TEST, or press the TEST button on DSX-5000/Versiv.
To adjust the focus, turn the focus dial on the top of the probe.

Examine the results. Manual limit is selected by default, but you can also use one of the IEC 61300-3-35 Test Limits to grade the result.


Save the results. Press Save. You will be prompted to enter a Cable ID and save the result.