DSX M12D and M12X adapters
DSX M12 channel adapters are available for M12D (4 position) and M12X (8 position) connectors for use with the DSX CableAnalyzer Series. These adapters allow you to test and certify or validate installed cabling links to ensure reliable transmission. The M12 series of connectors can be more suited to the demanding physical environment of industrial installations.
The M12 adapters can be used for both channel and patch cord tests. When used for channel testing, the mated NEXT of the Plug and Jack at the adapter is not included in the measurement. For Patch Cord tests, the mated NEXT of the Plug and Jack at the adapter is included.
Related Videos:
Choosing the Right Limit for Industrial Ethernet Testing By Fluke Networks
Industrial Ethernet Cabling – Part 1: Testing the "E" in MICE By Fluke Networks
DSX-CHA021S (set of 2) M12-D have 4 position female M12 connectors, and the adapters allow users to test and certify installed channel links for applications that require 2 pairs.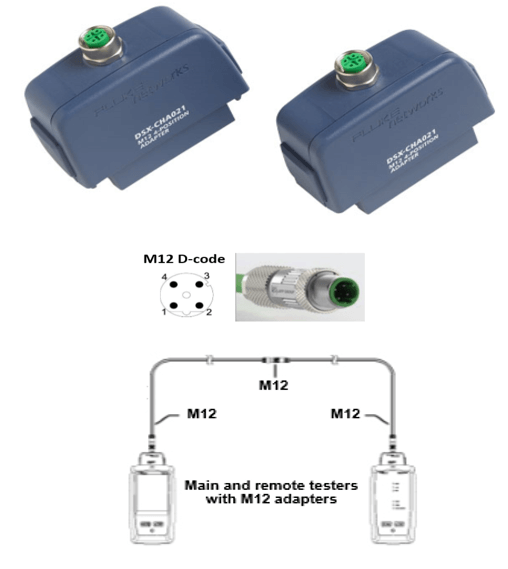 Channel Test with M12-D on Each End – With a pair of M12-D Channel Adapter on the DSX CableAnalyzer and the Smart Remote, the DSX CableAnalyzer will accurately measure the performance of the entire cable and all intermediary connectors to meet performance levels established in the TIA-568, TIA-1005 and ISO 11801 standards.
Note that the standards' definition of the cable channel specifically excludes the connections to the tester at each end.
DSX-CHA-M12-X-S (Set of 2) 8 position adapters for installations using 4 pairs that can support network speeds up to 10 Gigabit Ethernet (10GBASE-T) have 8-position, X-coded female connectors. M12X adapters fully support TIA standards up to 6A or ISO up to Class-FA limits.
All Videos in This Series