DATASHEET
Linkware™ PC 9.x Cable Test Results Management Software
Download PDF
Overview
LinkWare PC is the common language for the world's best cabling contractors, designers, and network owners because it is the most comprehensive, efficient and professional way to communicate cabling certification results. Managing and reporting the cabling infrastructure test data can be complicated and time-consuming without the right solution. LinkWare PC 9.x is the most powerful way to see and manage the cabling infrastructure test data
LinkWare PC 9.x software works with the following Fluke Networks products:
DSX-5000 CableAnalyzer™
DTX-CLT CertiFiber
LinkWare PC 9.x is available as a free download from the Fluke Networks' website.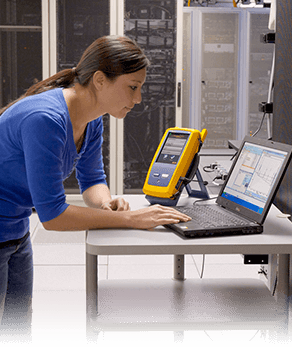 Bring it all together
Manage copper and fiber test results with a single application that supports Fluke Networks cable testers
Deliver professional, customized, graphical reports in a common format for Fluke Networks copper and fiber testers
Ensure standards compliance with the ability to configure and print documentation
Increase productivity with simple user interface and time-saving features
Automated registration of Versiv™ based testers
Advanced notification of expiring Gold contracts and calibration
Share files with colleagues and technical support teams
Import test results from LinkWare Live, Fluke Networks' cloud-based service for managing certification jobs
Manage all test results with a single application
The ability to manage test results data from multiple testers with one single application has major advantages – and they're yours with LinkWare PC. It makes project setup much simpler by helping you quickly organize, edit, view, print, save or archive test results by job site, customer, campus building and more. You can merge test results into an existing LinkWare PC database and then sort, search and organize by any number of data fields or parameters. And you can count on your data integrity to be secure. Any data uploaded to your PC with LinkWare PC ensures that the results came from the tester's memory.
Maximize your tester inventory – and get professional results
LinkWare PC makes it easy to use a variety of testers on one job – and it makes you look good in the process. You can customize your job reports and import results from multiple Fluke Networks testers. No more patched-together collections of mixed formats and results. With LinkWare PC your reports have the professional look that reflects the quality of your work. At the same time, LinkWare PC lets you get the most from your tester inventory and investment so you can be more productive, more professional – every day – on every job.
Create professional custom reports quickly and easily
LinkWare PC prints professional, graphical reports with color graphs depicting the measured test parameters. You can choose which parameters to print and the order in which graphs appear. Reports can also be customized with your company logo.
Gain extensive data management capabilities for the OptiFiber Pro OTDR
Linkware PC 9.x brings together all the critical information you need in one printed report for you to supply to your customer. It integrates bi-directional loss length certification results, OTDR trace analysis, power meter measurements and fiber end-face images from both ends of a link in one report showing your customers a comprehensive view of the fiber installation. No other fiber test solution documents the fiber infrastructure so completely and easily. Any data uploaded to your computer with LinkWare PC allows you to study and analyze traces in the office.
LinkWare Stats is included in LinkWare 9.x
LinkWare Stats is a standard feature in every download. The Stats feature is an automated statistical report generator that allows you to move about and beyond the page-per-link report and see your entire cabling infrastructure. It analyzes and transforms LinkWare PC cable test data into graphics that reveal your cabling plant performance – summarizing your entire cabling infrastructure in a compact, graphical format that makes it easy to verify margins and spot anomalies.
Import test results from LinkWare Live
LinkWare Live lets your technicians on-site upload test results from their Versiv testers to the cloud. From there, you can import them into LinkWare PC for immediate access – no more lost or misplaced test results.