The DTX-1500 CableAnalyzer™ advantage: speed, performance and accuracy.
The DTX CableAnalyzer™ series is the most widely adopted structured cabling certification testing platform. Its features, speed, and reliability make you more efficient and productive – and you can see the results on the bottom line. No other tester has delivered as consistently as the DTX.
Its intuitive interface means your techs spend less time in training and more time testing.
500 MHz frequency range certifies Cat 6A/Class EA cabling for 10 Gigabit Ethernet.
Advanced diagnostics pinpoint the location of a failure and suggest corrective action.
LinkWare™ Cable Test Management Software's user interface and time-saving features increase productivity.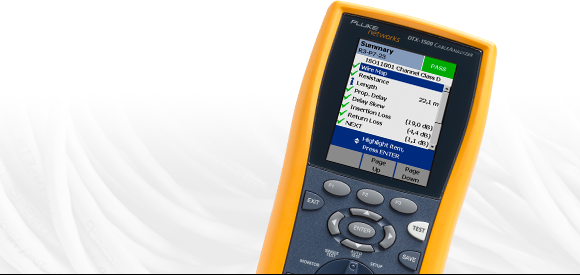 Cat 6 certification in 9 seconds
The DTX-1500 CableAnalyzer gives you a complete solution that streamlines every aspect of the certification job – from setup, to testing and troubleshooting, to reporting results to the customer. The DTX-1500 performs Class E/Cat 6 certification tests in just 9 seconds and Class EA/Cat 6A in 22 seconds – in full compliance with industry standards and with superior accuracy. This incredible speed means you can test hundreds of links in an eight-hour shift.
Troubleshoots faults fast
When a link fails, the DTX-1500 provides quick, easy-to-understand directions to identify the point of failure (distance from the tester) and the possible reasons for the failure. These directions not only tell you the problem, but also identify corrective actions your test technicians can take to solve the problem quickly – all without having to consult the project manager. Instead of spending time executing trial and error corrections – and re-testing to find out whether the problem has been resolved – the technician knows exactly where to look and what to do to fix the failing link. Even if only two percent of the cables certified in one shift fail Autotest, you'll save as much as two hours of labor time per day certifying.
Fast even when you're not testing
The DTX-1500 isn't just a fast way to test. It cuts setup and reporting times. Its ease-of-use lowers training time. Extended battery life means you can do more on a single charge. And a bright color display, ample memory, and built-in talk feature all contribute to overall productivity while enhancing the user experience. This all adds up to save you time and money every day.
Ordering Information
Model
Description
DTX-1500
DTX-1500 CableAnalyzer includes:

DTX-1500 CableAnalyzer with lithium-ion battery pack
DTX-1500 SmartRemote with lithium-ion battery pack
Two Cat 6A/Class EA channel adapters
One 6-inch (15 cm) RJ45 reference patch cord
Carrying case
USB cable for PC communications
Two AC adapters
DTX-1500 Getting Started Guide

DTX-PLA002S
Cat 6A/Class EA Permanent Link Adapters, set of 2
DTX-PLA001
Permanent Link Adapter for use with DSP-PMxx Personality Modules
DSP-PMxx
Personality Modules for IDC and Legacy Cabling Systems for use with DTX-PLA001
DTX-CHA002S
Cat 6A/Class EA Channel Adapters, set of 2
DTX-COAX
Coax Cable Test Adapters, set of 2
DTX-CHA021S
M12 4-Position Channel Adapters, set of 2
DTX-LION
Lithium-Ion Battery Pack
LinkWare
LinkWare Cable Test Management Software (download at www.flukenetworks.com/linkware)
Test Standards
TIA
Category 3, 5, 5e, 6, 6A per TIA 568-C.2 or TIA-1005
ISO/IEC
Class C and D, E, EA certification per ISO/IEC 11801:2002 and amendments
IEEE 802.3
10BASE-T, 100BASE-TX, 1000BASE-T, 10GBASE-T
General Specifications
Speed of Autotest
Full 2-way Autotest of Category 5e or 6/Class D or E: 9 seconds; Full 2-way Autotest of Category 6A/Class EA: 22 seconds
Supported test parameters (test standard determines parameters and frequency range reported)
Wire Map, Length, Propagation Delay, Delay Skew, DC Loop Resistance, Insertion Loss (Attenuation), Return Loss (RL), Near End Crosstalk (NEXT), Attenuation-to-Crosstalk Ratio (ACR-N), ACR-F (ELFEXT), Power Sum ACR-F (PS ELFEXT), Power Sum NEXT, Power Sum ACR-N
Maximum frequency
500 MHz
Test Result Storage
250 with graphical data; >1500 without graphical data
Display
3.7 in (9.4 cm) diagonal, 240x320 pixel, passive color LCD with backlight
Dimensions
Main and Smart Remote: 8.5 in x 4.4 in x 2.4 in (21.6 cm x 11.2 cm x 6 cm), nominal
Weight
2.4 lb (1.1 kg), nominal (without adapter or module)
Battery
Lithium-ion, 7.4 V, 4000 mAh
Battery Life
12 hours, typical
Battery Charge Time
4 hours (below 40° C, with tester off)
Environmental Specifications
Operating temperature
32° F to 113° F (0° C to 45° C)
Storage temperature
-4° F to +140° F (-20° C to +60° C)
Operating relative humidity (% RH without condensation)
32° F to 95° F (0° C to 35° C): 0 % to 90 %
95° F to 113° F (35° C to 45° C): 0 % to 70 %
Vibration
Random, 2 g, 5 Hz -500 Hz
Shock
1 m drop test with and without module and adapter attached
Safety
IEC 61010-1: Measurement Category None, Pollution Degree 2
Altitude
Operating: 4000 m (3048 m with AC Adapter); Storage: 12000 m
EMC
EN 61326-1: Portable