Top 5 Fiber and Cable Cleaning Tips from the Experts
May 10, 2017 / General, 101 learning, Upgrading and troubleshooting, Best Practices
Let's face it. Spring cleaning stinks. I mean, does anyone actually enjoy cleaning? I don't know about you, but I certainly am not counting down my winter days until I can scrub the house top to bottom only to have it quickly soiled by muddy feet and paws, beach sand, cut grass and whatever else wanders in with the warmer weather.
But dirt happens. And while cleaning may not be a barrel of fun, there is always some sense of satisfaction when it's done and everything is looking its best.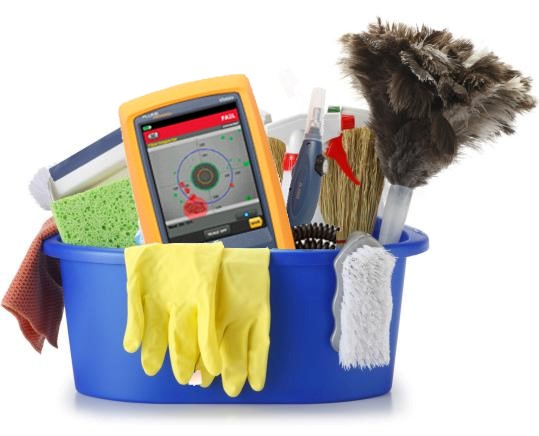 The same is true for fiber optic cables and networks. They simply can't perform at their best when a dirty connector end face in the channel causes loss and reflections.
While Martha Stewart can give you all the cleaning tips you need for your home (did you know that sliding Post-it notes between the keys is a great way to pick up the dust on your keyboard?), the experts at Fluke Networks have the tips you need to ring in the spring with a renewed commitment to cleaning and inspecting EVERY fiber end face before making that final connection.
Tip #1 Use the right tool for the job
Would you ever try to dust your home with a leaf blower?Probably not. Then why would you clean your fiber end faces with canned air when all it does is succeed in blowing the particles around? Just like dusting fine furniture, lint-free wipes are the best way to remove contaminants from the end face.
Versiv Kit Configurator
How will you be using your Versiv?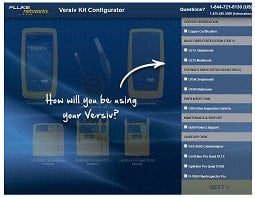 Tip #2 Know your solvent
Ever try to wash a mirror or a window with the wrong cleaner, only to be annoyed by streaks and residue? When it comes to fiber end faces, any old cleaner isn't going to cut it. For example, isopropyl alcohol will leave behind a "halo" that causes attenuation. So clean your windows with window cleaner and clean your fiber end faces with fiber optic cleaning solution.
Tip #3 Avoid contamination
Have you ever just finished washing the kitchen floor only to wonder how on earth that new stain appeared? When it comes to fiber cleaning, there are always sources of contamination that may not be obvious – even if the end face was just cleaned. Dust in the air, dirty ports and connector dust caps all have the means to recontaminate your fiber end faces.
Tip #4 Follow the Golden Rule
One of Martha's golden rules is to always dust before you vacuum, but the golden rule of fiber cleaning is to always inspect, clean and inspect again. Because even if you think you've properly cleaned the fiber end face, you can't possibly be sure until you've inspected it again.
Tip #5 Rely on the Standards
While I'm certain my home won't be getting the Good Housekeeping Seal of Approval this spring, there is a standard you can follow to make sure the cleanliness of your fiber end faces pass muster. The IEC 61300-3-35 Basic Test and Measurement Procedures Standard contains specific cleanliness grading criteria to assess pass or fail certification when inspecting fiber end faces. And Fluke Networks' FI-7000 FiberInspector Pro certifies fiber end-faces to IEC 61300-3-35 in just over a second. Now if I could only clean my house that fast!