Too Soon to Say Goodbye? It's All Relative…
March 28, 2018 / General, Standard and Certification
You might remember that just about three years ago, the DTX CableAnalyzer™ was officially retired. Since its discontinuation, Fluke Networks has continued to offer technical support, repair and calibration for this tester that was once touted as the ultimate time saver and brought testing to a whole new level when it was introduced in 2004.
With our lifetime supply of spare parts exhausted, and nearly all Fluke Networks' customers having now transitioned to a modular Versiv™ cable certifier, it's time to end our support for the DTX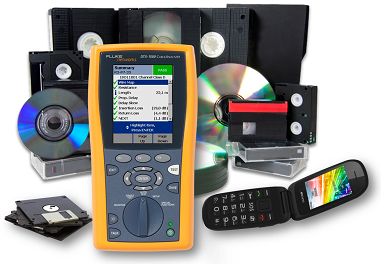 CableAnalyzer and officially say goodbye. That's right—in just three short months we will hit that three-year mark that we warned you about back in 2015.
If you're one of the few who feels it's too soon to say goodbye to your DTX CableAnalyzer, it might be time to remember that it's all relative. And if you know anything about Einstein's Theory of Relativity, you know that everything is in the eye of the observer—if you're traveling at different speed, what may seem like a short period of time to you may seem like eons to others. So, let's look at the end of DTX CableAnalyzer support relative to other technologies introduced around the same time.
14 Years is Longer Than You Think
If you still use a Motorola flip phone, the hottest mobile device in 2004, you might think ending support for the DTX CableAnalyzer is too soon. But you'd be hard pressed to find anyone in an AT&T, Verizon or Cingular store who is going to provide you with any level support on your mobile device. If you're lucky, you'll get out of there without too much laughter at your expense.
In 2004, Bluetooth was just a wave of the future. And here we are now with everything from computer mouses and keyboards, to printers and even medical devices connecting via Bluetooth. Did you ever think you wouldn't be able to plug your headphones into your iPhone? Well that time arrived well over a year ago when Apple released the iPhone 7 with no 3.5mm jack to support the thousands of non-Bluetooth headphones still being sold.
Are you one of the millions lamenting over the fact that you once paid $4,000 for a 42-inch plasma TV? Seven years ago, all major electronics vendors pulled the plug on plasma TV production, and you can now buy a superior 70-inch 4K smart TV at Walmart for less than half the price. In other words, long gone is what in 2004 was considered a superior technology. The DTX is really no different. And just like that new smart TV from Walmart, Fluke Networks' modular Versiv™ family of cable certifiers can do a lot more and save you a lot more, with setup and testing of any cabling system in about half the time as the DTX.
It Sure Had a Good Run
Maybe you're ready to retire your 2004 Toyota with its tape cassette player and 280,000 miles, and can honestly say, "It had a good run!" Or maybe in 2004, you were one of the few who jumped on a new social media platform called Facebook and are now deleting your account due to the recent scandal of having your private information shared without consent. Considering Mark Zuckerberg's net worth of about $64 billion (even after his current losses), it's probably safe to say that Facebook too has had a pretty good run.
While you might still be using your now discontinued DTX CableAnalyzer, and have been able to have it serviced and calibrated for the past three years, it will soon be time to also pack this piece of technology (or shall we say history) away for good and say hello to a Fluke Networks Versiv tester with its future-proof, faster and more accurate testing capabilities.
Consider yourself warned – all service support and calibration for DTX CableAnalyzers will cease on June 1, 2018. But having tested billions and billions of links since its 2004 introduction, it's also safe to say that the DTX certainly had a good run. Interested in transitioning? Call us at 800-523-5853.