DATASHEET
Five Reasons Upgrading to Versiv™ Will Save You Money
Download PDF
Overview
Introduced in 2004, the Fluke Networks DTX CableAnalyzer™ has become the world's most popular tool for certifying premises copper and fiber cabling, with billions of links certified. 基于传奇公司 Fluke Networks 的耐用性和可靠性而构建,您可能希望永远使用这款产品。但这种方案的成本非常高昂。
Fluke Networks' new Versiv cabling certification system is designed to save you money in every phase of the cable testing job and to get to systems acceptance faster.
1. Faster Set Up
等待专家设置测试仪太过耗时。Setting it up wrong can waste a lot more when an entire day's work isn't done to spec.
Versiv's ProjX™ management system makes setup easy and foolproof. 只需一次性正确输入工作所需的详细测试信息,技术人员只能选择适合工作的正确测试——特别是当测试仪从一项工作转向另一项工作时,该功能的价值更是无可估量。LinkWare™ Live 云服务甚至可让您设置测试仪,无需带回办公室。And Versiv lets users enter data many times faster through a modern smartphone interface instead of hunting and pecking with the DTX's arrow keys.
2. Faster Testing
DTX 屡创测试速度记录。但是 Versiv 甚至更快:Cat 6A 测试的速度几乎快三倍,而光纤损耗测试的速度快四倍。And that's just warming up.
Versiv accelerates fiber testing with features that aren't available on the DTX. SmartLoop™ 功能可让您一次对两根光纤执行光时域反射计测试,甚至无需将测试仪移动至另一端即可实现双向测试,并即时获得平均双向结果。借助于四核心模块,您在执行组合多模/单模工作时无需寻找并切换至其他模块。And Versiv automatically grades fiber endfaces in about a second – something the DTX can't even do manually.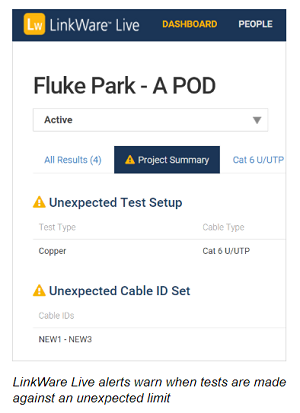 Waiting is the opposite of fast – but if your DTX battery is fully drained, you have to plug in and wait up to 15 minutes. 而 Versiv 只需插入电源,便可开始测试。
Don't waste time hunting for your testers. Linkware Live 可以跟踪测试仪上次同步时的位置。对于认证失败的链路,Versiv 提供了第二代诊断工具,可以准确查明更多问题,以便您的团队快速将其修复。
3. Reduced Mistakes
返工会耗尽工作的利润空间。因此,Versiv 专为消除错误而设计。使用 DTX 时,您可能会易于选择错误的限制。若此,所有测试都需要从头开始。但是,利用Versiv的ProjX管理系统,您的技术人员只能选择您为特定工作定义的测试。利用LinkWare Live,您可以从任何移动设备上跟踪各项工作的测试状态,具体到单项测试。It will even indicate when unexpected tests are being performed or warn you in advance that calibration is due.1
Setting the fiber reference is a complex task on the DTX, and if it's done wrong, every subsequent measurement is invalid – and your techs might not even know. Versiv能引导技术人员完成这一关键过程,避免设置错误造成"负损耗"测量值。With so many ways of preventing and warning you of errors, you might forget the meaning of "call-back".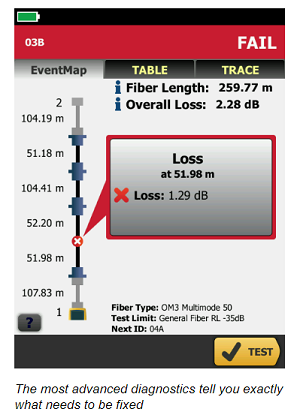 4. Faster Reporting
Since Versiv uses the same LinkWare software as the DTX, there's no learning curve when it comes to reporting. 但是,Versiv 更快的报告可能需要一些时间去适应。无需将测试仪或存储卡带回办公室,只需将 Versiv 中的结果上传至 LinkWare Live 云服务,然后会自动将正确的测试分配给正确的工作——涵盖所有测试仪。无需搜寻遗漏的测试。Versiv 还可提供比 DTX 高出 48 倍的内部测试存储空间,以及在外部使用 USB 设备或云服务的无线存储空间。
5. Future Ready
Investing in Versiv means you'll also be ready to take on new jobs from Cat 5 to Cat 8. Versiv 支持 TCL 和电阻不平衡等未来的测量项目,而您的 DTX 不具备这些功能。双向认证同轴以及标准或工业 Ethernet 跳线。可测试超过十倍长的单模光纤。而模块化设计可让您无需购买新测试仪就可添加新功能。
See How Versiv™ Stacks Up Against Your DTX
Versiv
DTX
Faster Set Up
ProjX Management System
✓
User Interface
SmartPhone
Softkeys
Data Entry
Touchscreen Keyboard
Arrow / Entry Keys
Download Test Setups from LinkWare Live
✓
Share Data with Supported Labelers2
✓
Faster Testing
Cat 6 / Class EA Test Time
8 sec (DSX-8000); 10 sec (DSX-5000)
22 sec
Next Generation Copper Diagnostics
✓
Fiber Loss Test Time
3 sec
12 sec
OTDR Test Time (per wavelength)
2 sec
15 sec
Quad Loss Test Module
✓
Summary screen displays loss of both fibers
✓
Autosensing Bi-Directional Loss Testing
✓
Integrated Bi-Directional OTDR Testing (with Instant Averaged Bi-directional Results3)
✓
EventMap™ Fiber Diagnostics
✓
Automated Fiber Inspection per IEC 61300-3-35
1 sec
Drained Battery Wait Time
No wait
15 min
Track last location "synced" with LinkWare Live1
✓
Reduced Mistakes
Track Project Status from Smart Devices with LinkWare Live
✓
LinkWare Live Reconciliation Alerts
✓
LinkWare Live Calibration Alerts1
✓
Cat 8 2G Compliant Screen Continuity Test
✓
Automatic verification of TRCs with stored results
✓
Animated Fiber Set Reference Wizard
✓
Fails Negative Loss Results
✓
Versiv
DTX
Faster Reporting
Compatible with LinkWare PC Software
✓
✓
Internal Storage (Cat 6A with plot data)
12,000 results
250 results
Storage Options
USB: 64 GB max
LinkWare Live: Unlimited
SD/MMC: 2 GB max
Upload / consolidate results from anywhere with LinkWare Live
✓
Fiber Inspection Reports
✓
Future Ready
Category 8, Class I/II Certification
✓
Calibrate copper module without mainframe
✓
Integrated Alien Crosstalk
✓
Transverse Conversion Loss Measurement
✓
Resistance Unbalance Measurement
✓
Bi-Directional Patch Cord Certification
✓
Coax Certification per ANSI/TIA-568-C.4
✓
Maximum Copper Frequency Range
2000 MHz
600 MHz
Certify RJ45-to-M12 patch cords
✓
Maximum OLTS Range (MM / SM)
12 km / 130 km
5 km / 10 km
Maximum OTDR Range (MM / SM)
35 km / 130 km
6 km / 20 km
1See supported countries at: www.flukenetworks.com/LinkWareLive/countries
2Visit flukenetworks.com/LabelLink for details.
4Visit flukenetworks.com/LinkWareLive/compatible-solutions for details.
规格可能会出现变动