Mixed Mindfulness
September 26, 2018 / General, 101 learning, Installation and testing, Upgrading and troubleshooting, Best Practices
When it comes to a cabling infrastructure, not all media and applications are always the same. So for each and every link, it's important to be aware of what you're testing—from both a media type and application standpoint.
Media Medley
Often customers will determine that they only need Category 5e or Category 6 for some applications and Category 6A for others, or they may realize the need to upgrade some but not all links.
Take 802.11ac Wi-Fi for example. With the latest Wave 2 wireless access points (WAPs) hitting the market and capable of delivering up to about 7 Gig, some may worry that longer Category 5e or 6 cable runs will cause throughput to fall short and therefore decide to deploy Category 6A for these links. And take Power over Ethernet as another example. For new devices needing the advanced power enabled with the upcoming four-pair Type 3 (60W) and Type 4 (90W) 802.3bt PoE standard, some Category 5E or Category 6 cable runs might be too long to effectively support these power levels in conjunction with higher data speeds since heat generated from PoE can cause insertion loss and require cable lengths to be reduced.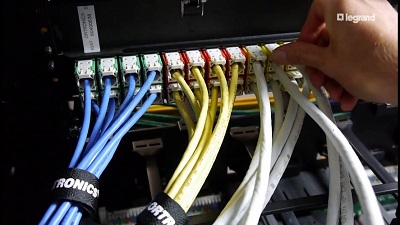 The result of a partial upgrade or choosing to deploy mixed media from the get-go could be patch panels in telecommunications rooms that include a mix of Category 5e, Category 6 and Category 6A –made possible by modular jack patch panels that enable the installation of various categories of connectivity in a single panel.
One of the best ways to know what you're testing is the use of color coded jacks—one color for Category 5e, another for Category 6 and yet another for Category 6A. Because let's face it – when you're looking at the front of a patch panel with mixed media, a jack looks like a jack regardless of its category. But if you know that all the blue jacks are Category 6A and need to support 10 Gig, you can set your tester accordingly. The only other choice is to look at the marking on the jack (which is virtually impossible to see when its installed in a patch panel or faceplate), or to try and decipher the often difficult-to-read legend on the cable coming into the back of the panel. Color coded jacks are sounding pretty good about now, don't you think?
Application Awareness
Sometimes it's not just the media that is mixed, but the applications themselves. That's why careful consideration should also be given to the applications planned to run over each link. Let's take a situation where some of the previous installed Category 6 links now need to support 2.5 or 5GBASE-T to support Wave 2 802.11ac. This is not exactly guaranteed and certifying these specific links to the application is really the only way to truly know if they will work properly.
Fiber Forethought
And it's not just a copper infrastructure that you need to be mindful of when testing. Fiber types and applications can also be mixed within the same infrastructure. With OM3 and OM4 fiber both typically being aqua in color, these two fiber types are virtually impossible to tell apart when looking at a fiber patch panel. (Thankfully, OM5 multimode fiber is lime green, which will make this new fiber type much easier to identify so you can set your fiber tester accordingly.)
While both OM3 and OM4 are laser-optimized 50/125 multimode fiber systems that may look identical, OM4 provides a higher modal bandwidth compared to OM3 and can therefore transmit more information within the same distance. That means they are tested differently for the same application.
For example, OM3 can only support 10 Gig up to 300m while OM4 fiber can support 10 Gig to 550m. So if you test a 400-meter OM3 link to OM4 test parameters for 10 Gig, there's a good chance you'll fail insertion loss. Or perhaps some fiber links are slated to run 10 Gig via 10GBASE-SR4 while others need to support 40 Gig via 40GBASE-SR4. Once again, it's obvious that you need to know what you're testing—from both a media type and application standpoint on every link.