Industrial Ethernet Connector Round-Up
January 16, 2020 / General, Installation and testing, Best Practices
Over the past decade, we have heard a lot about the Internet of Things (IoT), and the increasing number of connected devices and integrated systems being driven by sensor technology and the shift of traditionally proprietary and analog devices to IP-based communication. While the IoT term may now seem a bit passé, nowadays the term IIoT (Industrial IoT) is becoming increasingly prevalent as similar technological advancements are happening in the industrial arena and industrial Ethernet moves into first place for market share compared to traditional fieldbus protocols.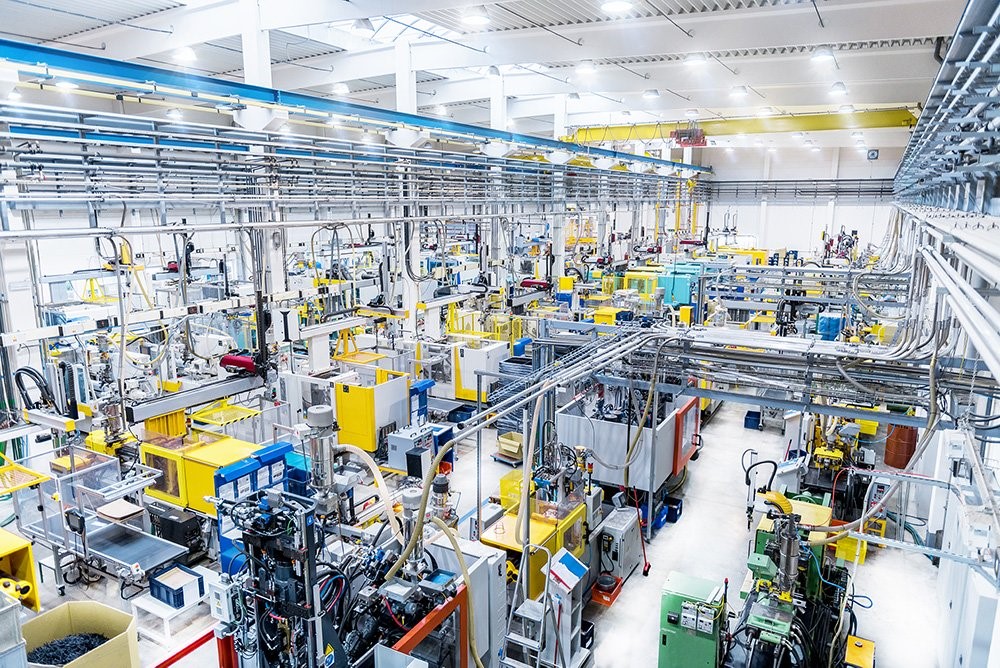 IIoT brings together a range of industrial devices that all communicate over a common Ethernet protocol, enabling the sharing of information across multiple industrial systems – from the I/O modules on the machines to the programmable logic controllers (PLCs) to the systems that analyze and manage it all. Connectors in this environment need to stand up to harsher mechanical factors (vibration, force and impact), the potential for ingress (dust and liquids), climate and chemicals (temperature, radiation and pollutants) and electromagnetic interference – these factors determine standards-based M.I.C.E. parameters for classifying components in an industrial network.
While industrial Ethernet connectors need to meet more stringent M.I.C.E. parameters, the several types of connectors available can cause some confusion – from industrial-grade RJ-45 connectors and a whole range of M-Series locking thread connectors used throughout factory automation applications, to new compact designs used at the sensor and device level for emerging industrial Ethernet applications. So, we thought perhaps an industrial connector roundup was a good idea.
The Lesser-Known Ms
There are several M-series connectors available that come in various pin counts for a range of signal and power applications in industrial environments. Lower pin count versions are typically used for traditional non-Ethernet applications such as Fieldbus and Profibus. To support industrial Ethernet, a minimum of 4 conductors is needed for lower-speed 100 and 1000 Mbps applications and a minimum of 8 conductors for higher 10 Gbps speeds.
We won't spend a lot of time on these connectors as there are several varieties and choosing one is based on the specific equipment and application. For example, there is the small-profile M5 used for miniature sensors in tight spaces like vehicle control systems, robotic arms, automation cameras and other equipment. There are also several other various of M-series connectors like the M16, M17, M23, M40 and M58 and more.
The Ms that Have It
When it comes to industrial Ethernet, M12 and M8 connectors are by far the most popular and universally adopted for industrial control systems. They come in a variety of pin counts with the 4- or 8-pin varieties required for Ethernet and they can be used with twisted-pair category cable, from category 5e to fully shielded category 7A.
Where is can get confusing is the coding. M12 connectors are typically coded as A, B, C, D, or X. A-coded M12 connectors used primarily for sensors and actuators can support 1 Gbps Ethernet, B-coded connectors are for Profibus applications, and C-coded connectors are used for AC power. For industrial Ethernet, 4-pin D-coded can support 100 Mbps Ethernet, but X-coded connectors with 8-pin counts and superior shielding are gaining ground as they can support higher-speed Ethernet up to 10 Gbps when used with category 6A or higher cabling. And when it comes to PoE, the 4-pin M12 can support Type 1 PoE, while the 8-pin M12 is required for Type 2 and above. And in case you were wondering, Fluke Networks offers both D-coded and X-coded M12 test adapters.
Used primarily for industrial sensors, M8 connectors are the smaller cousin of the M12 (about 30% smaller), making them ideal to support small sensor devices and tight application spaces. Like the M12, M8 connectors are also coded with the 4-pin D-coded connectors supporting 100 Mbps and Type 1 PoE and the 8-pin version supporting up to 10 Gbps and Type 2 and above PoE.
While RJ-45 connectors are the de facto interface for Ethernet, and they are available in ruggedized versions for harsher environments, M12 and M8 locking connectors are far more durable and better designed to handle the ongoing vibration of industrial equipment since they are locked into place. However, M8- to-RJ45 and M12-to-RJ45 cable assemblies are quite common where only one end of the cable needs to connect to the machinery.
The Latest and the Smallest
A collaboration between Hirose and Harting, the iX industrial interface is a newer 4-pair miniaturized connector for high-speed Ethernet that is 70% smaller compared to a conventional RJ45 and much more robust. Ideal for vision sensors and small controllers, the iX interface features category 6A performance to support up to 10 Gbps Ethernet and PoE and will replace M8 connectors in many instances.
Other newer connectors in development include single-pair Ethernet (SPE) connectors to support low-speed device-to-device communication (100/1000BASE-T1 and 10BASE-T1S/T1L) and power over data line (PoDL) at the Field/IO level, enabling end-to-end industrial Ethernet systems. (Click HERE to read more about SPE).
For SPE in the industrial environment, TIA and ISO/IEC standards bodies have selected a connector design developed by Harting. For office environments, they adopted an office-grade SPE connector design from CommScope and Panduit called the LC-style SPE connector due to having a similar size and shape of an LC-style fiber connector.
Always Ready
As usual, Fluke Networks is always keeping up with new technology and is already well ahead of the game when it comes to having a test interface for the latest industrial Ethernet connectors. Working in conjunction with Harting and Hirose, Fluke now has an iX adapter available for its DSX CableAnalyzer™ family of network cabling certification tools.
Fluke Networks also recently demonstrated a prototype SPE LC-style adapter for the DSX-8000 CableAnalyzer™. Since these connectors are not yet commercially available, how did we do it? The electronics inside the adapter were run in a small batch in our factory, and the connectors were made on our 3-D printers.
While these prototypes are fragile, and we've only made enough for industrial automation and cabling manufactures for use in their lab, once both the industrial- and commercial-grade SPE connectors are available and SPE starts to become widely adopted, we will of course have robust adapters of both SPE connector designs available for field use.

Click HERE to learn more about Fluke Networks' Industrial Ethernet solutions.