Gain 3 CECs at Our BICSI Pre-Conference Seminar on Testing High Speed Fiber Links
January 31, 2018 / General, Installation and testing, Industrial Networks
High speed applications are driving the deployment of multifiber MPO/MTP architectures in the data center, and it's not just cloud and hyperscale data centers that are deploying these solutions.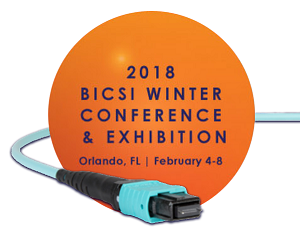 As the de facto interface for 40 Gig and 100 Gig switch-to-switch backbone data center applications that use parallel optics, MPO/MTP links are rapidly becoming commonplace in today's enterprise data centers.
Tier 1 and Tier 2 testing, application power budgets, cleaning and inspection are not the same for high speed MPO/MTP fiber links as they are for 10 Gig duplex fiber links, which is forcing technicians to rethink their testing and inspection practices.
That's why Fluke Networks and other members of TIA's Fiber Optic Technology Consortium (FOTC) will be covering the topic in a pre-conference seminar on Monday, Feb 5th from 1:30 to 4:30 at the BICSI Winter Conference & Exhibition in Orlando.
Let's take a closer look at what you'll learn.
Cleaning and Inspecting MPO/MTPs
Every fiber end-face should be cleaned and inspected, and you'll learn why it's even more critical for MPO/MTPs—regardless of the fact that they are factory terminated. So while you may have gotten away with not following the golden rule of inspecting, cleaning and inspecting again, when dealing with high speed fiber links it's time to rethink the process.
You'll learn how the IEC 61300-3-35 Basic Test and Measurement Procedures Standard for Fiber Optic Interconnecting Devices and Passive Components certifies the cleanliness of an MPO/MTP and some tips for choosing the right cleaner, inspection tip and device to make it easier than ever to ensure clean MPO/MTP connector end faces.
Certification Testing Options
Accurate testing of high speed MPO/MTP links in the data center to ensure they remain within insertion loss budgets is more critical than ever since 40 and 100 Gig applications have much lower loss budgets. You'll learn about the two options for testing these links—using a traditional duplex fiber tester with fan-out cords or cassettes vs. a tester that includes an on-board MPO connector.
Not only will you learn the pros and cons of each test method, you'll also learn the correct way to use a three-jumper reference with a duplex tester and come to understand the importance of encircled flux testing with MPO/MTP links, as well as why VCSEL light sources and bend insensitive multimode (BIMMF) fiber test cords are not an option.
Not only will you get a taste for how much faster you'll finish testing with an MPO tester, but testing MPO/MTP to LC links and higher fiber count MPO/MTP systems will also be explained.
Come Learn!
To really learn the details of testing MPO/MTP high speed fiber links in today's data centers as required by IEEE application standards and IEC/TIA cabling standards, come join our own Jim Davis and other industry experts in the pre-conference seminar Testing - High Speed Fiber Links on Monday, Feb 5th from 1:30 to 4:30 p.m. at the BICSI Winter Conference & Exhibition in Orlando. It's worth 3 BICSI CECs!
And for hands-on demonstrations and one-on-one time with our experts, stop by the Fluke Networks Booth #309 during exhibiting hall hours.