Over 5 Million Test Results Uploaded to The Cloud!
July 12, 2017 / General
Thanks to all, the contractors, installers and network maintainers around the world who rely on our Versiv™ family of products – you helped us to reach a significant industry milestone: More than five million tests results have been uploaded to the Fluke Networks LinkWare™ Live cable certification cloud service. The rate keeps increasing – users are now uploading over 300,000 results each month.
This is a significant demonstration that more and more of our users are embracing cloud services and connected technologies to transform the way their companies and employees work and do business.
When it went live in September 2014, LinkWare Live was ground-breaking as the first cable cloud-based certification service available worldwide, which demonstrates the Fluke Networks tradition - 25 years of innovation for the professionals who install and maintain the infrastructure of today's connected world.
Since then, we've heard from many of you. Not only are you helping us improve LinkWare Live, importantly, you are helping to solve the industry's significant "time wasted" and "time lost" problems by eliminating them. Here are some examples:
No more driving to and from job sites.
LinkWare Live "has significantly reduced the time wasted and total miles driven by employees and cut down on wear and tear to our vehicle fleet." C.J. Santeford, Operations Manager for Bothell, Washington office, PowerCOM. PowerCOM was one of the Fluke Networks customers who was part of the beta testing program for LinkWare Live.
No waiting days or weeks for test results.
"Before it could have taken us days to get testers and SD cards back to the office to upload test results. With LinkWare Live we can upload test results instantly and provide test results to the customer in a faster time." Joe T. Blanco Jr, Owner, VI Communications, Louisiana
"In addition to the productivity gains in testing, we are also able to get test results back to our project managers almost immediately utilizing Fluke Networks LinkWare Live.' Mark Barber, Director, ITM Communications Limited, United Kingdom
No more errors.
"We've had instances where techs made minor errors entering cable ID's, such as using dashes instead of periods. To get the results accepted, we've had to dedicate as many as three associates to review the ID's in the test results and modify them as necessary. LinkWare Live eliminated this hassle." Casey Canada, Manager of Field Operations, E2 Optics, which has become one of the fastest growing companies in the structured cabling industry.
No need to fly anywhere, no reason you can't work on projects out of state or overseas.
"LinkWare Live gives us the means to provide our clients professional cable certification, identification, location, and fault prevention services across all of their projects, no matter where they are located." Bob Figone, Group Executive for Point 1
No lost or misplaced testers.
"LinkWare Live has improved our productivity on projects and increased profits by reducing the amount of time and labor spent tracking down test units and downloading and reporting test results." C.J. Santeford, Operations Manager for PowerCOM Bothell, Washington office.
Versiv Kit Configurator
How will you be using your Versiv?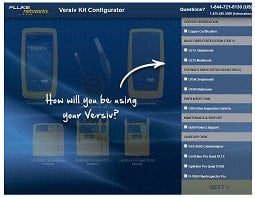 No unhappy customers.
"LinkWare Live helps me build a great deal of trust with customers and leads to repeat business. I can use it to verify installations. My customer can verify that X number of cables have been installed at the project. So, I bill for 90 drops they see 90 test results. Job confirmed!" Joe T. Blanco Jr, Owner, VI Communications, Louisiana
Your insights into the new business processes and workflows you are creating and establishing are leading to newfound efficiencies and increased levels of productivity. That means you are saving and making more money, and increasing profits, which means you are creating happy clients who are returning to you for more projects.
The numbers and business success stories speak for themselves. You are reaping the rewards by using LinkWare Live to significantly improve overall employee, project and business efficiency and productivity.
If you want to share your company's success story, Fluke Networks would love to hear from you.