Is cabling technician training (CCTT) certification worth it?
November 25, 2022 / General, Standard and Certification, Installation and testing, Best Practices
Staying on top of the critical technological developments in network cabling infrastructure helps you — and your company — stay current and competitive. One way to do that is to participate in an accredited training and certification program, like Fluke Networks Certified Cabling Test Technician™ Training (and now, Recertification Training).
While training and exams can appear costly if measured in time away from customers, certification can be an immensely valuable endorsement of your skills and experience. Are the benefits of certification training worth it? Let's take a look.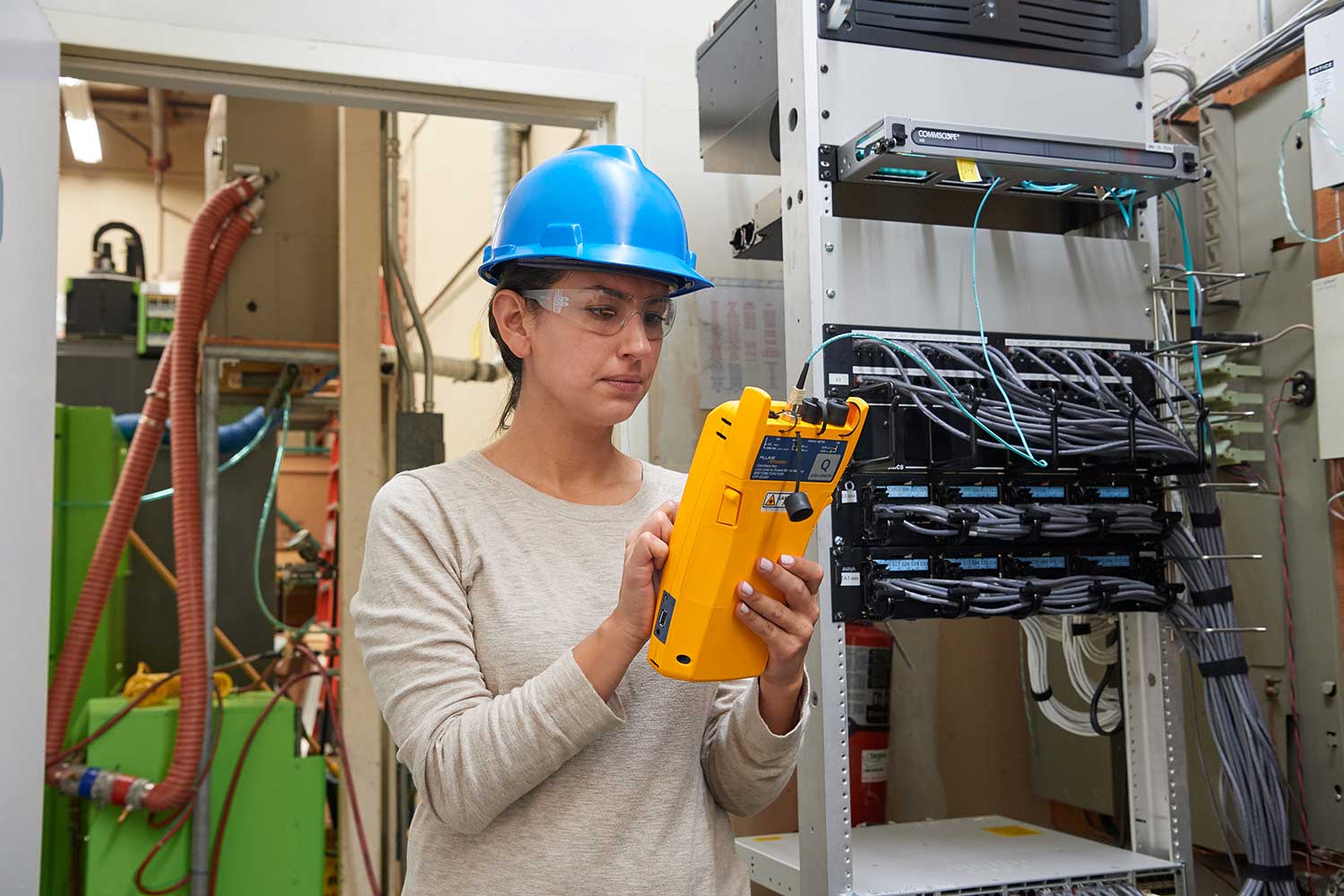 Certification is more valuable and less costly than you might think.
Certified technicians have up-to-date expertise
Certificates can be better than degrees and even raw experience for several reasons. Certification training integrates the most recent industry standards and best practices. A current certificate lets prospective customers and employers assess how current your skill set is. It demonstrates a level of specific understanding and expertise that makes you (and your employees) more efficient, effective, and therefore valuable in the field — which is especially important for the critical network cabling infrastructure that our world runs on.
That's why Fluke Networks is such a strong advocate of ongoing training — and why we developed our Certified Cabling Test Technician (CCTT) program around our Versiv™ Cabling Certification System and LinkWare™ Cable Test Management Software solutions. These courses not only improve cabling installation and diagnostic skills, but they also increase effectiveness and productivity for technicians who test, certify, and troubleshoot structured cabling systems.
Certification demonstrates up-to-date skills to teammates, employers, and clients.
CCTT-certified technicians can do more
Certified technicians can be more effective in the field because they have a deeper understanding of best practices and make more efficient use of their tools.
They can get jobs done faster by making the most efficient use of the latest Versiv features and LinkWare software capabilities.
They can deliver test results that are accepted by manufacturers and customers, avoiding costly retesting.
They can qualify for projects that require CCTT certification.
One contracting project manager told us that "since taking the course, our team's confidence is up considerably, and my need to help with troubleshooting in the field has dropped to nearly zero, saving me 6-10 trips per month."
CCTT technicians can earn more
Not only does certification signal that a technician can do more, but it can also mean that they earn more. In the most recent Fluke Networks Salary Survey for Structured Cabling Professionals, CCTT graduates reported earnings 27% higher than non-CCTT-certified technicians. Certification is also valuable for BICSI Registered Communications Distribution Designer certificate holders, who earned 17% more than their non-certified counterparts.
About two-thirds of survey respondents reported working on jobs where CCTT was required. CCTT certification can mean the difference between being able to bid on a project or having to look elsewhere for business.
Fluke Networks makes expert-level training more accessible
The Fluke CCTT Training Program is designed to work with the busy schedules and tight budgets that network cabling contractors face.
All-Online Experience (U.S. only)
Technicians based in the U.S. can take an all-online experience led by expert instructor Mike Pennacchi. The two-day training for initial certification covers both copper (twisted pair) and fiber certification and analysis, providing intensive instruction, a course workbook, and a virtual hands-on experience that lets each student control their own dedicated Versiv unit remotely via their computer or smartphone.
One-Day Recertification (U.S. only)
And now we also offer a one-day online recertification course — covering copper and fiber, updating best practices, and reviewing changes to the tools and relevant standards — for technicians needing to renew their existing CCTT credential.
BICSI Continuing Education Credits
Both the initial and renewal courses feature certification exams and qualify for BICSI Continuing Education credits. (Get details on our CCTT page.)
Minimize Time Away, Eliminate Extra Costs
Except for handling the physical cabling, the content and exercises in both courses are identical to a classroom experience. But by delivering the sessions and certification exams online, we can minimize time out of the field, expand the training schedule, and eliminate travel and lodging expenses.
Effective training yields more results that don't get rejected
"The Versiv does a lot of things. So even if you are an experienced electrician, it can be a real challenge knowing what all the tool can do and how to do it properly," says expert instructor Mike Pennacchi, who has developed and evolved the CCTT program with Fluke Networks for more than 12 years.
Instructor Mike Pennacchi reviews the process of setting reference on a Versiv while students control their own control Versiv unit remotely.
He believes that going online has made the program even more effective. "Now a person doesn't have to wait weeks [for a class in their region] in order to get trained. My job is to make sure that [students] are working as efficiently as possible and that they're able to generate test results that don't get rejected. Because if the test results get rejected, they have to redo the work."
Students seem to agree. "I thoroughly enjoyed the course," said one senior technician. "I've been using Fluke testers for over a decade, and the course is very informative to the point that I actually learned quite a few things I didn't know. Mike did a good job of keeping it entertaining, which isn't the easiest thing to do with a 6-hour teleconference class."
Pennacchi points out that attendees are surprised if something doesn't go perfectly in class, but that's an ideal teaching opportunity. "Mike was great, kept my attention throughout the presentation," said another student. "Obviously very knowledgeable with the material and equipment. The portion that was the most encouraging and informative was when he was having issues setting the references and worked through it during the class. Extremely informative and relevant."
Keep learning