Cable Tracing – Up to 600 V?
October 10, 2019 / General, Installation and testing, Upgrading and troubleshooting, Best Practices
In a typical week, we get more questions on our Pro3000 Tone and Probe Series than any other product. That's not surprising, as we sell a very large quantity of these testers.
What is most interesting is the wide variety of applications that our ingenious users find for the product. You can see them by just perusing the questions and answers on the product's Amazon page.

The Pro3000 was designed to test twisted pair cable, and that's what most users do. Coaxial cable can be used for data transmission, but can it be traced by the Pro3000? Turns out it can. But what about electrical wiring? Users report yes, but make sure you disconnect any live cables from power. Automotive wiring? Again, yes, but disconnect the battery beforehand. Speaker wires? No problem. Marine wiring? Aye, aye, Cap'n. Underground landscaping lights? Sprinkler control wires? And, my favorite, wiring for those "unseen" fences that keep your dog in your yard? Yes, yes, and yes, as long as they aren't buried too deep.
How about pipes? We don't think so. But there is a different solution for that.
Last week, at BICSI, we shared the spotlight with a product from the other end of the toning and tracing spectrum. Amprobe, part of the Fluke Corporation, took home a Silver Cabling Installation and Maintenance Innovator's Award for their new UAT-600. Like the Pro3000F, you can use it to find cables, but in this case, underground.
Amprobe's UAT-600 locates buried utilities before digging to avoid risking outages and to prevent potential injuries and fatalities. If you don't find out exactly what's underground before you dig, you may find out the hard way by cutting an electrical, gas, or water line. The risk to human life, the cost and delay, and the damage to your organization's reputation of such an accident can be significant.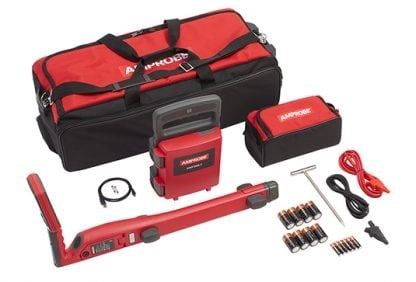 The UAT-600 Series provides multiple tracing modes to locate and trace energized and de-energized utilities in a variety of applications. The Receiver detects the presence of buried utilities up to 100 feet deep and accurately determines the depth of utilities to 20 feet. Connecting the Transmitter, technicians using the Receiver can easily trace an individual cable, find shorts and breaks, or locate connections and junction boxes and determine the depth of those components, even if other utilities are buried in the vicinity. With its rugged, water resistant case, the UAT-600 is ideal for many outdoor applications including highway construction, underground communications installations, and rerouting electrical lines. The Receiver features a high-contrast screen display that allows you to clearly view results in full sunlight and an automatic backlight for high visibility in shade or low-light conditions.
Unlike the Pro3000F, it's designed to operate in an environment that's much more dangerous than ICT wiring – it's got a CAT IV rating which means you can safely connect the Transmitter to lines energized up to 600 V – wearing proper PPE, of course. (You should never connect your Pro3000F transmitter to a live cable.) Previously, if a crew needed to trace a specific electrical line by transmitting a signal through it, the line had to be de-energized first. Compared to that approach, the UAT-600 saves time and improves productivity.
There are many electrical safety challenges associated with outdoor maintenance and construction. With the UAT-600 Series, hitting underground utilities won't be one of them. Now you can confidently pinpoint the location of any utility, energized or de-energized, buried up to 100 feet deep. And with a CAT IV 600 V rating, your time and safety are never compromised.
Learn more about the UAT-600 at: https://www.amprobe.com/product/uat-610/.