Beat the Heat with Versiv™ Cool Features
August 16, 2017 / General, Installation and testing, Upgrading and troubleshooting, Industrial Networks
It seems like just yesterday we were talking about spring cleaning, and now we're moving into the dog days of summer. And it's hot.
San Diego hit its highest ever recorded temperature this summer, the Southwest experienced what meteorologists have dubbed the "great 2017 heat wave," and even New Jersey's Newark airport broke its 1973 record with a sweltering 97 degrees. Unfortunately, experts predict that the expanse of hotter-than-average temperatures will continue to grow in August—from the West coast through the Plains and into parts of the Midwest and Southeast.
While you may not think that cable testing can keep you cool, rest assured that Fluke Networks has your back with its Versiv family of cable certification testers and LinkWare™ Live cloud-based service.
Get to the Beach Sooner
When it comes to beating the heat, one of the great things about Versiv certification testers is the record test times – almost three times as fast for Cat 6A and four times as fast for fiber loss testing.
Not only does this let you get the job done faster, but the ability to upload results to the cloud via LinkWare Live means you can head straight for the beach rather than delivering results back to the office. Heck, you can even set your smartphone up as a hotspot and upload results from your air-conditioned vehicle while you're on your way.
Versiv Kit Configurator
How will you be using your Versiv?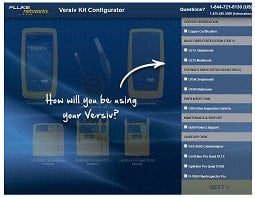 Enjoy the Office AC Longer
With LinkWare Live, you can create test setups and cable IDs remotely with browser-based ease – all from the comfort of your air conditioned office. It's a great way to eliminate unnecessary time spent in the field, especially at greenfield sites where the HVAC might not yet be up and running.
And rather than wasting time searching for testers in the heat, LinkWare Live let you track where your tester was last synced and who used it.
Test Fiber Links at the Cool End
Another great feature to help you stay cool is the built-in SmartLoop Assistant available with the OptiFiber® Pro.
With SmartLoop, Tier 2 bidirectional testing can be achieved from the comfort of the cool data center without having to move the OTDR to the other end. Simply send your junior techcian out to the remote end to connect the loop, and SmartLoop will automatically report the bidirectional average for the link.
And if you're on your own, you can deploy multiple loops at the remote end to perform a set of bidirectional tests without having to leave the near end in the coolness of the data center.
Schlep Less through the Heat
While making your way to the job site through the stifling heat is something you may not be able to avoid, carrying less equipment and making one trip will certainly ease the process.
With Versiv testers' modular design that supports copper certification, fiber optic loss, OTDR testing and fiber end-face inspection, there's no need to transport several different testers to the job site. The DSX CableAnalyzer Series tester can handle any twisted-pair cabling system whether it is a Cat 5e, 6, 6A, 8 or Class FA, while CertiFiber Pro OLTS with the OptiFiber Pro module merges Tier 1 and Tier 2 testing and features a convenient quad module for testing both singlemode and multimode fiber.
More Summer-Time Features
Other summer-time Versiv features that you may not have considered includes the testers' rugged design with an easy-to-clean touchscreen. So, if you get sunscreen on your tester, just turn it off and use a lint-free cloth moistened with water or mile detergent to wipe it right off.
And if you just can't get cool while testing, the Micro USB port on Versiv testers is ideal for connecting one of those little Micro USB fans. You can get one here at Amazon for just $6.99!