Updating your LinkIQ Cable + Network Tester
You must have the latest version of LinkWare PC software. You can find the latest version here.
Please download the latest firmware update off our website. Link can be found here.
Note:
Please make sure you have backed up any results in your LinkIQ that you want to keep prior to updating.
Please terminate any VPN services currently running on your PC.
Once you have installed the latest version of LinkWare PC and downloaded the firmware, open the LinkWare PC software.
Connect your LinkIQ to your computer or laptop via the USB cable that came with your tester.
If necessary, power on the LinkIQ and tap on HOME.
Connect the USB-C end of the USB cable into the USB port on the LinkIQ.
Connect the USB-A end of the USB cable into a USB port on a PC.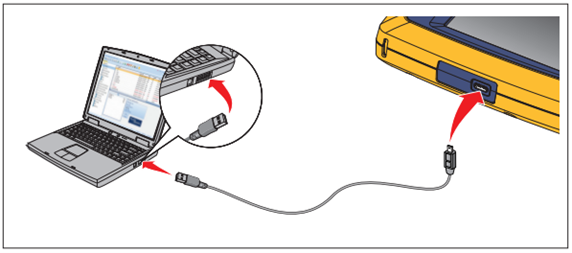 Once the tester is connected, within LinkWare PC click on:
Utilities > LinkIQ > Software Update.
Browse to the folder where you saved the firmware update.
note: the file should read "update.liq.swu" the default save location is in your downloads folder.
Double left click on the file name and the update will begin.
Please wait for the update to finish before powering off the device or removing the USB cable.
Windows 10 Driver Configuration