CertiFiber Pro Measuring Power at 1490nm and 1625nm Wavelengths
In the course of troubleshooting a fiber optic link, there may be times when it is necessary to measure the power emitted by a light source. For multimode testing, the power levels at 850 nm and 1300 nm wavelengths may be measured. For singlemode testing, the power levels at 1310 nm and 1550 nm wavelengths may be measured. With the release of Versiv code 6.5 build 5, the CertiFiber Pro can now also measure the singlemode power levels at 1490 nm and 1625 nm wavelengths.
Monitoring Power
The Power Meter function lets you monitor the optical power supplied by a light source such as an optical network interface card or external optical light source. When measuring power, the following tasks can be performed:
Monitor Minimum and maximum power levels in DBm in Milliwatts (mW), microwatts (µW) or Nanowatts (nW).
Monitor power compared to a reference level.
Auto CertiFiber mode or manually select a wavelength to monitor.
Save power measurements for LinkWare reports.
Note
Setting Test limits or cable types is not required when making a power measurement. The Power Meter test does not have a pass/fail criteria or supported test limit. On the test report the test limit shows N/A.
The image below shows what you will need to make a power meter measurement on an optical source.
Typical connection setup to make a power measurement.
To Measure Power
Tap Tools, Power Meter/ Light Source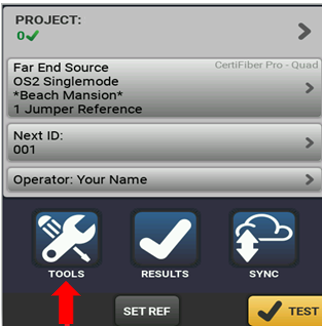 Select the Lambda (wavelength) icon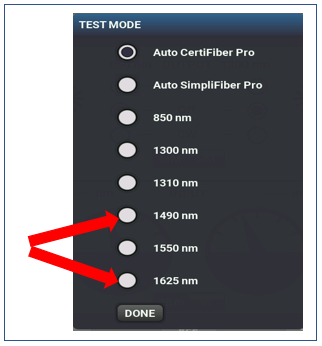 Select the desired wavelength 1490 nm OR 1625 nm
Tap DONE.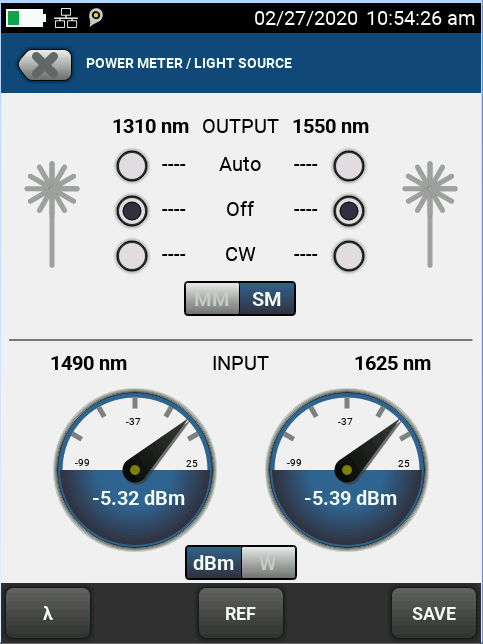 The figure above shows the output from a SimpliFiber Pro 1490/1625 nm light source.
If a single-wavelength light source is being used or if you are checking the output of a fiber SFP module, only one of the meter gauges will be showing the measured power level.
In certain cases, there may be a need to verify stability of an existing source. The CertiFiber Pro can record the minimum and maximum power levels from a known reference value.
Tap REF to see the screen on the right.
Tap REF again and the tester saves the present power level as the reference.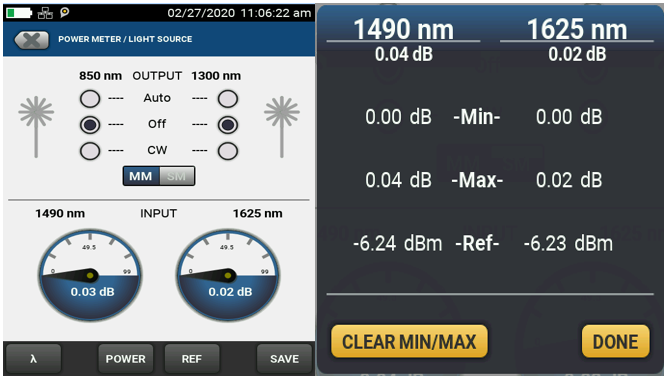 The tester will now use the reference as the baseline and record the minimum and maximum power deviation from the baseline reference value.
To save a power meter reading, tap SAVE.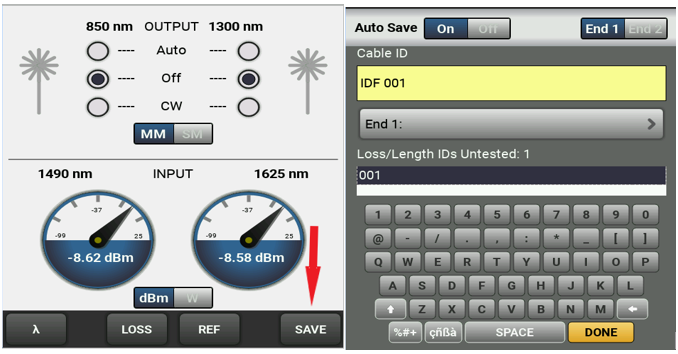 Enter the Cable ID for the fiber under test, then tap DONE and SAVE.
Upload your result to LinkWare Live or LinkWare PC and you can produce the test report listed below.
The specifications on the source you measure determine whether the power measured by CertiFiber Pro is within in an acceptable range for that source. Check with your customer and/or the manufacturer of the source being measured.
All Videos in This Series