Fluke Networks announces FiberLert, the first live fiber detector sized for anyone's pocket
November 16, 2021 / Everett, WA
Tester troubleshoots cable, port, polarity, and transceiver issues
Fluke Networks announces the FiberLert™ Live Fiber Detector, a pocket-sized tester that detects invisible near-infrared (850-1625 nm) wavelengths used in fiber optic communications. When placed in front of an active fiber optic port or patch cord, the tester emits a continuous light and optional tone. Unlike more complex testers, the FiberLert requires no setup or interpretation of measurement readings on the part of the user.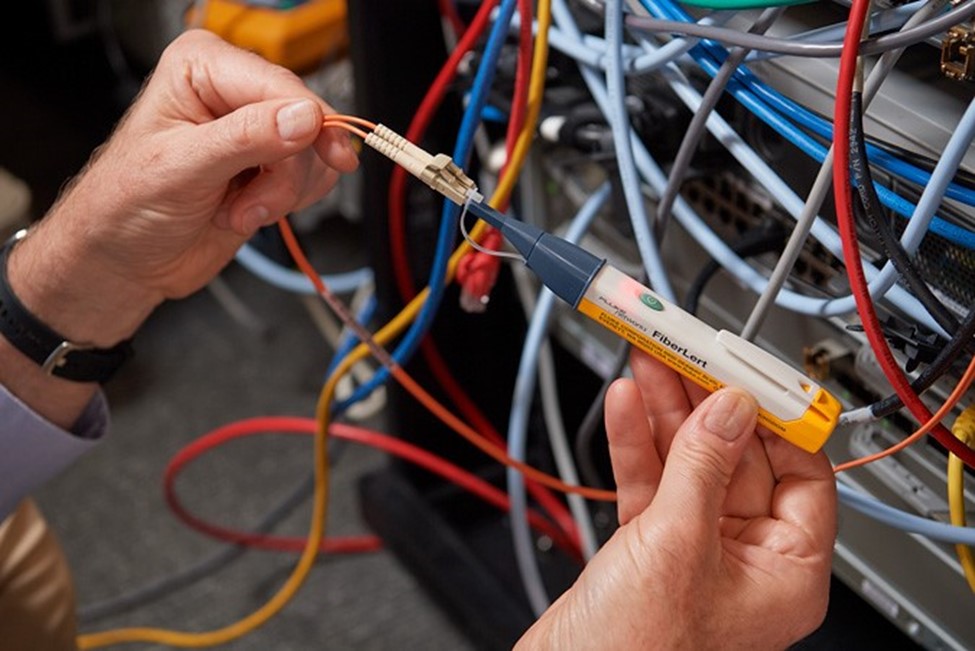 FiberLert™ Live Fiber Detector provides an indication that a fiber cable is live.
"There are a lot of network engineers and technicians who need to test and troubleshoot fiber connections on an occasional basis, but lack the tools and expertise to do so," said Adrian Young, product manager for FiberLert. "So they are forced to guess as to the cause of a communication issue and replace components such as transceivers and patch cords in the hope of solving the issue."
FiberLert removes the guesswork by clearly indicating where the signal is present and where it is not. This allows users to quickly pinpoint and remedy the cause of the problem, such as a failed transceiver or failed patch cord. FiberLert supports single-mode, multimode, UPC/APC patch cords and ports, and can test without contacting the port or patch cord, reducing the risk of contamination or damage.
"Where I work, reconfiguring fiber patch panels is a regular chore. Unfortunately, we don't have dedicated fiber experts," said Stuart Kendrick, industry blogger and systems engineer at a Seattle biomedical research organization. "The FiberLert accelerates this process by allowing anyone on our busy team to determine if the ticket that says the pathway is no longer in use is correct. If we remove the patch cord and FiberLert tells us it's inactive, we will safely repurpose that link. If FiberLert says it's active, we quickly plug the cord back in and note that our documentation is incorrect and needs updating."
FiberLert's LightBeat™ feature flashes an LED, indicating a powered-on condition and good battery. A timer shuts the tester off after five minutes of inactivity to extend battery life. Rugged design includes a convenient pocket clip and is backed by a two-year warranty.
For more information about the Fluke Networks FiberLert, please visit www.flukenetworks.com/MeetFiberLert
About Fluke Networks
Fluke Networks is the worldwide leader in certification, troubleshooting, and installation tools for professionals who install and maintain critical network cabling infrastructure. From installing the most advanced data centers to restoring service on the factory floor, our combination of legendary reliability and unmatched performance ensure jobs are done efficiently. The company's flagship products include the innovative LinkWare™ Live, the world's leading cloud-connected cable certification solution with over fifty million results uploaded to date. For more information, call 1-800-283-5853 (US, Canada), 1-425-446-5500 (International) or visit www.flukenetworks.com.
For additional information and updates, follow Fluke Networks on social media.
Twitter: https://twitter.com/flukenetdci
Facebook: http://www.facebook.com/flukenetworks
LinkedIn: http://www.linkedin.com/company/fluke-networks