1490 nm and 1625 nm support for the SimpliFiber Pro
The SimpliFiber Pro can measure and save optical power or power loss at: 850, 1300, 1310, 1490, 1550 and 1625 nm: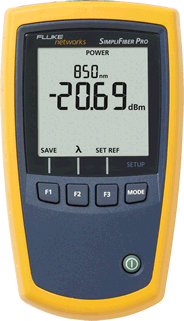 The unit of measure can be
changed from dBm to µW or mW
.
Available are 850/1300nm and 1310/1550 nm sources. We we now offer a dual 1490 nm and 1625 nm source to support technologues such as Passive Optical Networks (PONs).
PONs use a single wavelength in each of the two directions - downstream (CO to end users) and upstream (end users to CO) - and the wavelengths are multiplexed on the same fiber through coarse WDM (CWDM). For example, the Ethernet PON (EPON) uses 1490 nm wavelength for downstream traffic and the 1310 nm wavelength for upstream traffic.