Real Time Trace – Change the Range, Pulse Width, and Wavelength
You may be familiar with using Real Time Trace on OptiFiber Pro to do a quick check on a fiber to find a break or a large event. The new V6 firmware for the Versiv platform includes a significant improvement to this feature: Manual Real Time Trace--the user now has the option to manually select the Pulse Width and Range. In firmware versions prior to V6, the Real Time Trace settings were AUTO only, and the only user-customizable selection was the Wavelength. This is a compelling reason to make sure your OptiFiber Pro is running the latest firmware version. The information below applies to both OptiFiber Pro and OptiFiber Pro HDR modules.
Auto settings are great when they work, but they do not work for all scenarios. Sometimes you need to use Manual settings to help you "tune" the OTDR to find specific events on a link.
Check out REAL TIME TRACE from the Versiv Technical Reference Manual.
From the HOME screen, select TOOLS and then Real Time Trace. Choose Manual, make your selections and tap TEST.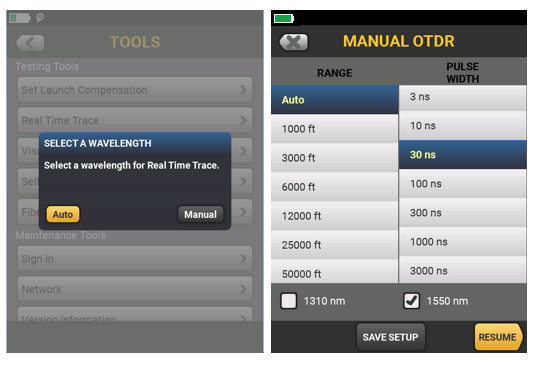 When you are viewing the Manual OTDR Real Time Trace, you can tap SETUP to go back and tune the Range and Pulse Width settings to get the best trace.
Tap RESUME to get back into REAL TIME TRACE mode.
Tap STOP in the Real Time Trace screen for the SAVE button to appear at the bottom of the display.
When you tap SAVE SETUP it will prompt to add the settings to the Active Test Setup or to a New Test Setup.
All Videos in This Series