Adapter Usage in the OMNIScanner
The last OMNIScanner left the factory back in July 2005. We regret to say service and support ended July 2009. It's replaced by the Versiv familly of testers.

Adapter Usage is a function in the OMNIScanner which tracks the number of tests each adapter (Link Adapters, Channel Adapters, and Fiber Adapters) has been subjected to.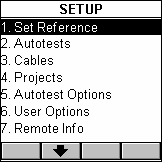 From the Main Screen Press the Setup button
. Use the Next Page button
to go to the second Setup screen. Select #2 Adapter Usage.





The screen will display the number of tests that are run on each of the attached adapters.

For anyone troubleshooting Adapter failures, it will show the number of tests that have been run on the adapter and give an indication as to its age and whether it needs replacing.