MicroScanner PoE - PoE Class Detection
MicroScanner PoE will detect the following PoE Classes from Power Sourcing Equipment: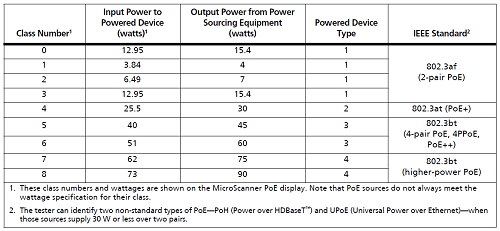 MicroScanner PoE can use the 802.3af, 802.3at, and 802.3bt standards at the hardware layer, or at the link layer with LLDP (Link Layer Discovery Protocol) to negotiate and solicit PoE from an active source (typically a PoE switch).
If a source's port is configured to respond to LLDP requests for higher power levels (Classes 5-8) the tester cannot verify the maximum power available from the source. The tester will verify the maximum power available if the source's port is configured to respond to requests at the hardware layer.
Tips:
Know the input power needed for your powered device (which PoE class) by checking the specifications for the powered device.
If the class of power offered by the switch is less than the powered device requires, investigate the switch to see if it is
Over-subscribed (too many powered devices already requesting PoE) or
Provisioned properly to provide the needed class of power to the port.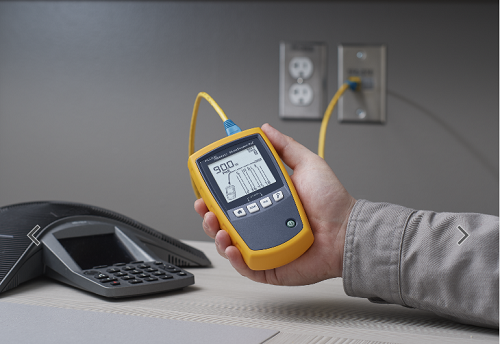 How to use MicroScanner PoE to check PoE on a port:
Connect MicroScanner PoE to the switch port and press the PoE button.
The display shows searching while the tester looks for PoE.
Below are some examples of single signature and dual signature PoE: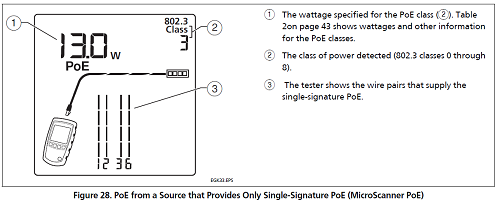 If the display shows "not OFF"
Older 802.3af and 802.3at sources will sometimes continue to supply power when you switch between the tester's PoE and cable test screens. If you see the "not OFF" message, disconnect and reconnect the cable to the tester. The tester will negotiate with the source and show valid PoE test results again.
If the display shows 0.0 W
If a PoE source does not supply power to a port, the MicroScanner PoE shows 0.0 W and PoE flashes on the display.
In certain installations, there may be a grounding issue when using a shielded patch cord between the MicroScanner PoE tester, the PoE Switch, and any connected end device. This may present itself by the MicroScanner PoE displaying 0.0 W. Before testing configuration on the switch, consider using an unshielded patch cord to connect the MicroScanner PoE to the switch port and testing again.
Passive PoE Detection
A passive PoE source puts a constant voltage on the cable, with no negotiation. MicroScanner PoE will display the pairs and the voltage. No PoE Class is displayed.