Software check - LinkWare PC 10.x
If you are connected to the Internet, LinkWare will check its software version and the following instruments for any updates:
DSX-5000 CableAnalyzer
CertiFiber Pro
OptiFiber Pro
DTX CableAnalyzer
OptiFiber
If a software update is available, you will be prompted to go to the Fluke Networks website to get it.





If you get this warning, you may also get the calibration warning too.

You have the option of not showing this warning again for that tester until the next version is available. Be careful. If you select this option, you will no longer get a warning until the next version of code is available. To undo this, press CTRL ALT R to see: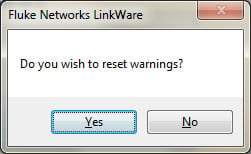 This will reset the warning for ALL testers.