Unplanned Results – LinkWare Live
There may be times when you deploy Versiv to a job that you find out while onsite that some additional network drops that need to be tested which were not a part of the Project you originally set up in LinkWare Live. This article is intended to show you the steps to accept and add these "Unplanned" results to a Project or SubProject in your LinkWare Live Organization.
Why does it matter?
Unplanned results within a Project are not included in the percentage of work completed for the Project. To show the Project status accurately, there is some work that needs to be done to move the unplanned results to the proper SubProject, and then to Accept them into the SubProject. If you are using LinkWare Live to share the Project Status with a customer, it is wise to ensure that the project completion percentages are accurate.
To demonstrate, I will review a scenario using a project that I set up in my LinkWare Live Organization.
Looking at my Project BEACH MANSION, I have planned some testing in a SubProject called Second Floor with a cable ID set 2015-2020 and test limit TIA Cat 6A Perm Link. I also have 27 saved results in a SubProject called Test with a cable ID set 01A-07D and test limit TIA Cat 6A Perm Link.

When I get to the jobsite, I learn that there are 10 additional network drops which I did not know about when I set up the Project in LinkWare Live. These could be legacy installed links, or a change order on a job.
I decide to leave the Project name on Versiv set to BEACH MANSION, and I add a Cable ID Set 2050-2060 for the 10 network drops. Next, I test the links and save the results.
After testing is completed, I use my mobile phone as a hotspot and SYNC Versiv to LinkWare Live. When I attempt to SYNC, Versiv warns that the Project has changed, do you wish to Overwrite? I select NO. Overwriting will not be helpful, since I know that Versiv has saved results in its memory that LinkWare Live is not aware of.
After SYNC is complete, I log in to LinkWare Live from my PC, and this is what I see in in the Project BEACH MANSION: Highlighted yellow "UNPLANNED."
Clicking ACCEPT will resolve the UNPLANNED status.
In my example, I wish to move the results to a SubProject named "Second Floor, so I will move them first.
Select the checkbox on the line for the UNPLANNED results and click MOVE TO…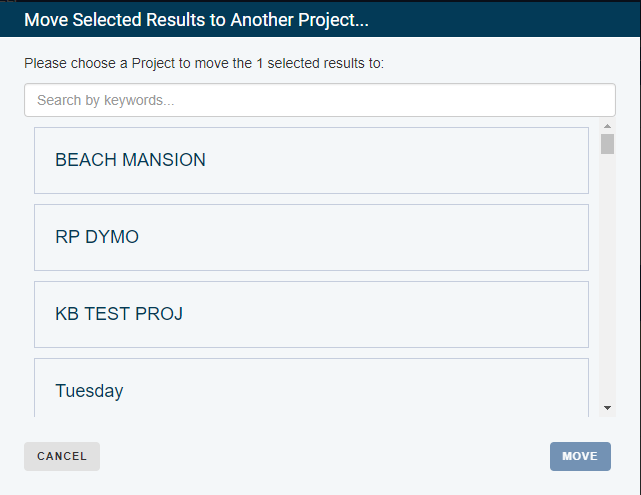 To select a SubProject, click on the name of the Project that contains the SubProject, then select it.
When I click BEACH MANSION it then displays the SubProject(s) contained within the Project.
In this case I will choose Second Floor.
LinkWare Live prompts to accept the move.
Click MOVE.

After the results are moved to the SubProject, I still need need to accept them.
I select the line with the UNPLANNED results within the SubProject and click ACCEPT.

Now when I look at the SubProject Second Floor, I see the 10 tested drops have been accepted into the SubProject.
To see details on those results, I can click on the green STATUS for the 2050-2060 Cable ID Set.
The line for the ID Set 2015-2020 is only a Cable ID Set, and contains no results.
Looking at the BEACH MANSION Project I can also see the status completion percentages of the Project and SubProjects.

Done.