VFL (Visual Fault Locator) - DTX xFM Fiber Adapters
The fiber test module includes a visual fault locator that helps you do the following:


Quickly check fiber continuity. Trace fibers to determine the polarity of duplex connections and identify connections between patch panels.
Locate breaks and bad splices. These faults scatter the locators light, causing a red glow in the affected area.
Reveal high-loss bends. If the locators light is visible around a bend in a fiber, the bend is too sharp.
Reveal problems in connectors. A damaged fiber inside a connector causes a red glow in the connector.
Optimize mechanical splices and pre-polished connectors: Before sealing the splice or connector, adjust the fiber alignment for minimal glow where the fibers meet. (Follow the manufacturers assembly instructions for splices and connectors.)
The visual fault locator port accepts connectors with 2.5 mm ferrules (SC, ST, or FC). To connect to other ferrule sizes, use a patch cord with the appropriate connector at one end and a SC, ST, or FC connector at the tester end.
The light should be visible up to 2 km on multimode cable and 5 km on singlemode cable.
To use the visual fault locator:
Clean the connectors on the patch cord, if used, and the fiber to be tested.
Connect the fiber directly to the testers VFL port or connect using the patch cord.



Look for the glow to locate fibers or faults.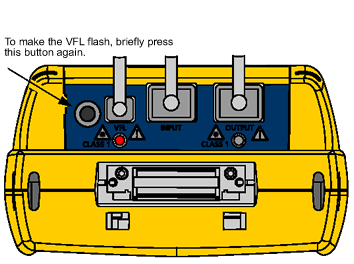 Note:
The locators light may not be visible through dark-colored fiber jackets.