Wire Map Schemes - DTX CableAnalyzer
The Outlet Configuration must match an appropriate test standard i.e. USOC Single-Pair requires the test limit Voice - 2 Pair. If it does not, you will see the following Error Screen. 1000BASE-TX Crossover has been added to Version 1.4. (Current Version is 2.78)

NEW to Version 1.4 (Current Version is 2.78) will not allow you to select an inappropriate Outlet Configuration.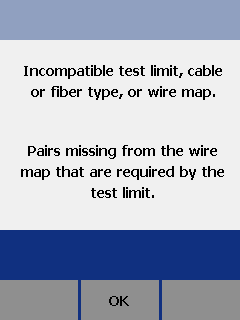 For safety reasons, the DTX CableAnalyzer will report all wires that are connected. For example, you may select Ethernet as your Outlet Configuration. This is a Two-Pair Wire Map but if all pairs are connected, then all pairs will be displayed as shown below.